D-III football final
Ansbach finishes unbeaten season with another rout
by
Gregory Broome
November 3, 2018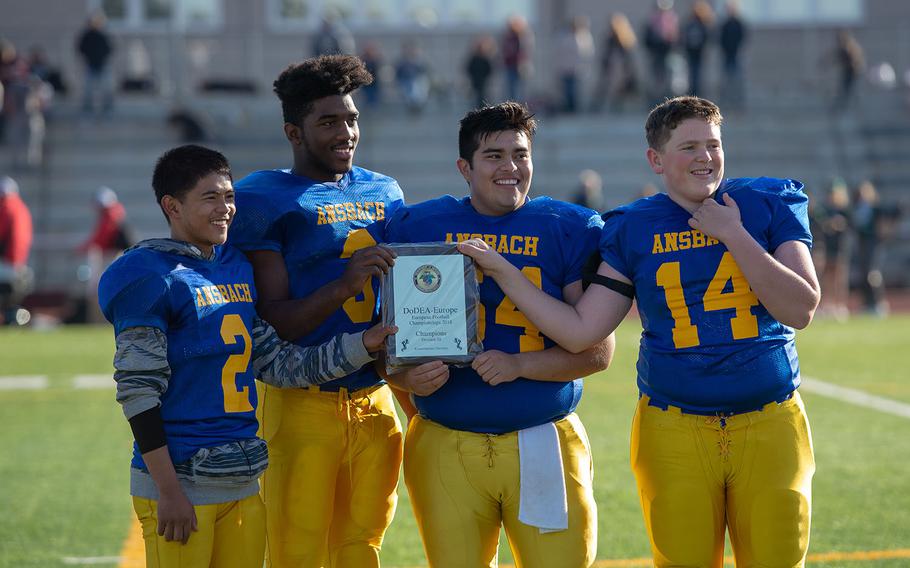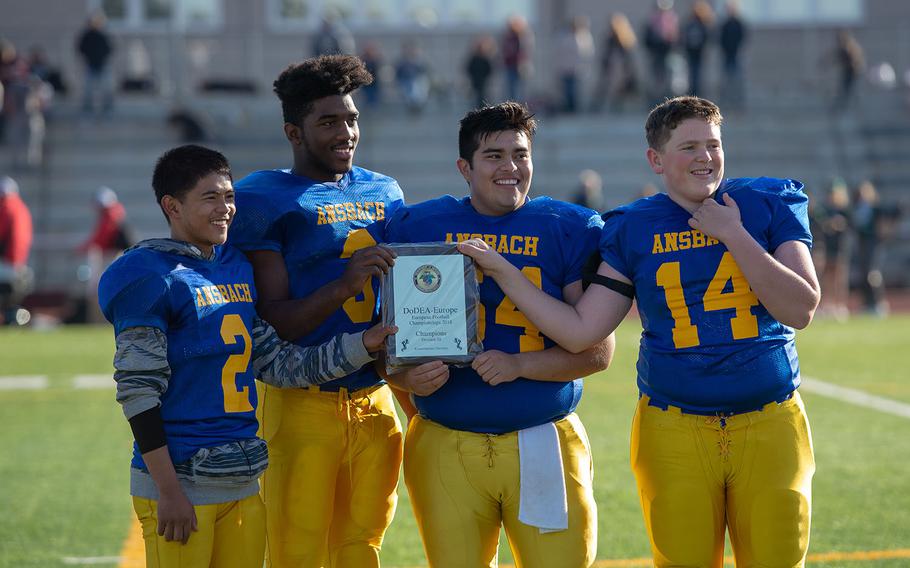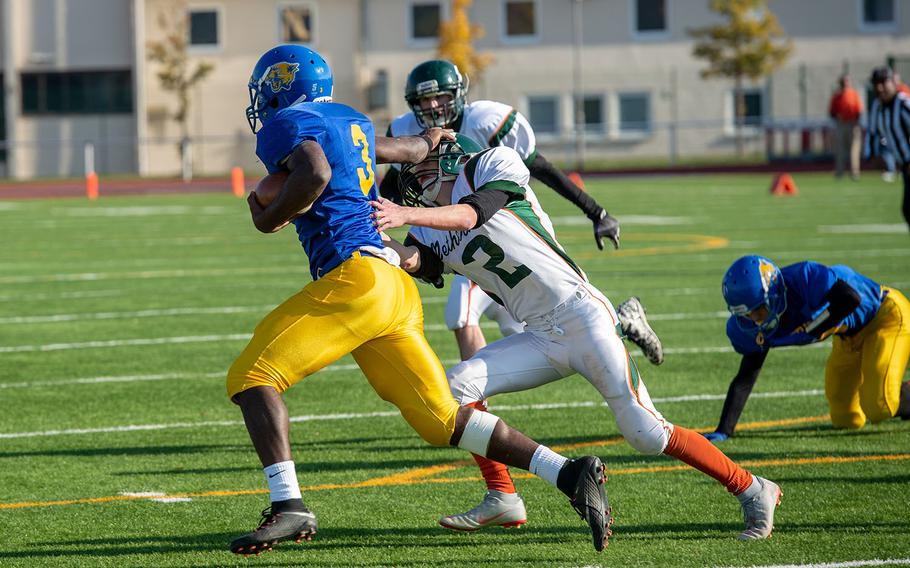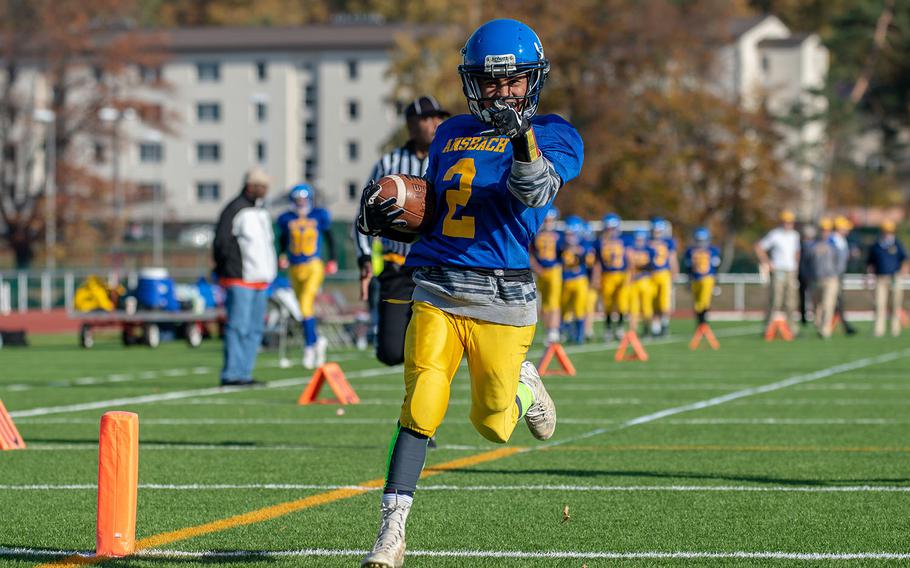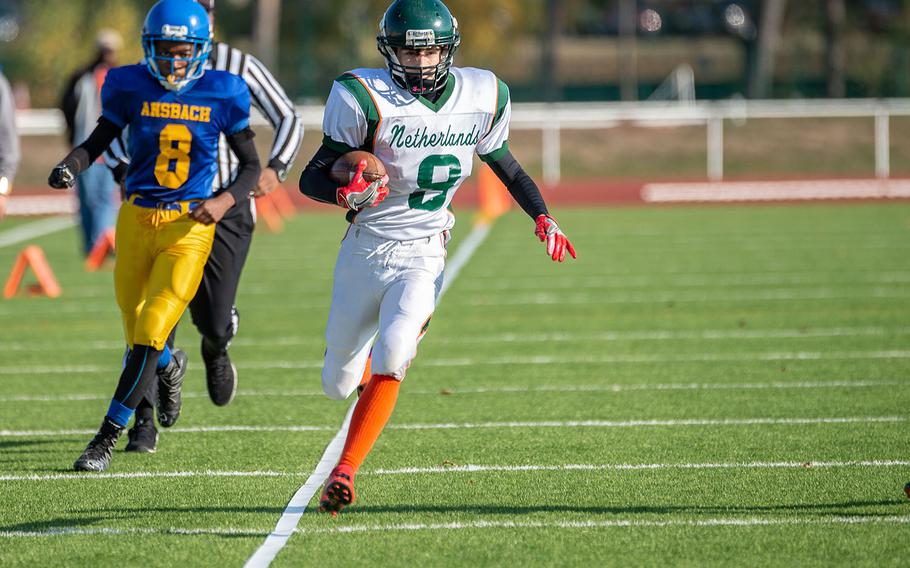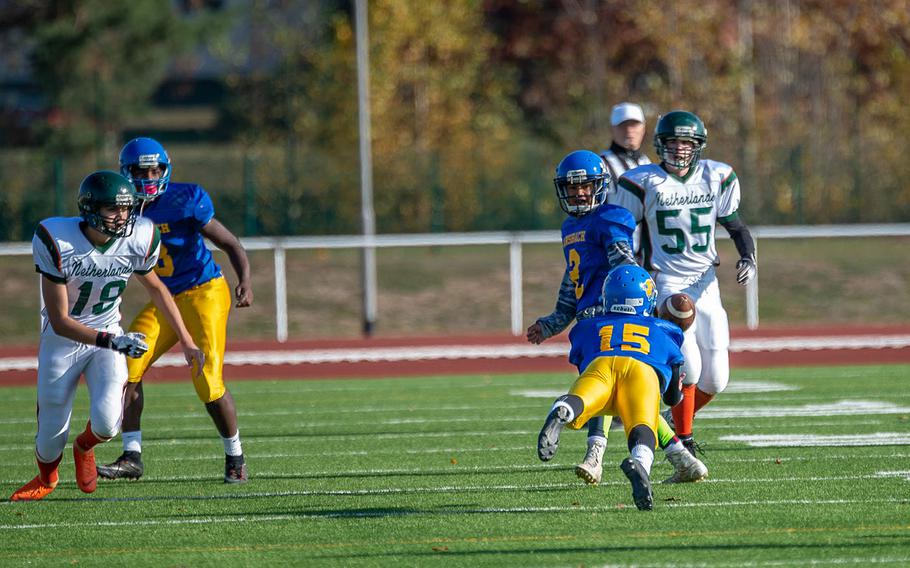 KAISERSLAUTERN, Germany -- The Ansbach Cougars' former glory is former no longer.
Ansbach won the inaugural DODEA-Europe six-man Division III football championship Saturday at Kaiserslautern High School, routing the overmatched AFNORTH Lions 63-0. The title comes a year after the Cougars, one of the most accomplished programs in DODEA-Europe history, were unable to even field a team for the 2017 season.
"We had the perfect group of guys, the perfect team to come out here and do this," Ansbach coach Stephen Choate said, describing the mix of proven veteran leaders and inexperienced but willing newcomers that produced the Cougars' undefeated comeback season.
Foremost among that group was senior Ogden Andrew, the clear breakout superstar of this first year of six-man football. Andrew ended his memorable prep football career with a stunning stat line, rushing for 288 yards and five touchdowns, catching another touchdown and scoring a seventh on an interception return.
But Andrew's full impact was felt well before his numbers reached those extremes. The sturdy senior steamrolled a hypothetical tackler soon after the opening whistle, AFNORTH coach Greg Blankenship pointed out, leaving the Lions reticent about putting their bodies in his path again.
"We got tentative," Blankenship said. "Against a well-coached team with a really good athlete, it's tough."
That opening message was by design, said the player who delivered it.
"At the very beginning of the game, I wanted to set that tone," Andrew said.
While the game itself devolved into a blowout almost immediately, it did accomplish two larger things: restoring Ansbach's status among the DODEA-Europe gridiron elite, and completing the launch of the six-man division meant to serve as a haven for schools without student populations large enough to field conventional 11-man squads. Choate was an integral part of each of those efforts.
For his school, Choate was thrilled to see the Ansbach community rejuvenated by the return of fall football. The Cougars were a Division II powerhouse before low numbers kept them sidelined for 2017.
"It kind of just gets the blood pumping at our school," Choate said.
And he's hoping that the six-man football league, which also counted Baumholder, Brussels and Hohenfels in its inaugural lineup, will continue as a viable concern in DODEA-Europe sports. Similarly-sized schools Alconbury and Sigonella, both with robust Division III entries in many other sports, have expressed some interest in restarting their own dormant football programs, while some smaller Division II teams might need to convert to the six-man game in the future.
"I think you can say we have a success here," Choate said. "I'm thinking this will expand next season."
Twitter: @broomestripes