Another week, another good day on mat for Stuttgart
by
Martin Egnash
January 27, 2018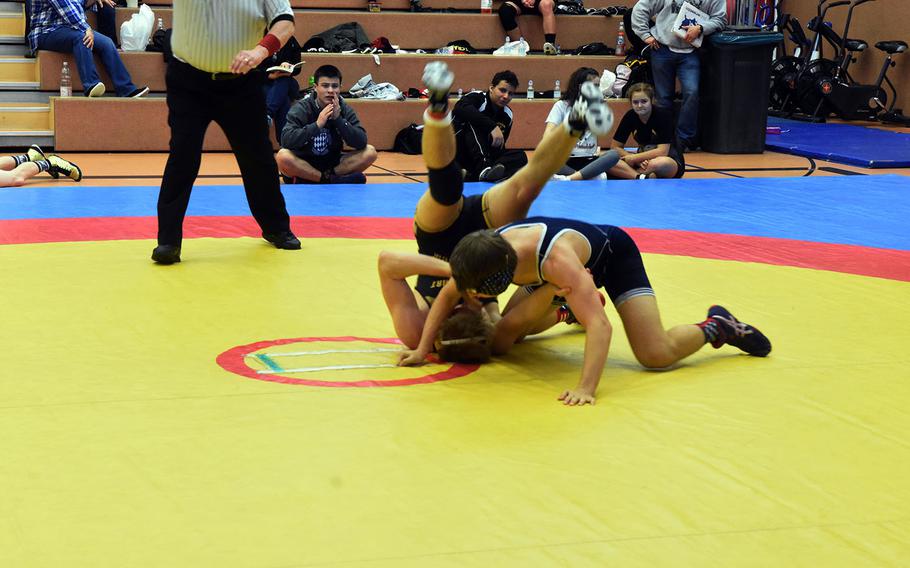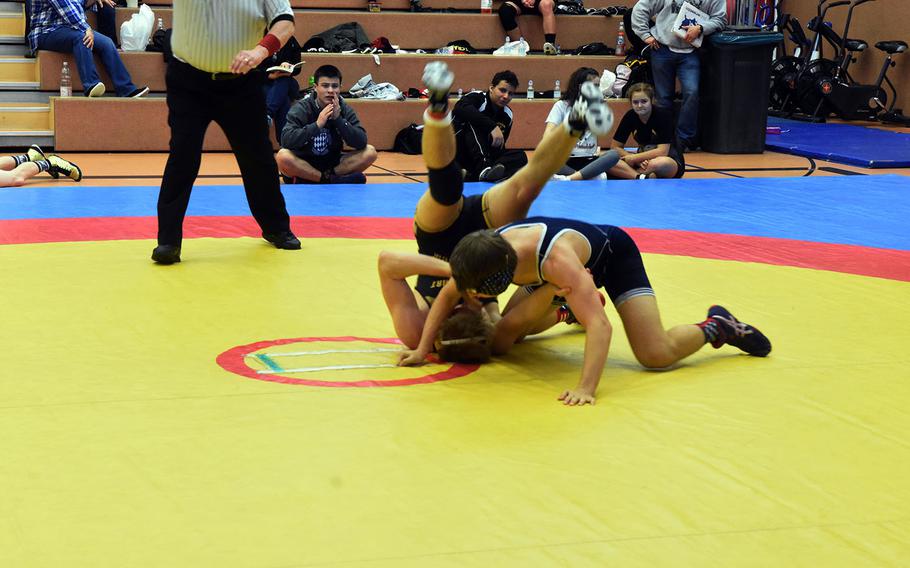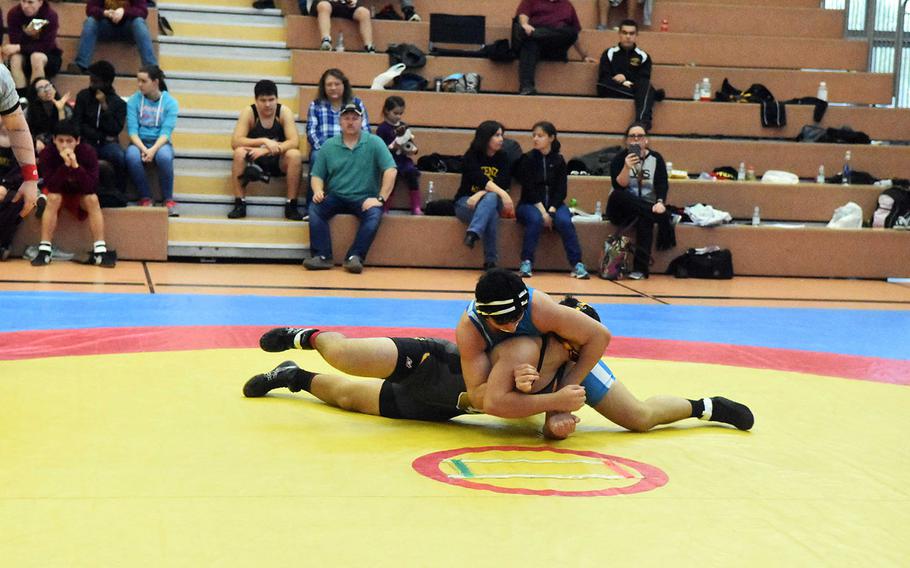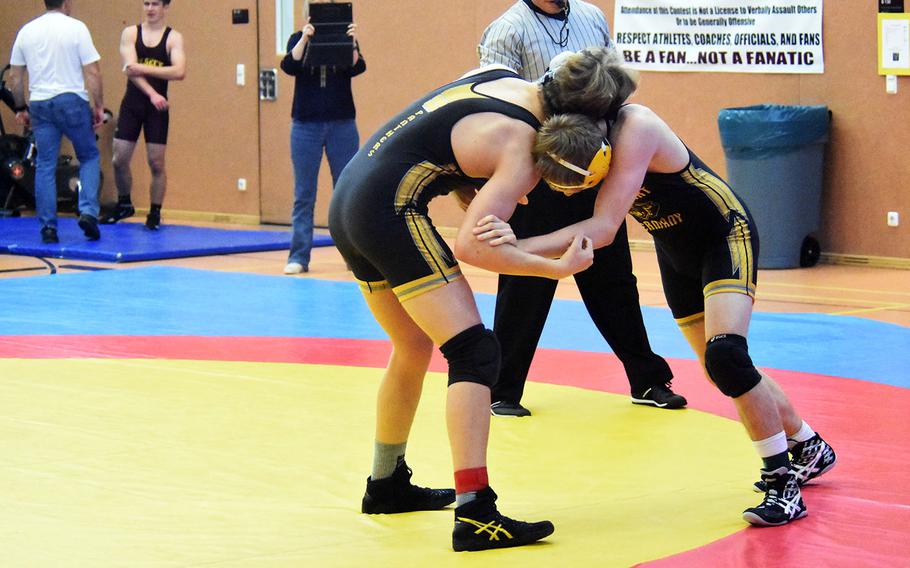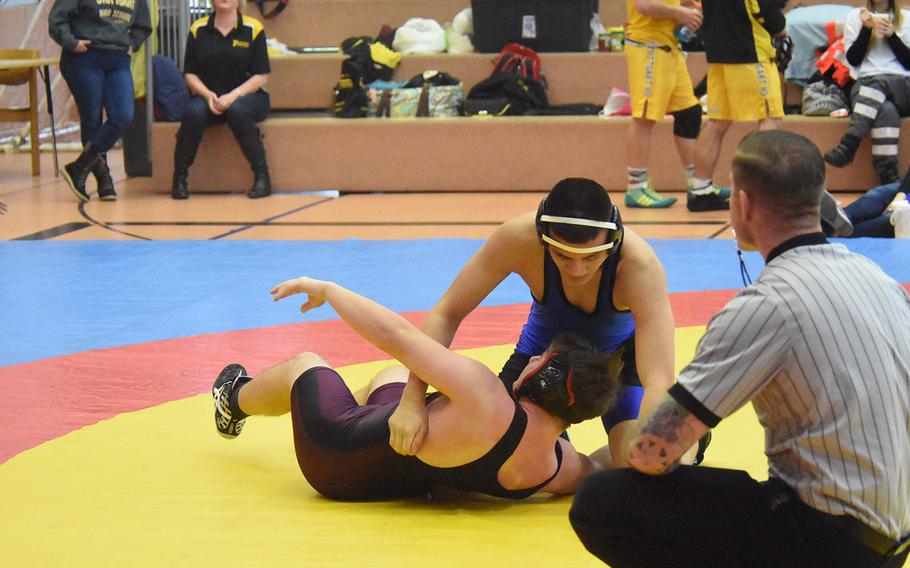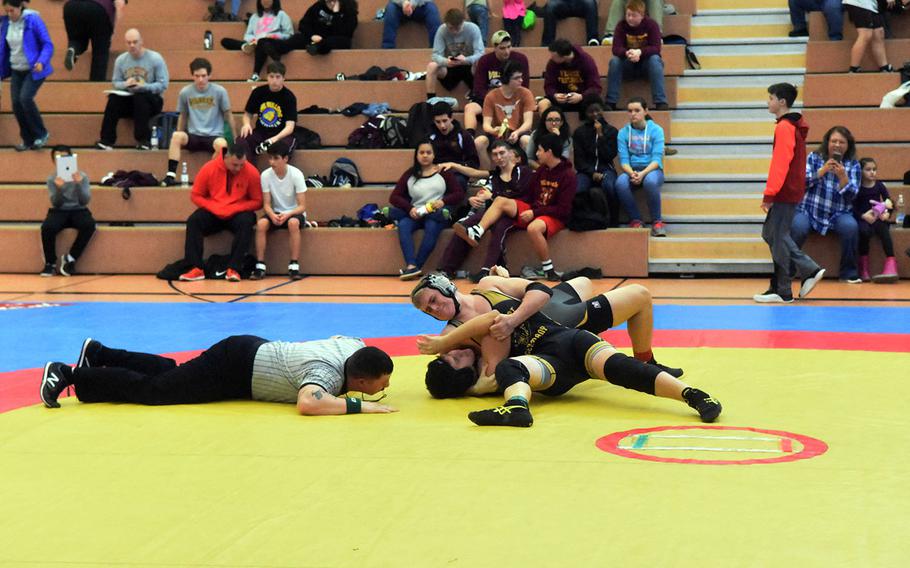 VILSECK, Germany – There were more than a few wrestlers who out outmaneuvered their opponents and dominated matches a five-school wrestling competition Saturday.
Favorites Stuttgart won the most matches of the day, over competitors Vilseck, Vicenza, Hohenfels, Munich International and Berlin International.
"We did really good," assistant coach Frederick King said. "Our team has a great work ethic. They came in and practiced during Christmas break, and they always train hard. It really showed on the mat today."
Stuttgart had several wrestlers who went undefeated, including William Green, who dominated the 195-pound division, pinning each of his opponents within the first minute.
Green came into the match after suffering a minor knee injury the week prior, and attributes his success to proper rest and recovery.
"I took it easy all week, and I was able to recover and wrestle pretty good today," Green said.
His team was all smiles after his final match against Vicenza's Tristan McLaughlin, when Green once again came out on top.
Green's teammate, Connor Boyer, joked that "his key to his success is that he has me to practice with," but acknowledged that Green really did wrestle well.
Vilseck's Juan Oesterich stood out for his team.
"He's a good athlete, and a good kid," Vilseck coach Jim Hall said.
Oesterich, who usually wrestles at 220, wrestled at heavyweight Saturday, and came in second place, after Stuttgart's John Carroll.
Oesterich had an exceptionally impressive performance against Stuttgart's Christopher Frye, where he utilized his quick reflexes and speed to maneuver around the much larger Frye.
"I have to use my speed against these bigger opponents," Oesterich said. "It's a lot of work (wrestling) heavyweight."
Oesterich lost his final match against Carroll because he was not aggressive enough, he said.
"I'm a defensive wrestler. I usually stand more, but I have to work on getting down, quicker, and being more aggressive," Oesterich said.
Vicenza had its share of memorable grapplers as well. Nicholas Verduga, at 113 pounds, won all of his matches, including a tough fight against Stuttgart's Daniel Morrow.
"We had a lot of good wrestlers, but Nicholas was our hero this week. He did a great job," coach Shawn Romero said.