American, European players show off skills on football field
by
Aaron Knowles
November 10, 2018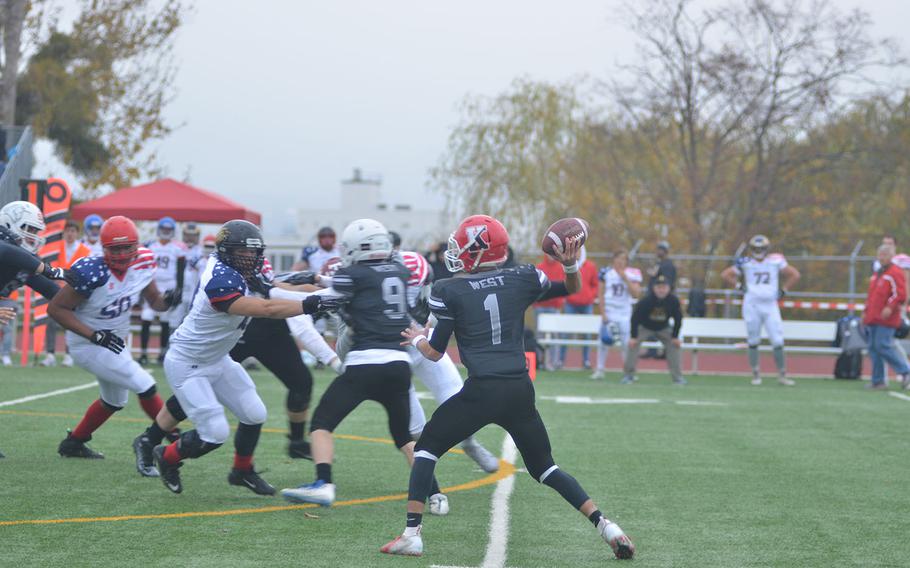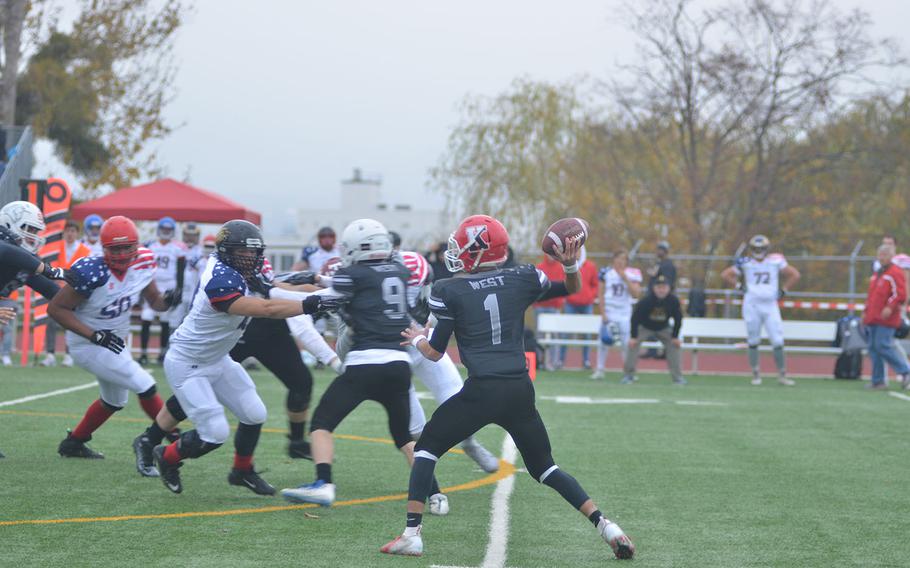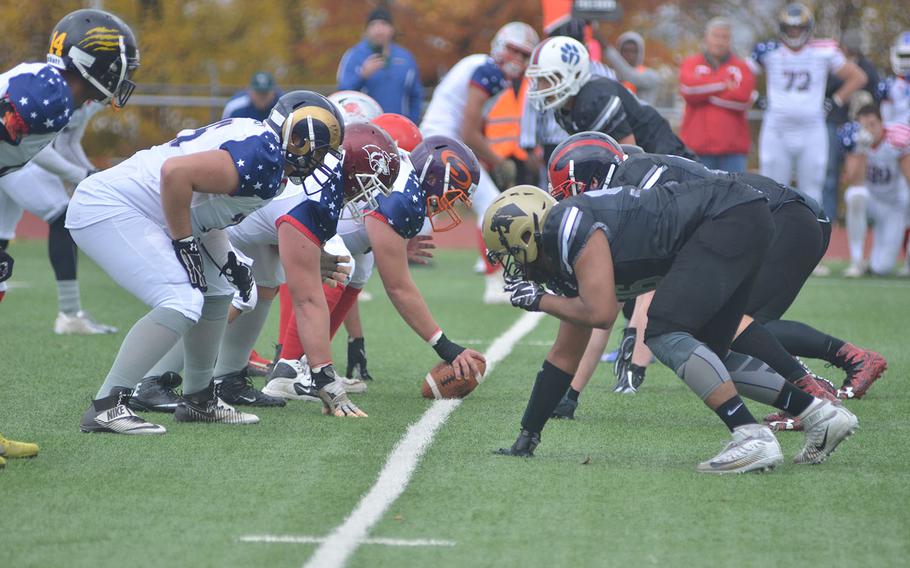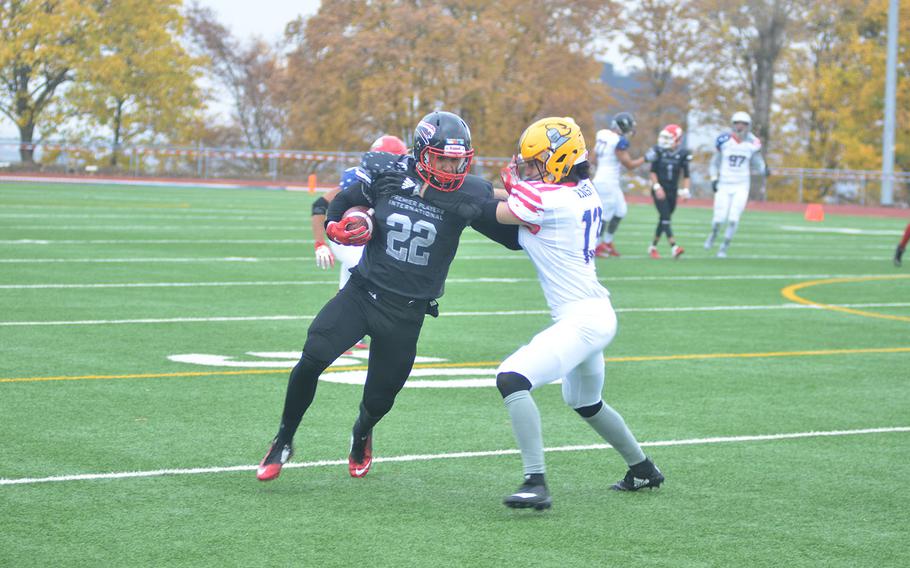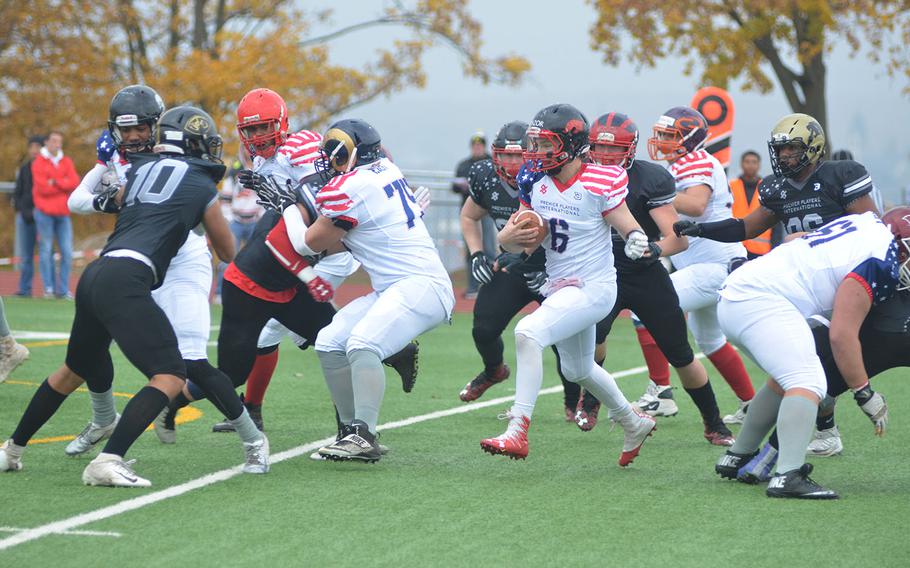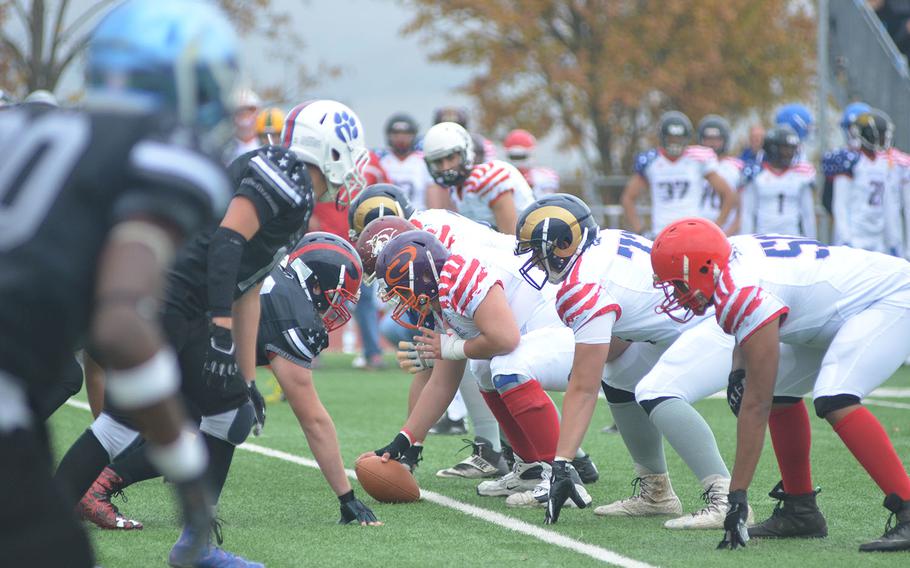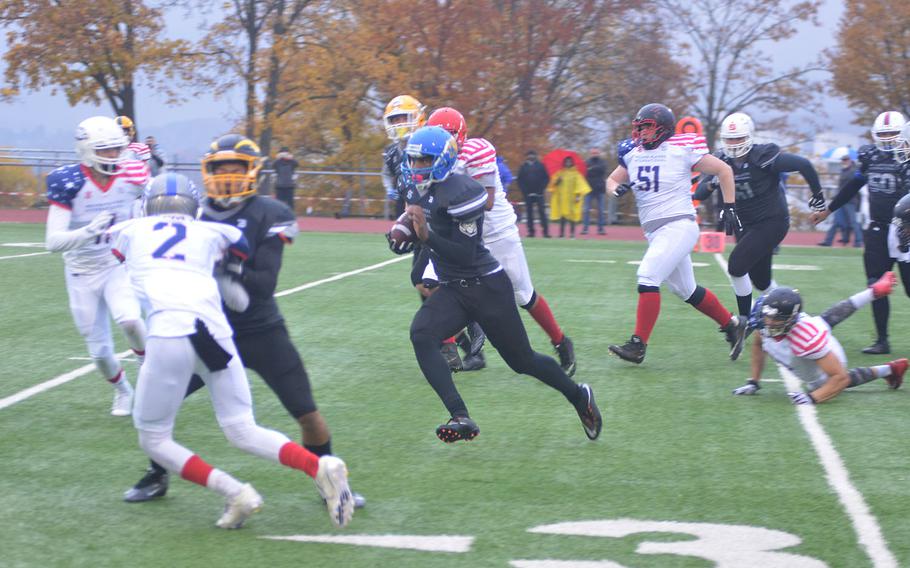 WIESBADEN, Germany - The 2018 European All-Star High School football game had more of an international flavor this year.
The game fielded 73 players from schools all over Europe divided into two teams. Students traveled from different countries including Denmark, England, France and Spain to take part in a three-day football camp that culminated in the game – won 27-3 by a squad designated as West.
"This game isn't about points or winning, but I am competitive, and I do want to win," said Keith Hilson, head coach for the West. "We are going to play it smart and we are going to keep it safe, but at the end of the day we are trying to get these guys to understand that this is their dream, and I will help you pursue it by any means necessary."
The first day of the training camp had all of the participants training together, but the second day separated them into two teams. At that point, coaches were able to work with each of the players a little bit closer and prepare them for a game that would pair them with some teammates they had never met before.
Both teams appeared evenly matched in skills at the beginning. Each time they had control of the ball, it was a fight for yards and the offense leaned on a running game versus the passing game.
During the first half, Ramstein's Naser Eaves – a star receiver on the Division I European champions - set himself apart from the crowd by scoring the only two touchdowns. The West led 13-3 at halftime.
The second half didn't see any change in the energy of the game. The West continued to dominate the scoreboard with two more touchdowns accompanied by successful conversion kicks. Ansbach's Ogden Andrew scored one of the touchdowns and Lakenheath's Joe Glenk scored the last one.
The scene following the game was not the usual scene when one team dominates the other. Instead of going their separate ways, players congregated as if the camp was still going on.
"Do you know what the best thing is about this?" Hilson asked. "You have European kids and American kids together as a family. Nothing is better than that. You can't be an individual in this game. This game teaches you camaraderie. We are all in [the same color] jersey here. We thought there might be a problem or some mix-ups, but it all went smoothly."
After the game, coaches brought the teams together again for an award ceremony announcing the most valuable player.
Hilson stood in front of parents and kids and announced Abel St. Amand Dafour, a student from France who earned the nickname "French Flash" during the camp, had earned the honor.
"He is an undersized defensive end, who had six sacks and two fumble recoveries for us," said Hilson, a military spouse who plays quarterback in a European football league. "Being an offensive-minded coach, when you see a defensive end like that who is undersized and gives it everything he's got, you just have to go with that. I hope he never gives up this sport. He is going to be a big deal."
"Football is my life," said St. Amand Dafour, whose goal is to earn an offer from a Division I university. "This is a good camp and I just want to come back and learn again with the coaches that were here."
St. Amand Dafour doesn't consider himself the best player and said he learned a lot from the coaches during the camp.
"I will just continue to train to get better and better and show off my speed," he said.
Hilson and the other coaches are excited to continue with this program and hope that next year's camp and All-Star game are even bigger and better.
"The goal is to help these kids reach their goals." Hilson said. "These kids are cool, and they just get me excited. They make me want to get out there and play."
Twitter: @AKStripes