Ambelang's underappreciated game nets Athlete of the Year recognition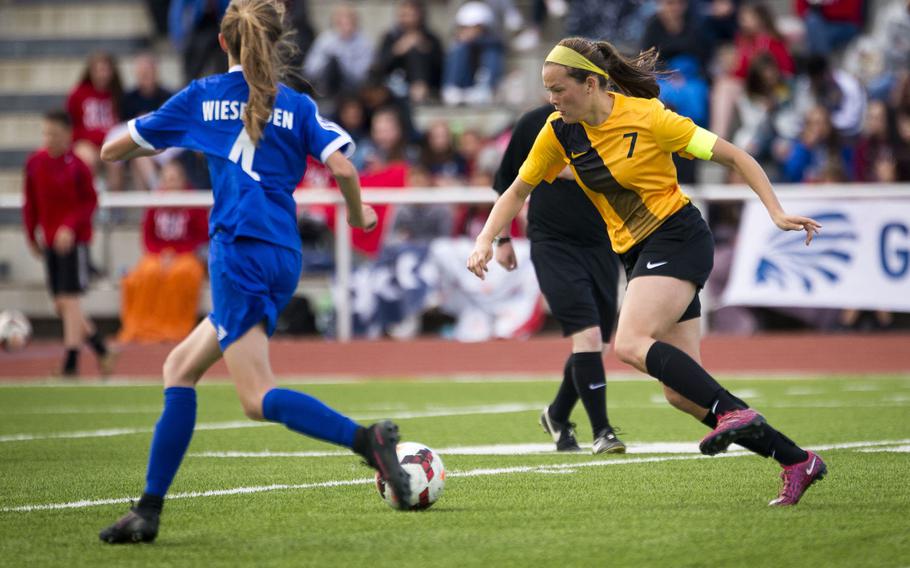 By Gregory Broome Stars and Stripes
Even novice soccer observers can appreciate the saves made by a goalkeeper and the goals scored by strikers and attacking forwards. But in between these two extremes is a complex web of actions and reactions that can be difficult to fully comprehend.
Stuttgart senior Meaghan Ambelang has spent her career in this often-overlooked area. And she's done it so well that she is the Stars and Stripes girls soccer Athlete of the Year.
"Defenders don't ever get the glory," said Daniel Coapstick, head coach of the 2017 Division I runner-up Panthers. "But without her Stuttgart would never have made it as far as it has."
Coapstick said Ambelang has been a "cornerstone" of the Panther defense since her freshman year. But her position on the team has grown considerably from her original spot as the brick-wall last line of defense. This year, her expanding game worked its way into every corner of the vast pitch.
For years, Ambelang had been playing offensive midfield with her local German team, SG Weil/Schoenaich, a vastly different role than she occupied with the Panthers. For much of her final Stuttgart season, she moved up from center back to defensive midfield, effectively splitting the difference between the two halves of her soccer career.
"I wanted to try something new," Ambelang said. "Coach gave me the opportunity to try out a new position."
Fully aware of her game-changing capabilities, Coapstick was happy to do it.
"She will be talented at any position," Coapstick said. "I wanted to help her become accustomed to other positions."
It didn't take long for Ambelang to acclimate to the increased role, which now included preventing the ball from reaching the Panthers' defensive third of the field as well as distributing the ball to offensive teammates advancing into position to score.
"There was a short adjustment period. I was always drawn backwards, but I knew I could go forward," Ambelang said. "It was a little awkward at first, but it worked out."
The larger scope of her on-field responsibility has proven beneficial for her game as a whole. Ambelang, who said she has been an avid soccer follower since an early age, has long been among DODEA-Europe's most potent defensive forces. She has proven productive in a more offensive-oriented role with her local German club. This year, she has furthered her mastery of all of the game's nuances. On offense, she can intuit what countermeasures a defender is likely to take; on defense, she can predict and prevent threats before they develop.
That deeper understanding of the game will serve her well next year when she plays for NCAA Division III soccer program Wisconsin-Stevens Point. Also a DODEA-Europe marksmanship standout, Ambelang will attend the school on an ROTC scholarship.
"When you're just focused on one position you don't know how other players think," Ambelang said. "I see the whole game instead of just my part."
broome.gregory@stripes.com Twitter: @broomestripes