AFNORTH cruises to sweep of Baumholder
by
Gregory Broome
April 27, 2018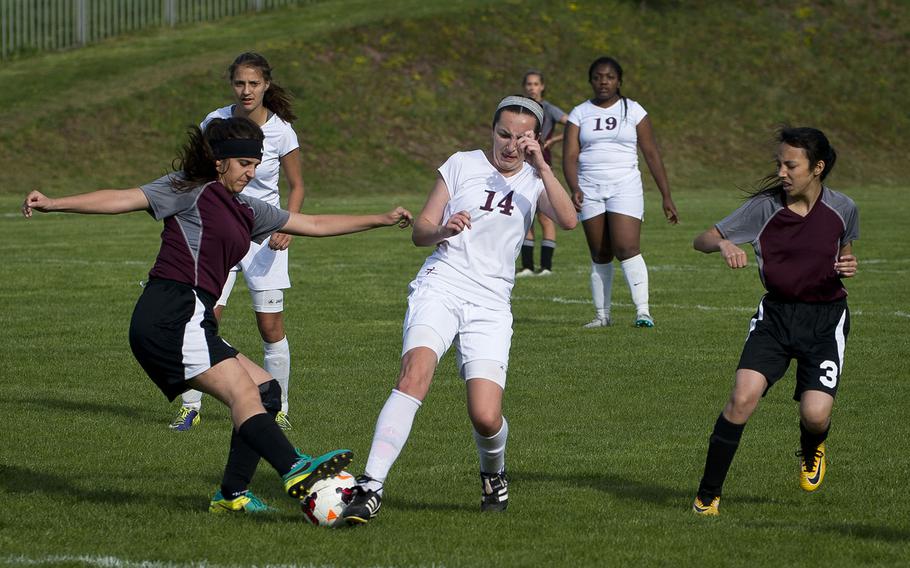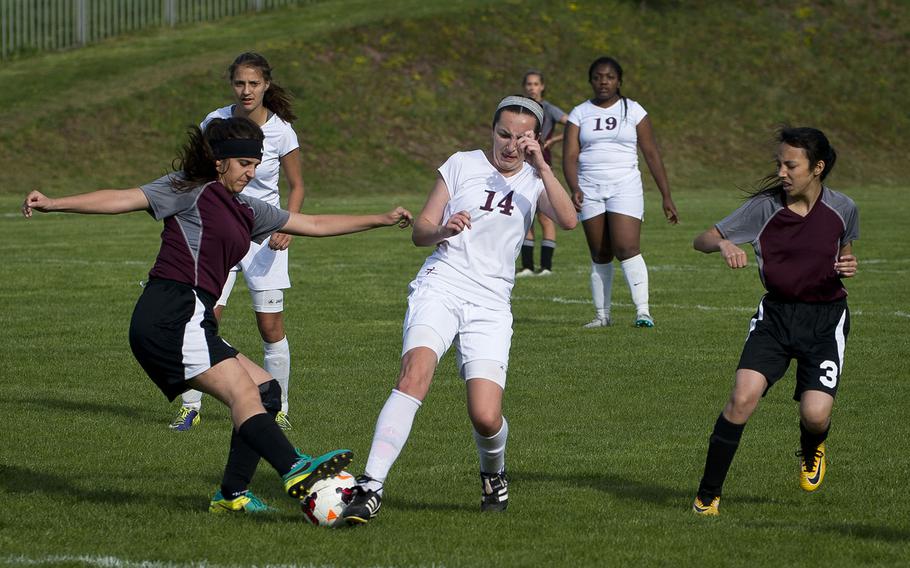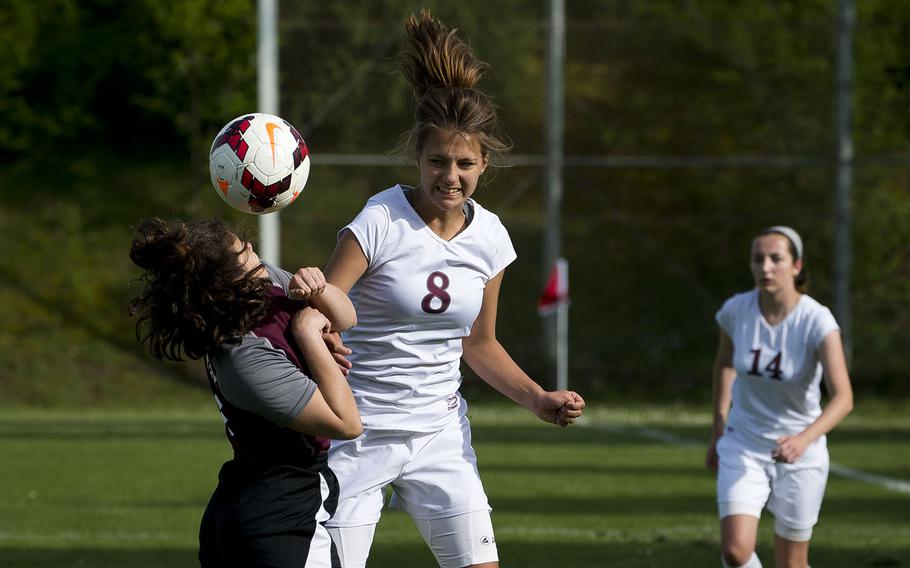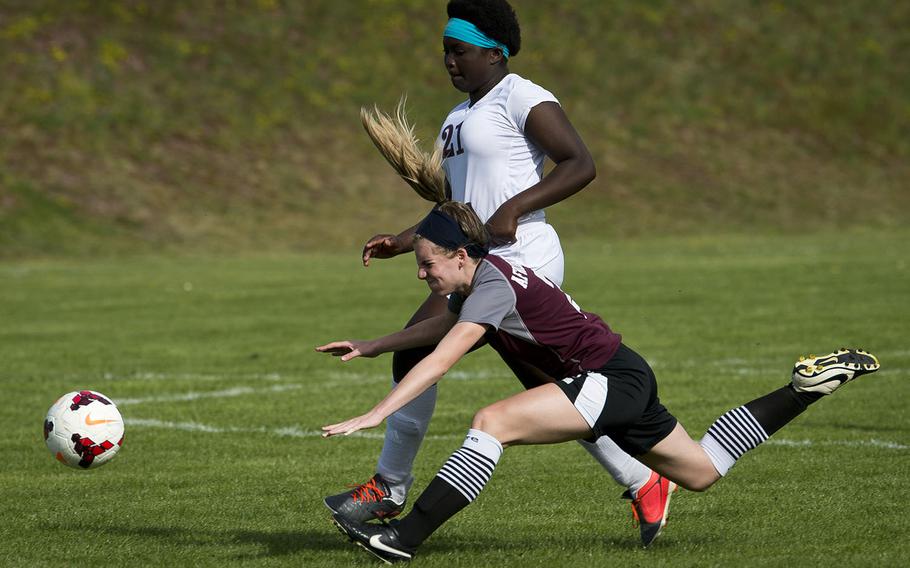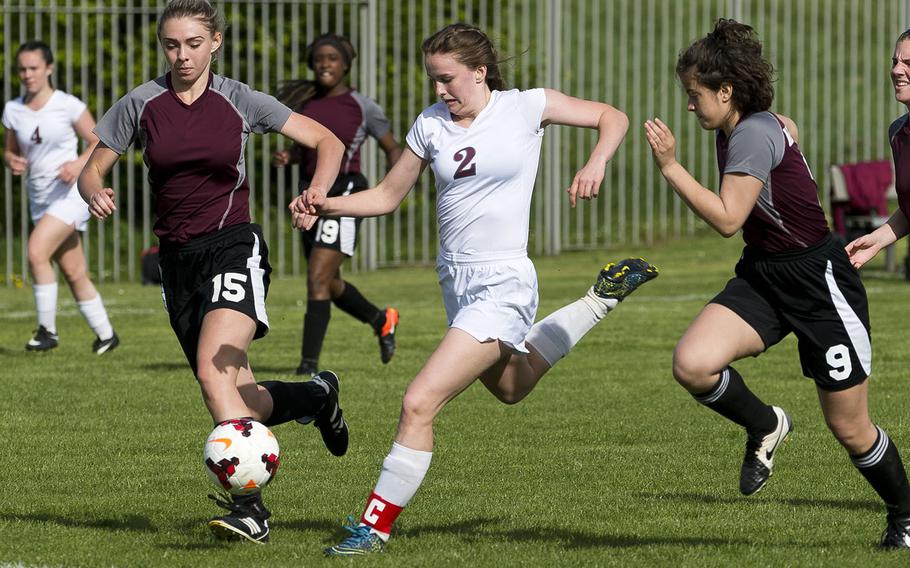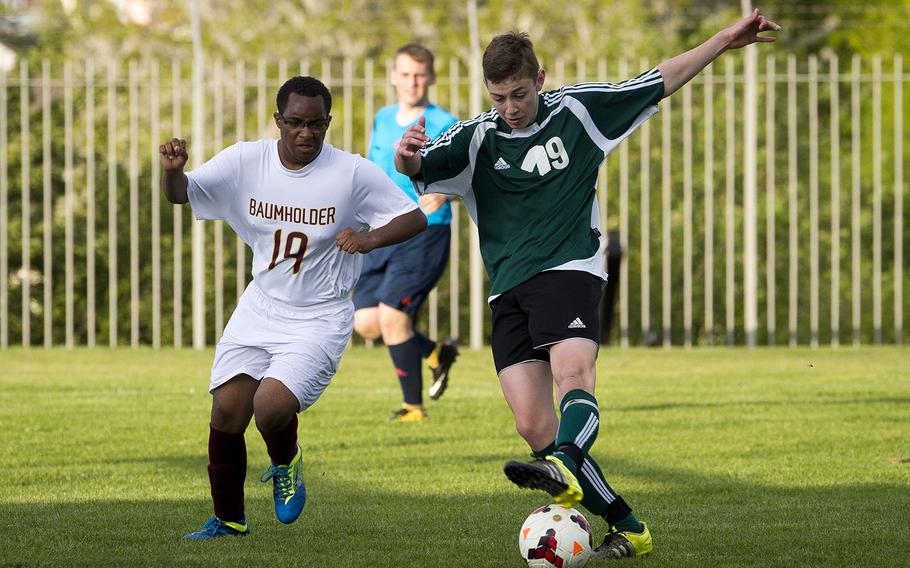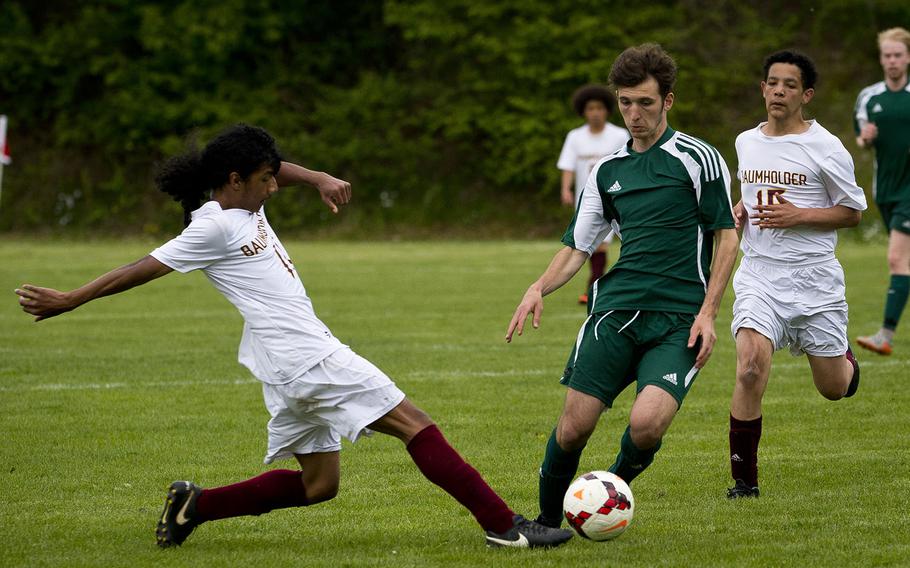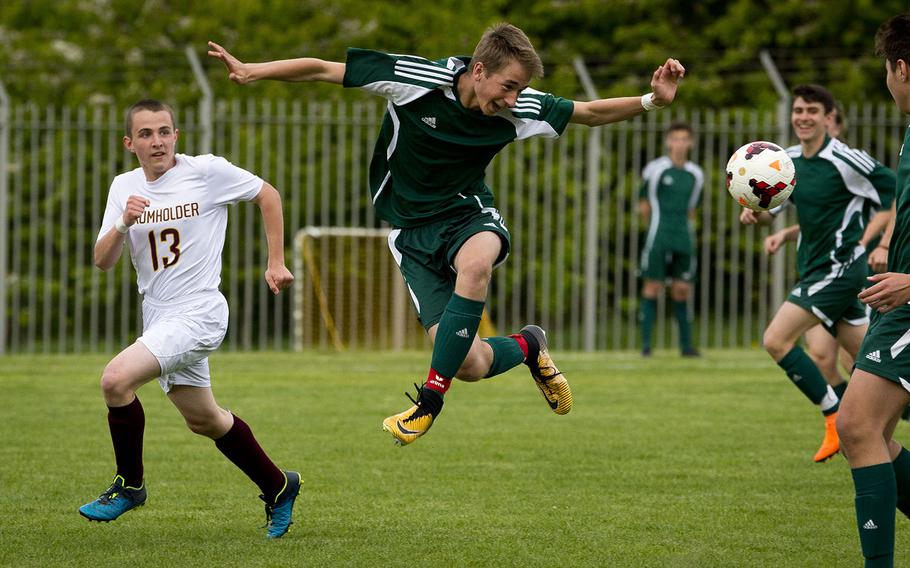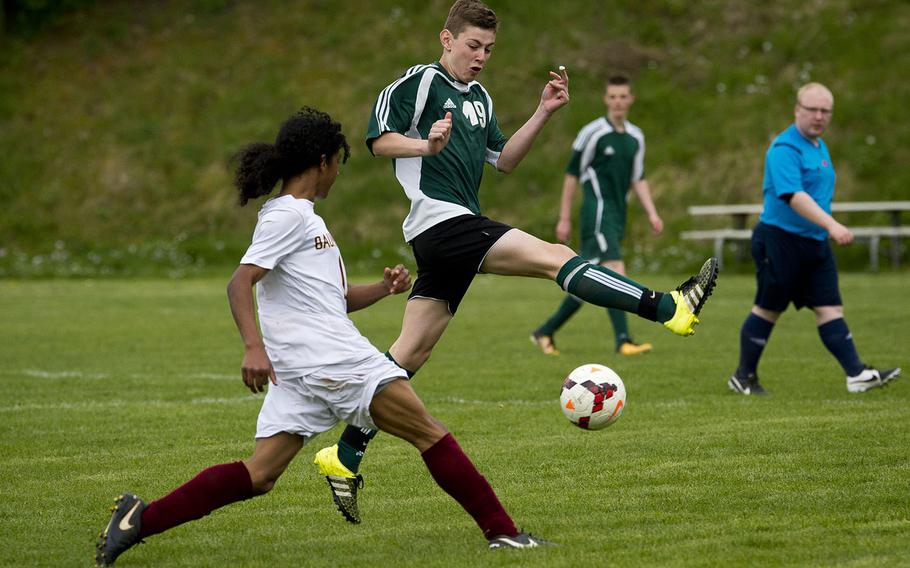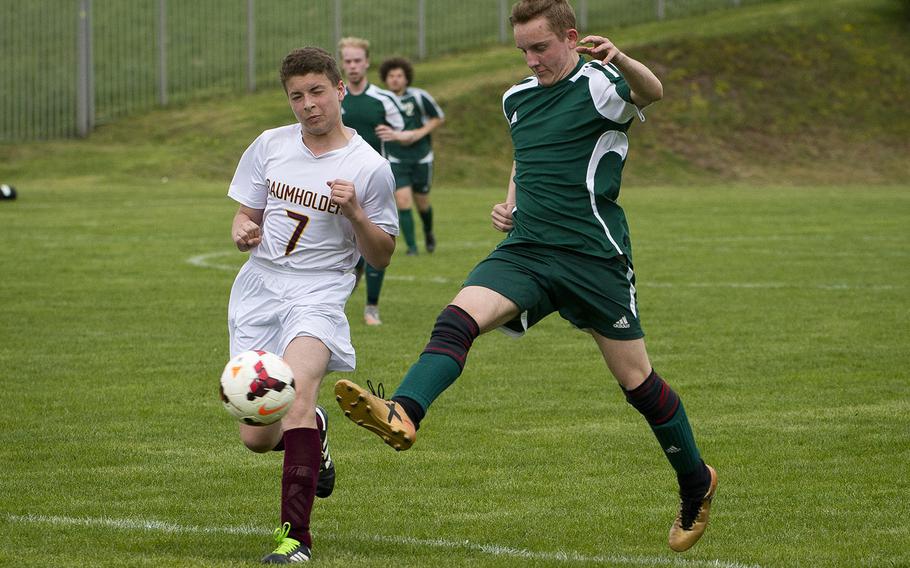 BAUMHOLDER, Germany -- The DODEA-Europe soccer regular season is all about learning lessons in pursuit of a memorable finish at the season-defining European tournaments.
Some of those lessons come harder than others.
All four teams involved in Friday's boys and girls soccer doubleheader gained valuable experience in service of their larger goals for the spring.
The AFNORTH Lions, who won the girls game 10-1 and the boys game 15-0, fine-tuned the relentless attacks that might soon take them deep into their Division II brackets; the Division III Baumholder Bucs, meanwhile, absorbed the kind of teachable moments they'll be able to draw on against the small-school peers they'll see in the postseason.
GirlsAFNORTH 10, Baumholder 1: The Lions weren't doing poorly at all as they built its initial lead over the Bucs. But they knew they could do better.
And so they did.
After trickling in a couple of early volleys past the overmatched Baumholder defense, AFNORTH toggled the settings on its goal-scoring machine, unleashing a torrent of offense that quickly turned the game into a rout. Threats that had fizzled out were now decisively consummated; balls that had sailed wide or hit the post now found the back of the net.
"I think as I got into it I realized what I was doing wrong," said AFNORTH star Kyla Kolosky, who scored four goals and earned two assists off of spot-on corner kicks. "At the beginning we were all about ourselves. We definitely communicated more."
AFNORTH coach Christine Wise elaborated on that phenomenon, saying the Lions suppressed their early "panic and kick" instincts with a more sophisticated approach based on "watching for teammates in space." After two 1-1 tie games last weekend, the adjustment produced a satisfying double-digit number on the scoreboard.
"Calm down, relax and have fun," Wise said. "For them it's very mental, and it made all the difference."
Baumholder awarded itself a psychological clean slate at halftime, coach Jill Norris said, and made good with a goal scored by Annabel Brinkmeyer. While it did nothing to affect the result, that score, and what Norris called a "more aggressive" second-half performance, was salve for the Bucs' wounded spirit.
"We had to start somewhere today, so we started at halftime," Norris said. "They were really proud of their (second-half) effort."
BoysAFNORTH 15, Baumholder 0: With the eventual outcome immediately obvious, both teams turned their attention away from the scoreboard and towards their own internal development.
"We're not really too focused on how many goals we score," said Lions junior James Barata, who nonetheless contributed mightily to that effort with three goals and three assists. "We're trying to develop as a team and learn from this game."
Laurenz Kohl totaled two goals and three assists on the day. Barata and Kohl are key components of an offense that will need to perform at a very high level to have a postseason chance against Division II favorites American Overseas School of Rome and Marymount, and Friday's mismatch gave AFNORTH an opportunity to dominate possession and, literally and figuratively, stretch its collective legs.
"You can try to develop your strengths that normally you wouldn't be able to test that well," Kohl said. "Play as a team, and give everybody the chance to play."
The inexperienced Bucs, meanwhile, know they are at an early stage of their growth. They're simply hoping to expedite that painful process as much as possible. Friday's task was to persevere through the considerable pressure the Lions applied, and Baumholder responded by continuing to compete for 50-50 balls and launch hopeful offensive attacks well after the game was decided.
"We're playing catch-up and not catching up quick enough," coach Kyle Holland said. "Hopefully it starts coming together."
Twitter: @broomestripes