Europe's athletes finally competing again
by
Kent Harris
September 23, 2020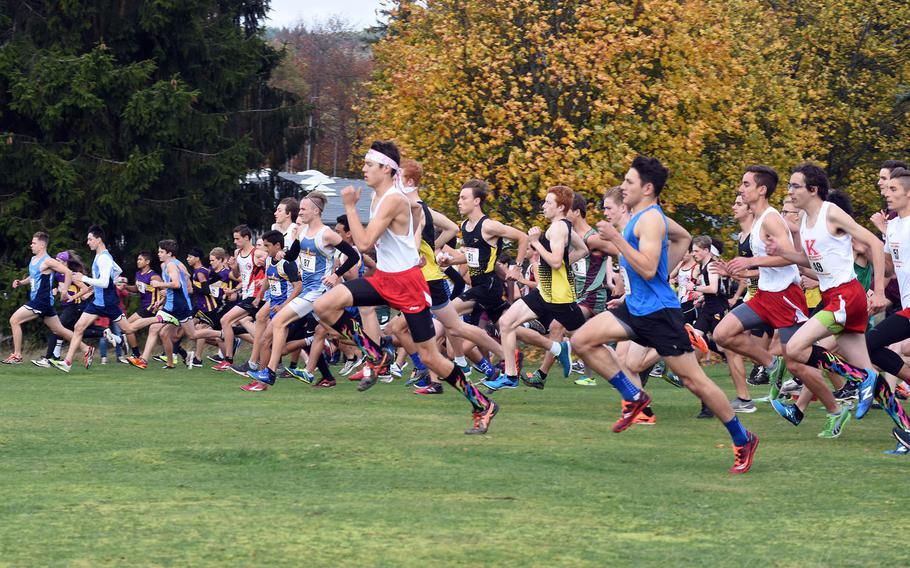 A year ago this week, cross country, football, golf, tennis and volleyball teams were in the heart of their DODEA-Europe fall seasons, competing mightily against rival schools in preparation for season-ending championships.
This weekend, some of the 2020 versions of those teams are facing rivals again for the first time. Of course, there are no 2020 football or volleyball versions due to precautions against spreading the coronavirus. And cross country runners, golfers and tennis players outside Germany, England and Belgium will be competing on their home turf against only their own teammates.
Lakenheath, Frankfurt International, Vilseck and Kaiserslautern are all set to host cross country meets Saturday. In tennis, Ramstein, Alconbury, Wiesbaden and Vilseck all hope to hold serve against rival schools. And golfers from three schools were set to compete at Ramstein this week.
"As far as I know, everything's a 'go,' " DODEA-Europe athletic director Kathy Clemmons said. "We're hopeful."
But the season is far from ordinary. Last year, there were five cross country meets before the season-ending championships. This year, there are three. There were six weekends of tennis matches, but there are only three in 2020. Golf tournaments have gone from three to two.
And it's possible seasons will end without in-person championships, though Clemmons remains hopeful that won't be the case.
Virtual competition is nothing new for DODEA-Europe, with some marksmanship teams competing remotely every season.
But the concept will reach new levels this fall. Cross country teams south of the Alps will not only compete remotely during the season, but they'll square off in a virtual championship as well. DODEA-Europe has invented a new sport — the European Athletic Fitness Games — where the action all season will involve athletes competing on their home fields and then comparing scores online.
That sport isn't the only one that will crown new champions, though. A few titlists from last year have either graduated or transferred. The Naples girls edged Bahrain for the Division II cross country team championship last year. Naples — and Division III boys winner Sigonella — won't be going to Germany. And Bahrain remains on virtual learning. It's unclear whether Florence will be able to defend its boys doubles title in tennis. And even for those champions returning to action, a shortened schedule might contribute to unforeseen results.
Regardless, sports teams are back in DODEA-Europe after a seventh-month break. And while cheerleaders won't be roaming the football sidelines this fall, they'll at least have something to cheer about starting Saturday.
harris.kent@stripes.com Twitter: @kharris4stripes