Europe H.S. softball: Patch doesn't allow a hit in sweep of Mannheim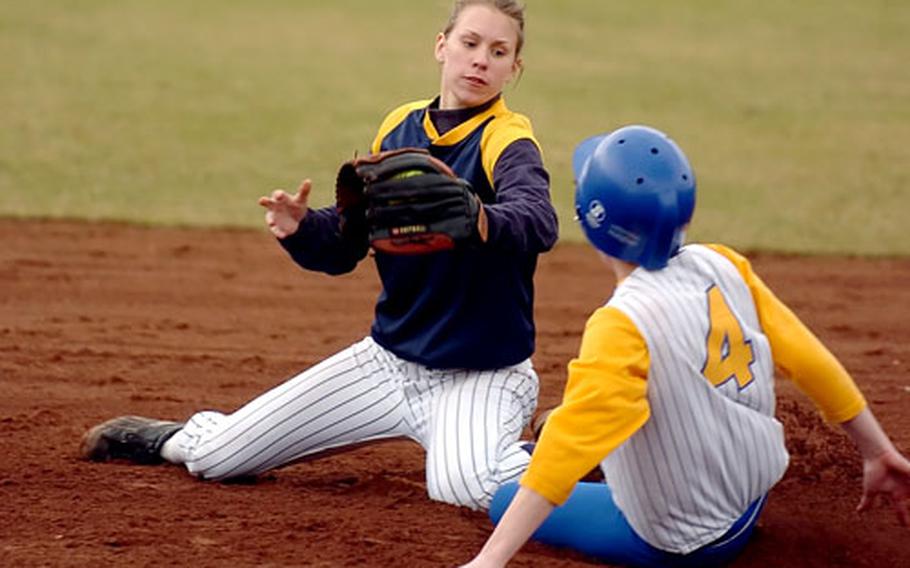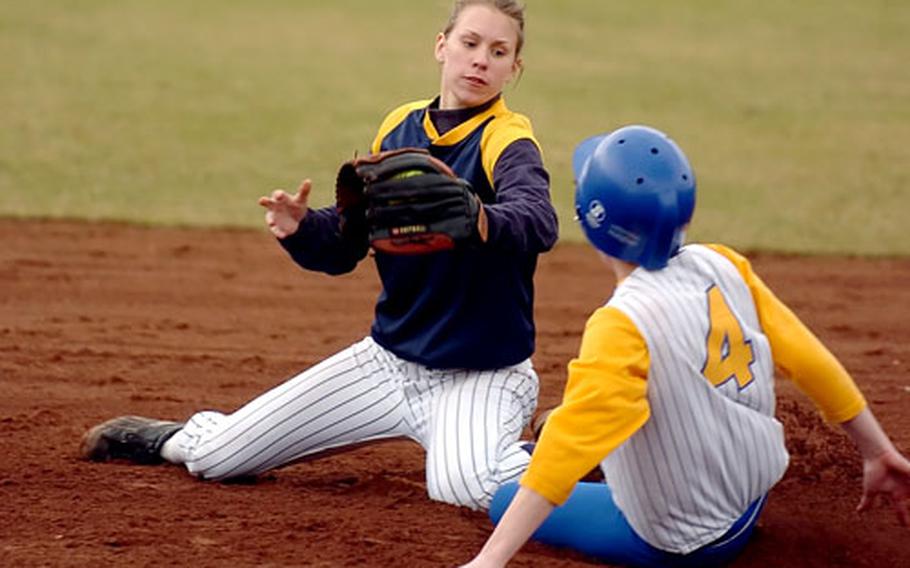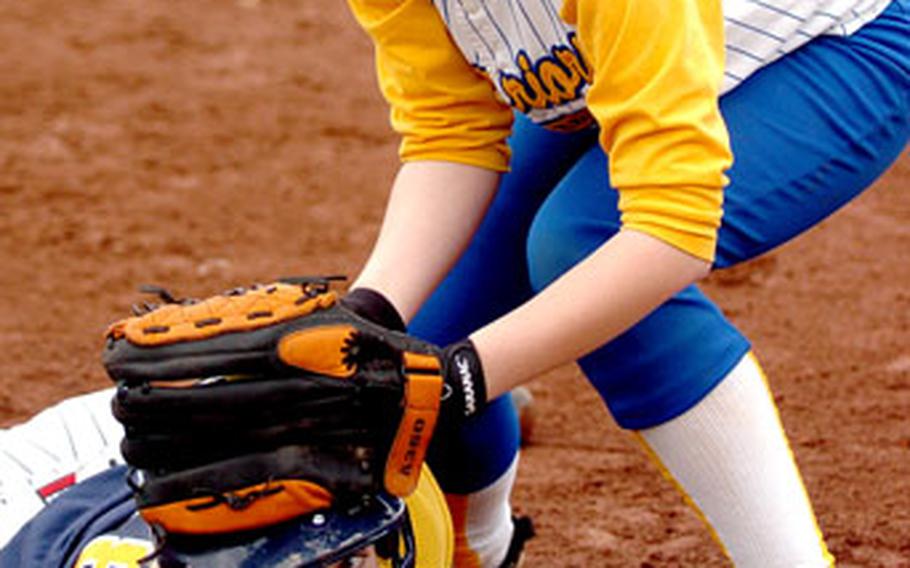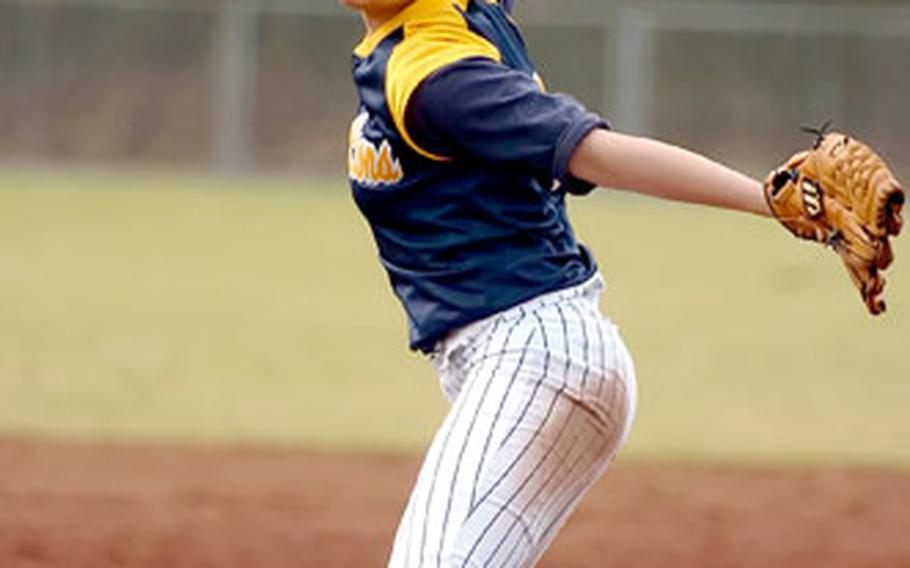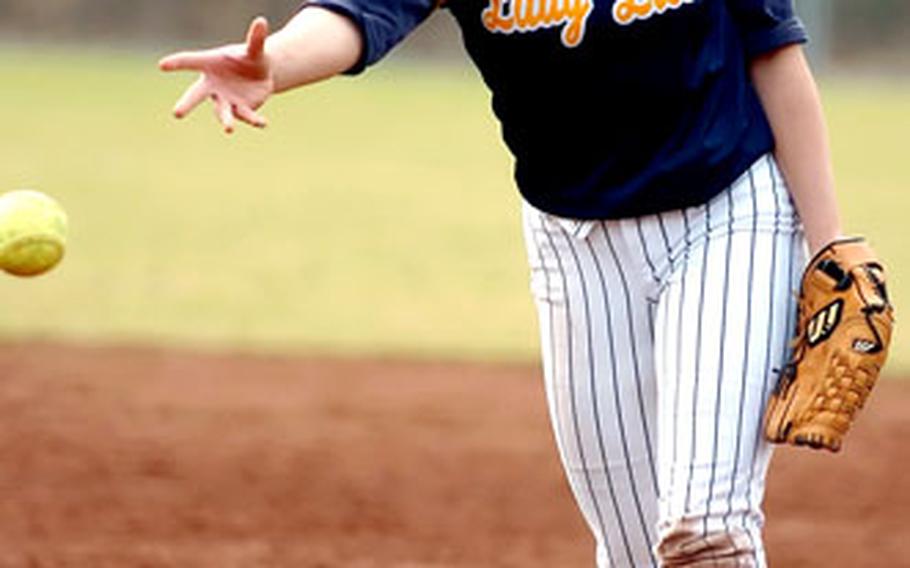 Kasy'e Lalau and Lauren Sanchez pitched back-to-back no-hitters Saturday as Patch collected two courtesy-rule victories over Mannheim in a high school Division II softball doubleheader at Stuttgart.
Lalau struck out seven in the 15-0 opening-game victory, called after three innings. Sanchez pitched all four innings and struck out nine in the 16-0 nightcap.
Lalau went 5-for-6 in the doubleheader, including a triple. She drove in seven runs and stole nine bases. Trisha Barabin stole nine bases for the Lady Panthers.
Sanchez (4-for-6) tripled and drove in three runs. Teammate Lauren Nation (3-for-3) also drove in three runs.
In other softball doubleheaders Saturday:
Ramstein 11-7, Kaiserslautern 4-0At Ramstein, the defending European Big Schools champions opened their Division I season by sweeping Kaiserslautern.
Lindsey Dunn pitched a four-hitter in the opener and backed herself by going 3-for-3 at the plate with a pair of doubles. Jamie Beach went 2-for-4 for the Lady Royals, who defeated K-town pitcher Kyle Smith.
In the nightcap, Ramstein evened its overall record at 2-2 behind the four-hit pitching of Kayla Haven. Smith again took the loss for Kaiserslautern (2-2 overall, 0-2 in D-1).
Wiesbaden 7-8, Heidelberg 2-12At Darmstadt's Memory Field, Jessica Smith won the opener and lost the nightcap as the Division I squads split.
Gabrielle Alexander picked up the win in the second game for Heidelberg (2-2 overall, 1-1 in D-1). Wiesbaden is 3-1 overall.
Lakenheath 13-15, Würzburg 2-3At Lakenheath, Brynn Lipor struck out seven batters in the opener, and Rebecca Groff, who went 6-for-7 at the plate, struck out nine in the nightcap as Lakenheath swept its Division I opener. Both games were ended by the 10-run courtesy rule after five innings.
Kordia Holmes suffered the loss in the first game, despite striking out 10. Ashley Peak started the second game and took the loss.
Only three Würzburg batters were able to collect one hit each against the Lakenheath pitchers — Amanda Ventura, Jessica Smith and Megan Hendrix.
Alconbury 11, London Central 7At Lakenheath, Megan Archer struck out 13 to lead Alconbury in a Division III game. Micana Gallaway had two hits for London Central.
Baumholder 9-3, Bitburg 6-8At rainy Bitburg, Jasmine Velasquez three-hit Bitburg in the opener. Bitburg senior Ashley Kazimer helped the home team earn the split with nine strikeouts in the nightcap.