Europe H.S. girls basketball: McMonagle's three sends Lajes to final
by
Rusty Bryan
February 23, 2007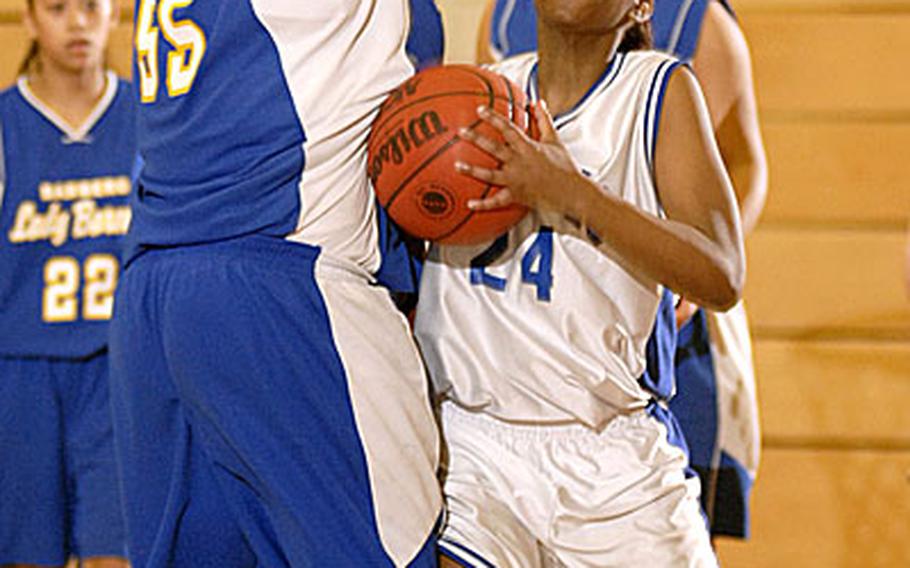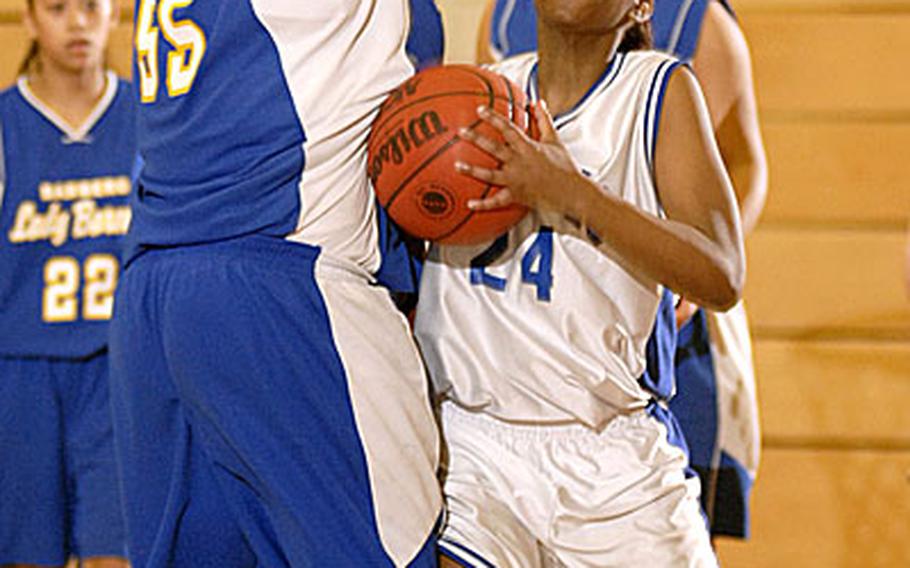 MANNHEIM, Germany — Lajes junior Alexa McMonagle hit a three-pointer with seven seconds left, lifting the Falcons to a 33-32 victory over Menwith Hill on Thursday in the semifinals of the DODDS-Europe Division IV basketball tournament.
McMonagle dropped in her shot from the right wing shortly after the Lady Mustangs' Desiree Moore hit a basket to break a 30-30 tie.
"Time was running out," McMonagle said of her team's final possession. "We had to push the ball up the floor. We didn't want to give up."
Amy Wagner drove into the left side of the Lajes front court, then dropped the ball back to point guard Larissa Palmer. Palmer whipped the ball to McMonagle, who was open for her game-winning dagger.
"That side was fine," McMonagle said of the location where she spotted up. "I don't care where I take the shot."
McMonagle, who led all scorers with 17 points, was 3-for-13 from beyond the arc, but she made the one that counted most, and her points came when her team needed them most.
McMonagle had only three points in the first half, and her team trailed 18-13 at halftime. But after the Falcons fell behind 28-20, she scored nine in the final quarter. She also finished with10 rebounds and three steals.
Wagner added 12 points for Lajes. She was especially effective from the free-throw line, sinking four of six.
Moore had 12 points and 12 rebounds to lead Menwith Hill in both categories. Kayla Kinch added eight points for the Lady Mustangs.
Lajes advanced to Friday afternoon's title game against Brussels, the defending D-IV champ, which advanced to the final with a 43-20 victory over Bamberg on Thursday behind 15 points from Reliesha Burns and 13 from Elizabeth McVicker.
In the Division I event, which also winds up Friday, the top four seeds — No. 1 Ramstein, No. 2 Kaiserslautern, No. 3 Heidelberg and No. 4 Wiesbaden — all advanced to Thursday evening's semifinals.
Unbeaten Ramstein coasted through its pool on Wednesday; Heidelberg nailed down the Pool B title with a 22-18 victory over International School of Brussels to go 3-0 in its section.
In Division II, No. 3 Vilseck downed No. 2 Baumholder, the II-North champions, 40-24, and Naples bounced back from its first loss of the season, 28-25 to Würzburg on Wednesday night, to hold off Black Forest Academy 38-33. Division II is scheduled for semifinals for both sexes at 11:30 and 1 p.m. Friday, with the title games late Saturday afternoon.
Division III opened its pool slate Thursday with few surprises. Top-seeded Hanau and No. 2 Giessen posted dominating victories over Italy-based schools, as did No. 3 Rota.
Pool play continues Friday, with the semifinals set for Saturday morning and the title games that afternoon.
Admission on both days is $5 for adults and $3 for students.
Tournament scoreboardMANNHEIM, Germany — Results from the 2007 DODDS-Europe high school girls basketball championships, which end Friday for Divisions I and IV and Saturday for Divisions II and III (Pool-play games consist of 7-minute quarters; periods in semifinals and finals are 8 minutes):
Division I
Wednesday's late pool playRamstein 45, Wiesbaden 23Thursday Pool playLakenheath 41, Kaiserslautern 37Heidelberg 22, Int'l School of Brussels 18SemifinalsRamstein vs. Kaiserslautern, lateHeidelberg vs. Wiesbaden, lateFridayThird placeAt Sullivan Barracks, Mannheim Semifinal losers, 9 a.m.ChampionshipAt BFV Sports Arena, MannheimSemifinal winners, 6 p.m.
Division II
Wednesday's late pool playBaumholder 33, Mannheim 17Würzburg 28, Naples 25Vilseck 48, Aviano 16Thursday Pool play Aviano 20, AFNORTH 15Naples 38, Black Forest Academy 33Vilseck 40, Baumholder 24SHAPE 43, Würzburg 29BFA 34, Bitburg 20Vilseck 47, Mannheim 26Naples 36, SHAPE 35Baumholder vs. Aviano, lateMannheim vs. AFNORTH, lateWürzburg vs. Bitburg, lateFridaySemifinalsAt Sullivan Barracks, Mannheim Pool B winner vs. Pool A runner-up, 11:30 a.m.At BFV Sports Arena, MannheimPool A winner vs. Pool B runner-up, 1 p.m.
Division III
Thursday Pool playVicenza 37, Sigonella 31Hohenfels 29, London Central 21Giessen 51, Marymount 14Ansbach 43, American Overseas School of Rome 25Hanau 45, Sigonella 16Rota 47, Marymount, 21Hanau 38, Vicenza 35Giessen vs. AOSR, lateHanau vs. London Central, lateRota vs. Ansbach, lateFriday Pool playAt Patton Barracks, HeidelbergAnsbach vs. Marymount, 8 a.m.Hohenfels vs. Hanau. 9:15 a.m.Rota vs. Giessen, 10:30 a.m.Vicenza vs. London Central, 11:45 a.m.Hohenfels vs. Sigonella, 1 p.m.Rota vs. AOSR, 2:15 p.m.At Sullivan Barracks, MannheimHanau vs. Vicenza, 2:30 p.m.Giessen vs. Ansbach, 3:45 p.m.AOSR vs. Marymount, 5 p.m.London Central vs. Sigonella, 6:15 p.m.
Division IV
Wednesday's late pool playBrussels 36, Lajes 29Incrilik 66, Alconbury 38Thursday Pool playMenwith Hill 36, Bamberg 35Lajes 46, Alconbury 22SemifinalsLajes 33, Menwith Hill 32Brussels 43, Bamberg 20FridayAt BFV Sports Arena, MannheimThird placeMenwith Hill vs. Bamberg, 9 a.m.ChampionshipLajes vs. Brussels, 2:30 p.m.
---
---
---
---