Europe H.S. football: Four teams shift to new divisions for 2006 kickoff
by
Rusty Bryan
September 15, 2006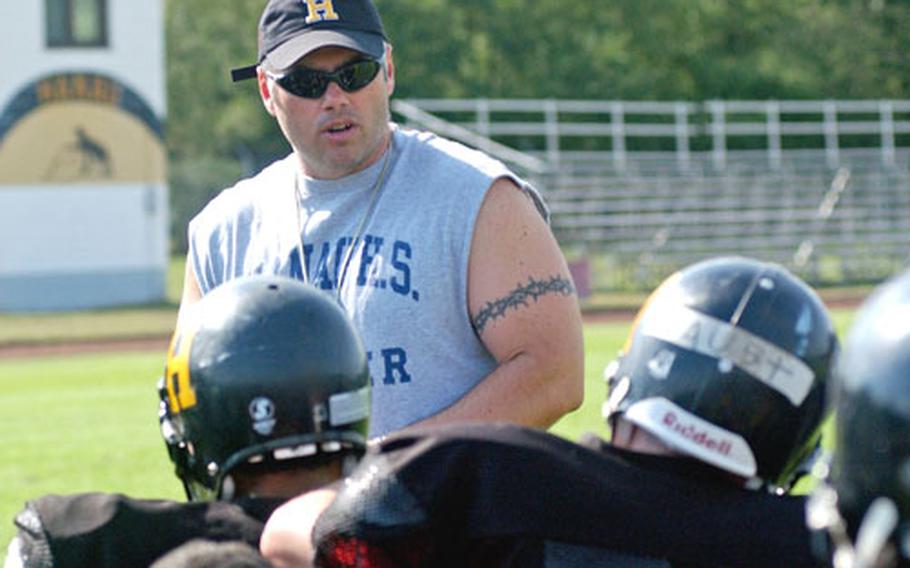 Realignment is the big story for DODDS-Europe's football teams as they prepare to kick off the 2006 high school season.
The transformation of U.S. forces in Europe affected the enrollment of several schools, resulting in a shift of four teams to new divisions.
Hanau made the most notable move. Enrollment dropped to the point where the unbeaten European Division II champion will play this year against the school system's smallest schools in Division III.
The enrollment at Würzburg, a Division I mainstay for decades, also shrank sufficiently enough to drop the Wolves into Division II.
In contrast, Vicenza grew enough to make the jump from Division III to Division II.
The Patch Panthers were moved up to Division I to take the place of Würzburg.
"We've got mixed feelings about the change," said Patch coach Todd Taylor, one of 10 new head coaches.
"We don't mind the challenge, but we think we'd have had a better chance in Division II. We are No. 6 in enrollment in Division I."
The challenge is evident, too, to Adam Ridgley, in his first year as head coach for Vicenza.
"We've got our work cut out for us," said Ridgley, whose Cougars historically have played in Division III, although every season included a game against Division II neighbor Aviano.
Moving down will hardly be a cakewalk, even for a Hanau team that lost only three players from its 2005 championship squad, which went 8-0.
"We play two of the best teams right off the bat," Hanau coach Sam Cassou said of an opening slate that has his Panthers visiting Ansbach, which is 30-2 over the past five seasons, and hosting Hohenfels, the Division III champion that handed Ansbach both of those losses, the following week.
"We've emphasized to our team that we can't take anyone lightly just because we dropped down a division."
Würzburg head coach Eric Mead said his team is coping well with its changes, especially after the turmoil it went through in 2005.
"Last year, everyone saw all their friends leaving and thought the school was going down the tubes," said Mead, who won European titles at Alconbury in 1998 and Würzburg in 2002 before taking a break from coaching.
"Now, everyone who was going to leave has gone and things have settled down. The kids are a lot more enthusiastic. We have a lot of kids out who would not have come out if we were still a D-I school."
Chief among those giving it a try is his starting quarterback Carlos Figueroa, a senior who's playing football for the first time.
"He's looking really good," Mead said of Figueroa, who'll get his first test Saturday against Patch, the team the Wolves replaced in Division II. Along with Hanau's game at Ansbach, it's a matchup that will be emblematic of the shift from thinking about realignment to what really matters for the 1,000-or-so DODDS-Europe players: playing the game.
Speaking for them all, Hanau senior running back Michael Williams said, "It doesn't matter which division we're in. I'm just glad we still have a school to play for."
Saturday's schedule
Nonconference— Ramstein at Heidelberg; Lakenheath at SHAPE; Kaiserslautern at Wiesbaden; Würzburg at Patch.
Division II-North — Mannheim at Bitburg; Baumholder at International School of Brussels.
Division II-South — Vicenza at Aviano; Naples at Vilseck.
Division III-North — Alconbury at London Central; Brussels at Rota; AFNORTH at Menwith Hill.
Division III-South — Giessen at Hohenfels; Bamberg at Sigonella; Hanau at Ansbach.