Europe H.S. basketball tournaments: K-Town girls cap perfect season with Division I crown
by
Charlie Coon
February 26, 2006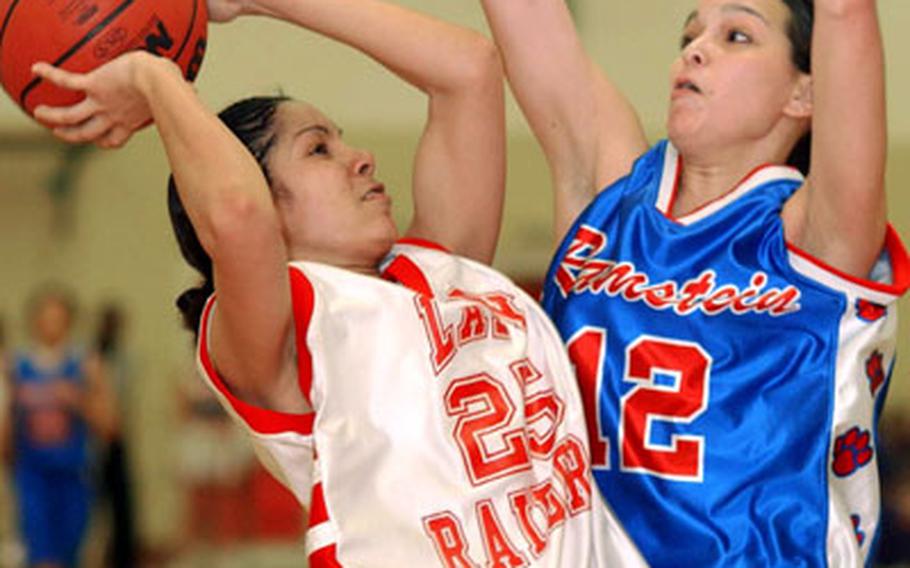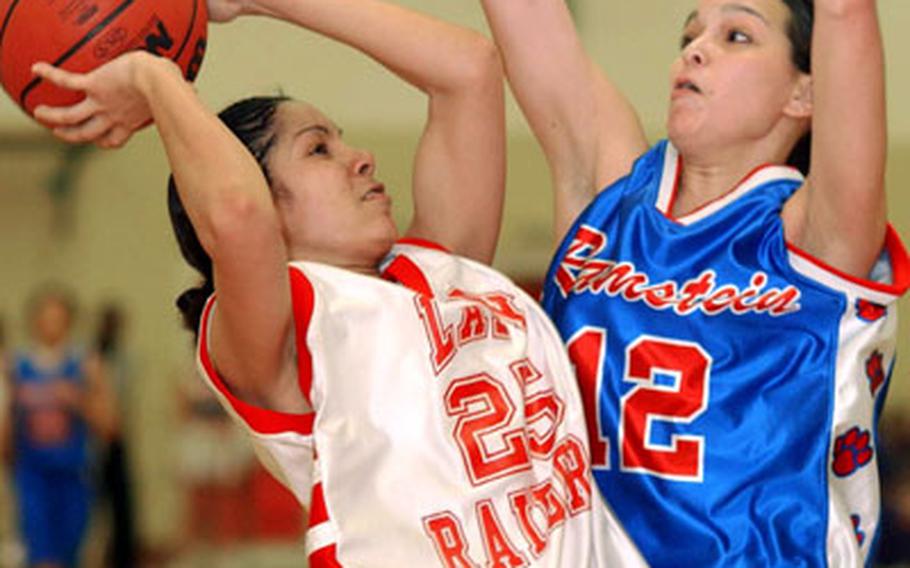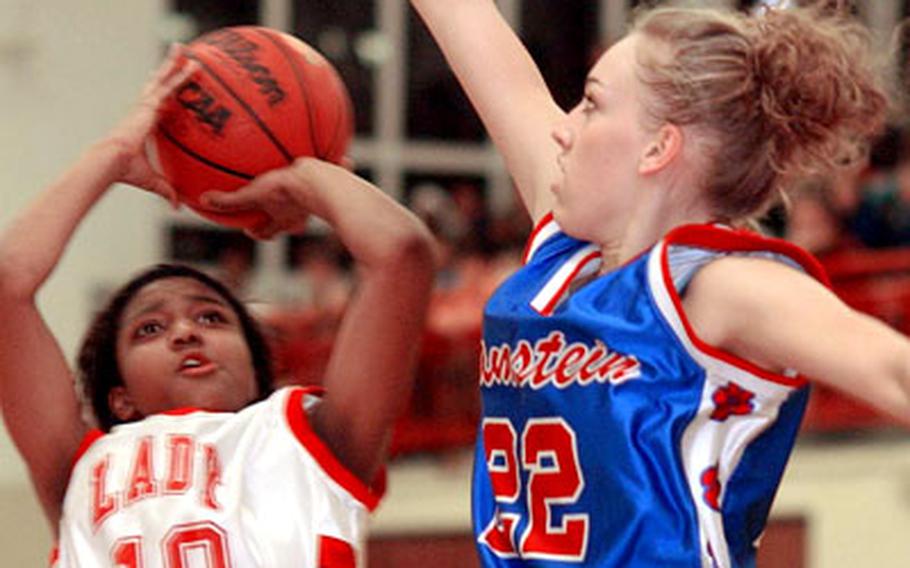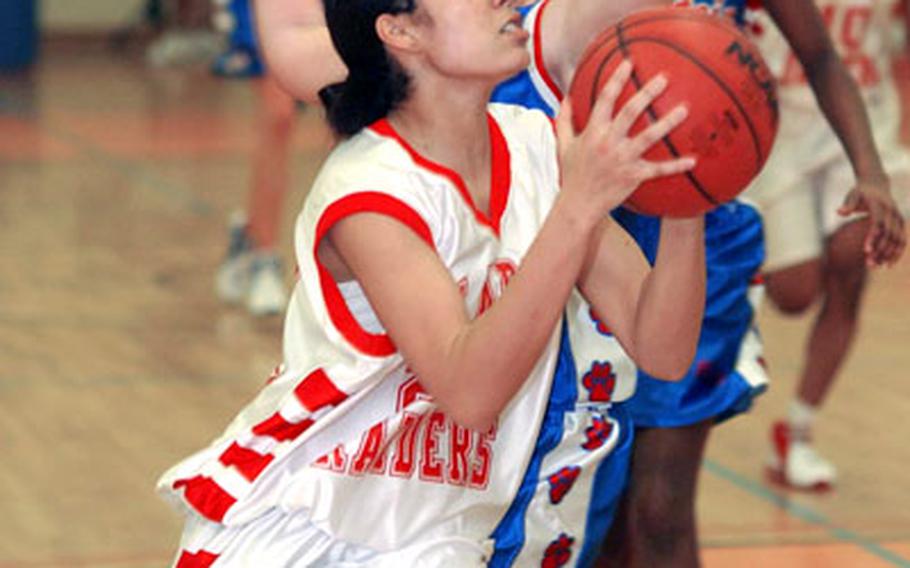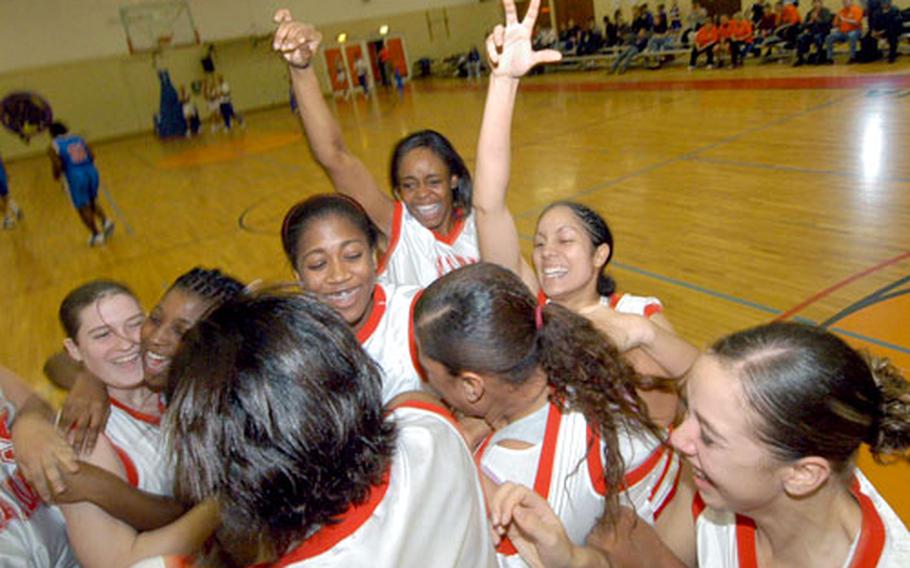 MANNHEIM, Germany — Last year, the Kaiserslautern Lady Raiders lost the basketball championship to their crosstown rivals by one point.
This year, they didn't lose to anyone.
Lynndsey Hyter scored 13 points Friday as the Lady Raiders sped to an early lead and never looked back, beating Ramstein 45-20 to capture the DODDS-Europe Division I crown.
Kaiserslautern finished the season 17-0.
Revenge against Ramstein was in the back of the Lady Raiders' minds at the start of the season, according to Kaiserslautern senior Dupe Babatunde. But the Royals were only one rival, she said, on the road to perfection.
"This year wasn't about anything but winning," she said. "It was just about what K-town could do."
"You can't underestimate anybody," senior Bianca Gerena-Perez added. "Anything can happen, so you've got to give it your all every game."
On the strength of a stifling defense and high-speed offense, the Lady Raiders sped to a 22-8 halftime lead. Ramstein, which had battled its way from the fourth seed to the title game, knew winning wouldn't be easy.
"We tried to mix it up on defense, to shut down their powerful offense," Ramstein coach Kathleen Kleha said. "I give them all the credit. They're a great team."
Ramstein's Kendra Lenoir got the job of shutting down Kamiko Williams and held the freshman star to seven points. But the Lady Raiders had too many other weapons as eight players scored.
Early in the third quarter, the Lady Raiders forced four straight turnovers, mostly steals, leading to fast-break layups or free throws. Guard Anisha Ingram made two of the steals, and another to open the fourth quarter, when she was fouled on the fast break and made two free throws, stretching the lead to 37-16.
"Our defense is what we live by," fifth-year coach Corey Sullivan said. "We really think we can make the other team turn the ball over, and we want to make them pay for it."
"We had a good game plan, but the odds were definitely not in our favor," Kleha said. "Our kids had to play above themselves. At times they did and at times they didn't.
"We put our hearts and souls into this, and it just didn't happen. These are the things that make you stronger. We have no regrets."
Dallas Norman led Ramstein with six points; Crystal Richardson added five.
The Lady Raiders started emptying their bench midway through the fourth quarter. At the final buzzer, the Lady Raiders and their cheerleaders ran onto the court and piled into one another, jumping and screaming in a big ball of red and white as though someone had just sank a buzzer-beater for the victory.
"We got so close last year and didn't make it," Babatunde said of the celebration. "It was for all the struggles, it was for everything we did.
"We wanted to make this a basketball season to remember, and we did it."
DODDS-Europe girls basketball championshipsMANNHEIM, Germany — Results from the DODDS-Europe basketball championship tournaments, which ended Saturday.
Division I
Friday's late result
Championship
Kaiserslautern 45, Ramstein 20
Ramstein.....4 8 4 4-20
Kaiserslautern.....6 16 11 12-45
Scoring—Ramstein: Dallas Norman 6, Crystla Richardson 5, Kendra Lenoir 3, Kaylen Bannister 2, Lisa Domingo 2, Sierra Stayberg 2; Kaiserslautern: Lynndsey Hyter 13, Dupe Babatunde 8, Kamike Williams 7, Anisha Ingram 5, Ericka Stewart 4, Tasha Warner 4, Bianca Gerena-Perez 2, Alycia Mixon 2.
Division II
Friday's late results
Third place
SHAPE 32, AFNORTH 28
Saturday's game
Championship
Hanau vs. Bitburg, late
Division III
Friday's late results
Semifinals
Baumholder 47, Hohenfels 24
Sigonella 53, London Central 36
Saturday's results
Third place
Hohenfels 42, London Central 28
Championship
Sigonella 51, Baumholder 39
Baumholder.....15 3 13 8-39
Sigonella.....8 10 9 24-51
Scoring—Baumholder: Tiffany Guyette 9, Sharon Cabrera 6, Tish Schelhas 6, Kendall Williams 6, Katrina Alsup 4, Kandi Dyer 4, Grecia Gonzalez 2, Mandy Hoffman 2; Sigonella: Dezira Manning 21, Whitney Lynch 18, Erika Anderson 3, Keisha Williams 3, Diana Abcede 2, Jessica Bagley 2, Rachel Smith 2.