Europe H.S. basketball tournaments: Bitburg girls stun Hanau in Div. II title game
by
Charlie Coon
February 27, 2006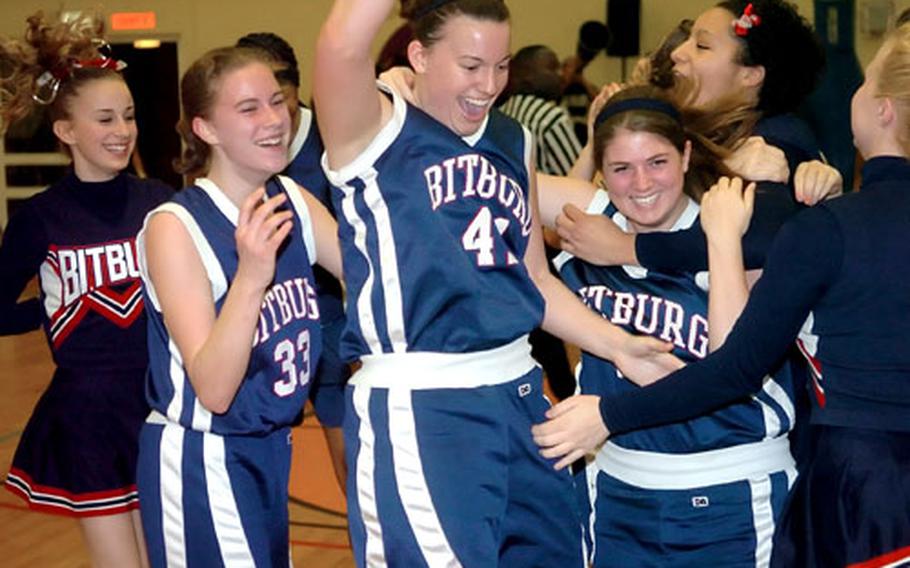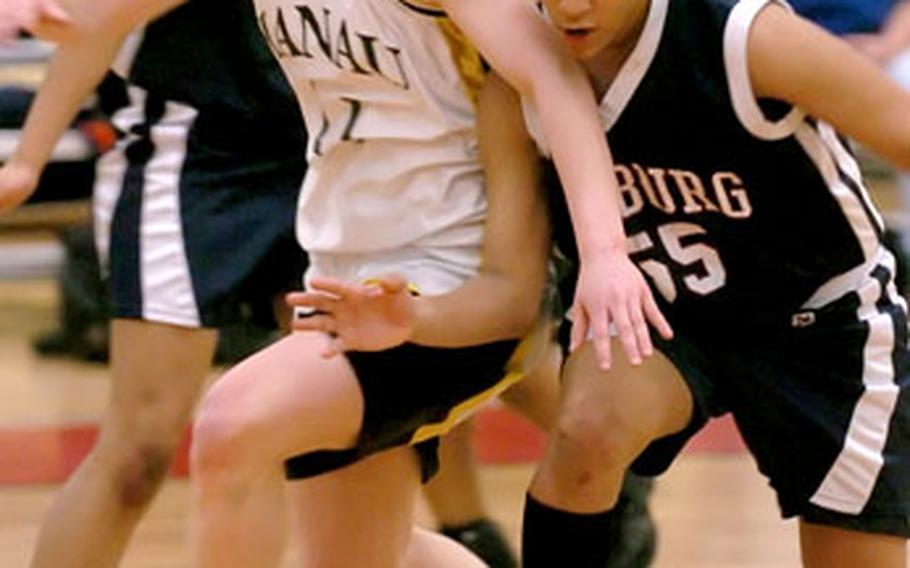 MANNHEIM, Germany — There were a lot of reasons to think Bitburg didn't stand a chance.
The Barons were seeded eighth out of 10 teams playing for the Division II girls basketball championship. And though they had a few moments of greatness during the regular season, those were offset by a number of lopsided losses, including a 30-point rout at the hands of Kaiserslautern in the last game before the tournament. The blowout left Bitburg at 5-9 entering the tournament.
"I thought that game could destroy my team," coach David Turner said, "because we had been playing some pretty good basketball."
Instead of being destroyed, they became destroyers.
The Barons completed their Cinderella run through the tournament on Saturday night by beating top-seeded Hanau 45-34 for the championship.
Tournament MVP Melissa James scored 16 points, and Vanessa Lee scored 11 of her 13 points in the decisive fourth quarter, when instead of choking away their seven-point lead, which could have been expected against powerful Hanau, the Barons ran away for the victory, leaving many of the Hanau players in tears after only their second loss in 24 games.
"We had more faith today [than earlier in the season]," Lee said. "We knew anything was possible as soon as we made it here to the finals."
And why not? Hanau's only previous loss came to Bitburg, 36-29 on Jan. 14, so the Barons knew they were capable of knokcing off the top seeds.
But to get there, they had to beat Naples, Mannheim (whom they'd lost to twice during the season) and Vilseck. Then on Friday, the Barons defeated second-seeded SHAPE in the semifinals.
"A lot of people were surprised when we [instead of SHAPE] walked in here today," said Jennica Botonis, who joined James and Lee on the all-tournament team.
The only blemish to their tourney was a two-point loss to Hanau on Wednesday, and on Saturday they avenged that. And while a second-place finish would have been commendable given the circumstances, it would also be forgettable.
That's what Turner told his players before Saturday's rematch.
"I told them that people would say we were just another team that got lucky, and that we didn't deserve to be in the title game anyway," Turner said. "I told them that in order to get some recognition, we'd have to win it all."
The game raged evenly through the third quarter until Bitburg's Nichole Griep scored off an offensive rebound, Botonis sank a three-pointer, and James hit a short jumper to move the Barons ahead 27-20 entering the fourth.