Europe girls soccer: AFNORTH opens with shutout vs.Baumholder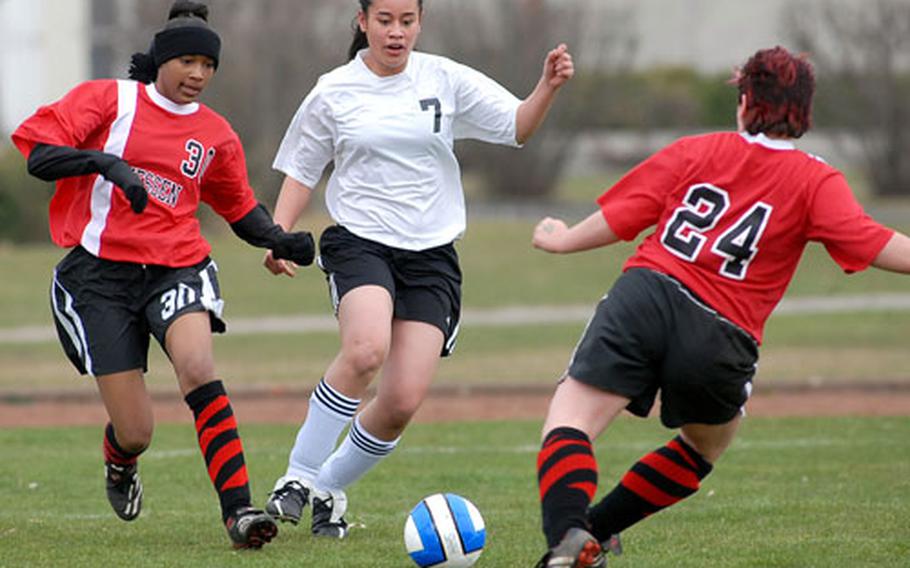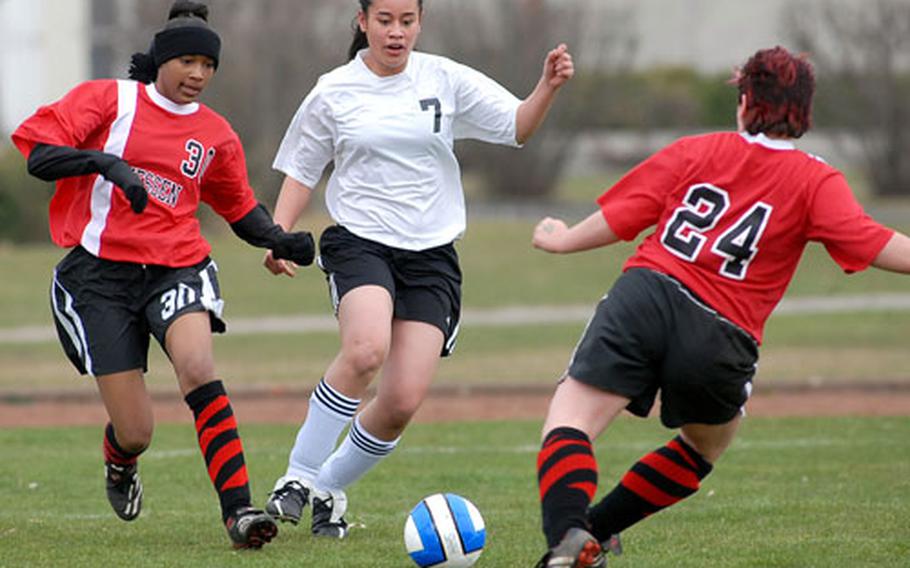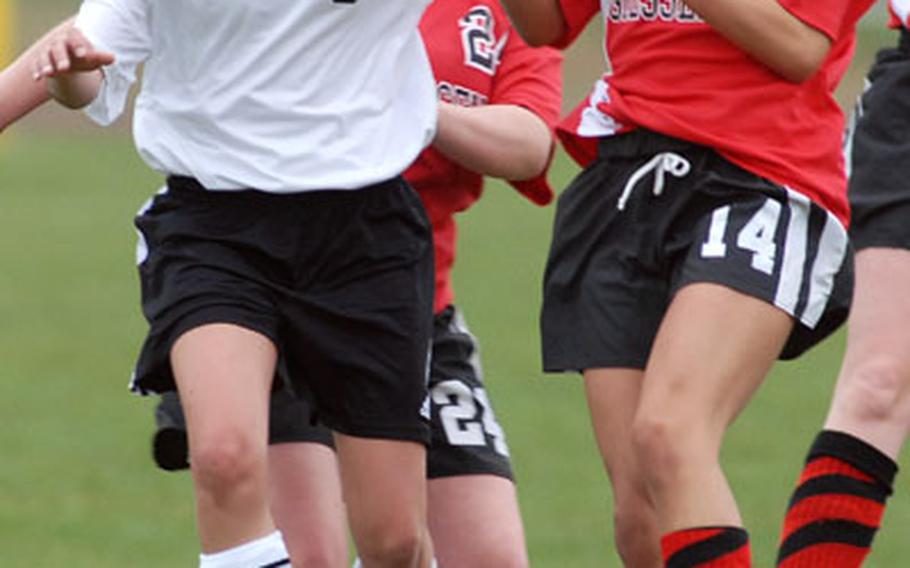 AFNORTH coach Kevin Padron liked what he saw in the Lady Lions' 4-0 Division II-North opening-day victory Saturday over visiting Baumholder.
"The Lady Lions controlled the ball brilliantly, and had 18 shots on goal in the first half and 16 … in the second half," he wrote in an e-mail to Stars and Stripes.
"We still need a lot of work on corners, indirect and direct kicks, but I think these girls are very special."
Just how special the Lady Lions are will become clearer in their next two games. AFNORTH hosts Bitburg this Saturday, then plays at SHAPE on April 21.
Kylee Wilstead scored twice for AFNORTH, which also got goals from Alexia Roya and Katrina Smith.
In other girls games of note on Saturday:
Heidelberg 5, Patch 2: At Stuttgart, Germany, five Lady Lions scored to spoil European Division II champion Patch's debut in Division I.
Returning All-Europeans Ana Anger and Lauren Brousseau scored for Heidelberg, along with Ariel Heath, Leslie Campbell and Angie Cotter. Cotter added two assists and Heath one.
Ciarra McGregor and Maggie Mae Redmond scored second-half goals for Patch.
SHAPE 4, Bitburg 2: At Bitburg, Tanja Kerchen, Emily Brown and Kirsten Schunk each registered a goal and an assist in this II-North game.
Maren Espelid tallied the other goal for SHAPE, which also got an assists from Mona Khalifeh.
Megan Pollock and Rachel Poock scored in the second half for Bitburg.
Hanau 1, Giessen 0: At Hanau, All-European Fei Oloi scored an unassisted goal in the 23rd minute, and a defensive charge led by Lisa Fernandez and Kate Macagnan made it stand up for a III-South victory.
Aviano 1, Vicenza 0: At Vicenza, Italy, Brittany Patrick scored off a feed from Samantha Cordova as the defending American Schools in Italy League champs opened defense of their crown.
According to Vicenza coach Adam Ridgley, his team fielded 10 players after injuries sidelined two Lady Cougars.
Mannheim 1, Vilseck 0: At Mannheim, the Lady Bison picked up a II-South forfeit victory when, according to Mannheim coach John Crockett, Vilseck declined to make the trip after too few players met the 10-practice rule for eligibility of opening-day play.
SummariesDivision I
Heidelberg 5, Patch 2 (Saturday at Stuttgart)Halftime—Heidelberg 4, Patch 0Goals-Heidelberg: Ariel Heath, Angie Cotter, Ana Anger, Leslie Campbell, Lauren Brousseau; Patch: Ciarra McGregor, Maggie Mae Redmond.Assists-Heidelberg: Cotter 2, Heath; Patch: Zoey Call.Saves-Heidelberg (Ana Rynecki 4, Anamica Torres 2) 6; Patch (Caitlin Gamble 5, Rachel Alessi 3) 8.JV—Heidelberg 3, Patch 0.
Division II-North
SHAPE 4, Bitburg 2 (Saturday at Bitburg)Halftime—SHAPE 4, Bitburg 0.Goals-SHAPE: Ann-Maria Roa, Kirsten Schunk, Emily Brown, Tanja Kernchen; Bitburg: Megan Pollock, Rachel Poock.Assists-SHAPE: Maren Espelid, Kernchen, Brown, Schunk; Bitburg: Mona Khalifeh.Saves-SHAPE unavailable; Bitburg (Zoe Whitney 5, Courtney Roberson 4) 9.Noteworthy—According to Bitburg coach Valerie McCamish, Pollock shut down several SHAPE attacks from her sweeper position.
AFNORTH 4, Baumholder 0 (Saturday at Brunssum, Netherlands)Halftime—Unavailable.Goals-Kylee Wilstead 2, Alexia Roy, Katrina Smith.Assists-None reported.Saves-Unavailable.Noteworthy—According to AFNORTH coach Kevin Padron, his team controlled the ball well enough to launch 18 shots on goal in the opening 40 minutes and 16 after intermission.
Division II-South
Mannheim 1, Vilseck 0 (Forfeit Saturday at Mannheim)Noteworthy—According to Mannheim coach John Crockett, Vilseck declined to make the trip to Hanau because too few of their players met DODDS-Europe's 10-practice rule to be eligible for an opening game.
Division III-South
Hanau 1, Giessen 0 (Saturday at Hanau)Halftime—1-0.Goal-Fei Oloi.Assist-None.Saves-Giessen (keeper's name unavailable) 4; Hanau (Natashia Hall) 2.Noteworthy—According to Hanau coach Sam Cassou, Hanau got superior midfield play from Kate Macagnan and a solid defensive effort from Lisa Fontanez.
---
---
---