Europe girls roundup: Lady Bison clinch Division II regular-season crown
---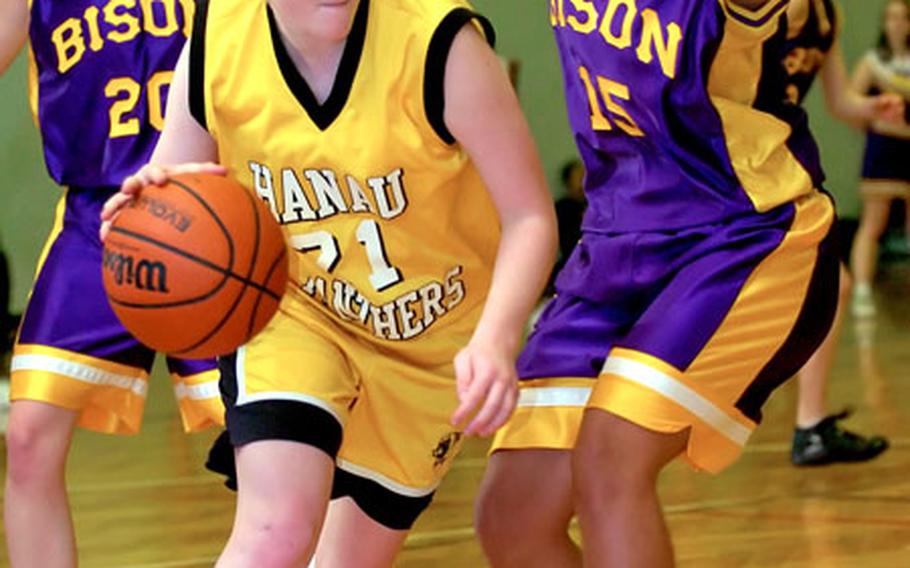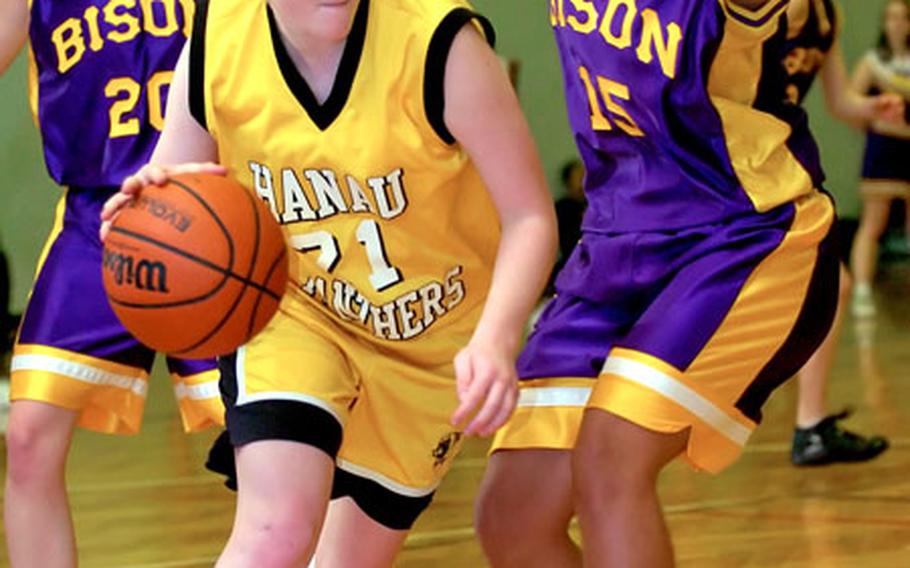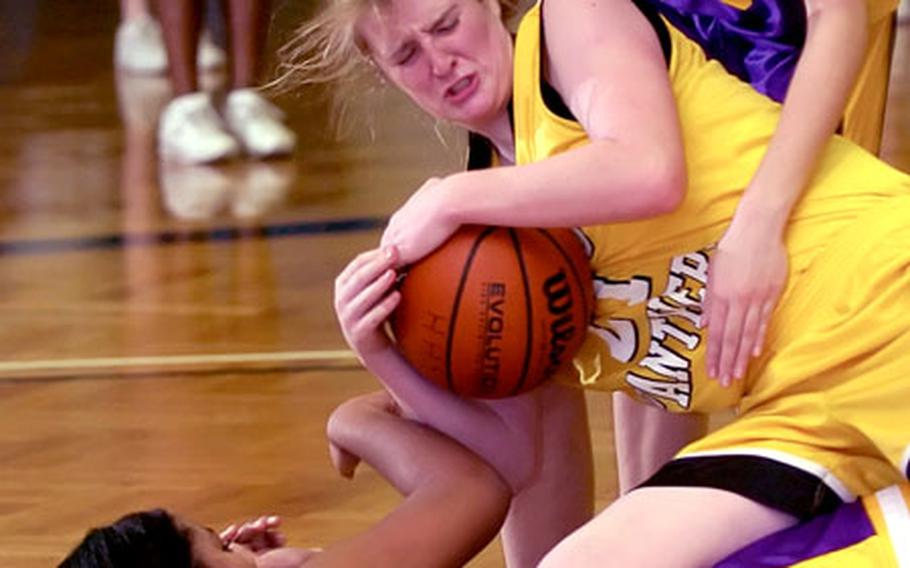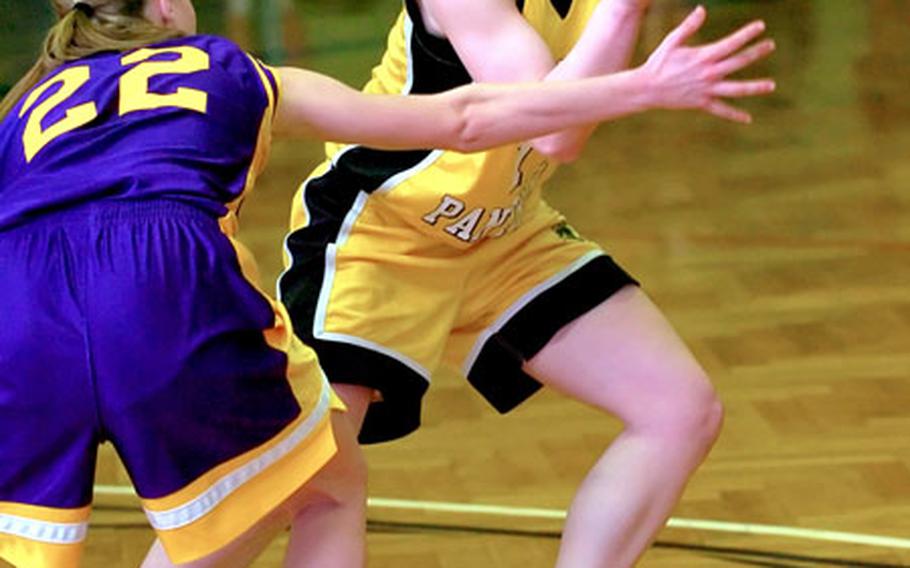 HANAU, Germany — Mannheim clinched the Division II girls regular-season championship with a 29-26 victory over Hanau on Friday night largely because S'nita Camps wasn't afraid to take the fight to one of Europe's best players.
"The taller they are the harder they fall," the 5-foot-7 Camps said after her drives to the basket in the final 2:30 of the game fouled out Hanau's 6-0 All-Europe scoring star Katisha Fauntleroy and helped the Lady Bison hang on for the title-clinching victory.
"She did that on her own," said Mannheim assistant David Brown after Camps' aggressive play induced Fauntleroy, who had scored six of her team's final eight points and 18 on the game, to pick up her fourth and fifth fouls within a 36-second span with 2:30 to play.
That bit of freelancing, however, was the only deviation from a Mannheim game plan of deliberate play against an athletic Hanau team. The rest of the time, the Lady Bison worked the ball carefully in building an 18-12 halftime lead they rode the rest of the way.
They were able to do so because of the efforts of Camps and Jessica Green in fronting Fauntleroy.
"I wasn't nervous," Camps said of the task of taking on Fauntleroy. "I was just trying to make sure she didn't get the ball."
Nyesha Green handled the scoring chores for Mannheim, canning 15 points on 5-for-9 shooting from the floor and 4-for-4 from the free-throw line.
Mannheim, which was to host Ramstein on Saturday in an interdivisional game, still has a Division II game left on the schedule, Friday night at Bitburg. But even if the Lady Bison lose that game to the four-time defending European D-II champs, they hold the head-to-head tiebreaker against Vilseck, the only other team with a chance to finish the season with just one D-II loss. That came by two points at Mannheim on Jan. 15.
Coach Adrian Crawford, who in three seasons has brought Mannheim from 2-10 in Division II to this season's perfect 6-0 league mark, praised all his players.
"I can't say enough about the way they executed tonight," he said.
In other games of note Friday and Saturday:
Alconbury claims Div. III-North title tiebreaker
At Brussels, Belgium, Alconbury pulled out a 31-30 victory on Friday and took a 43-17 verdict Saturday to slip atop Division III-North.
Keisha Hunt, with 12 points and 10 rebounds on Friday and 17 points and 10 rebounds on Saturday, and Christina Arredondo, 11 points and eight rebounds on Friday and 10 points on Saturday, allowed Alconbury to tie London Central for the league lead with 4-2 records.
But even though the teams split their head-to-head games, Alconbury wins the points-differential tiebreaker. London Central won 40-39 in overtime Jan. 21, and Alconbury prevailed 43-27 the next day.
Alconbury's road sweep consigned Brussels, which entered the weekend with a league-leading 3-1 mark, to third place.
London Central makes its bid
At High Wycombe, England, Kelsey Anderson steered London Central to the Division III-North tie with Alconbury.
Anderson scored 20 points and pulled off 10 steals in Friday's 37-18 victory over Menwith Hill, and came back in Saturday's 34-20 win to post 14 points and five steals.
The sweep left the Bobcats with a 4-2 league record, tied with Alconbury, but the Dragons claimed the points-differential tiebreaker.
K-town topples defending champ Lakenheath
At Kaiserslautern, Germany, the Lady Raiders got 10 points from Lynndsey Hyter and eight points and 17 rebounds from Bianca Gerena-Perez on Saturday for a 42-27 rout of Lakenheath.
The Red Raiders, coming off a 42-32 home victory Friday over Heidelberg, improved to 10-2 overall and 4-0 in the D-I race, one-half game ahead of International School of Brussels (11-3 and 4-1) in the standings and one in front of Lakenheath.
The defending European Division I champs fell to 8-4 overall and 4-2 in D-I. Kaiserslautern will play at Würzburg on Friday and host Wiesbaden on Saturday to close out its regular and D-I seasons.
---
---
---
---