Europe Div. II boys: Fontanez, Hanau size up Aviano for Division II crown
---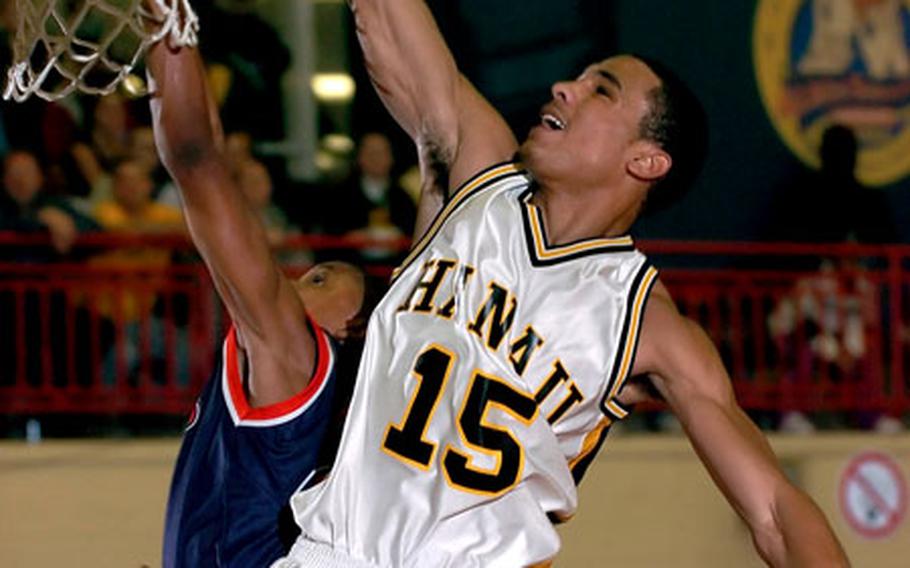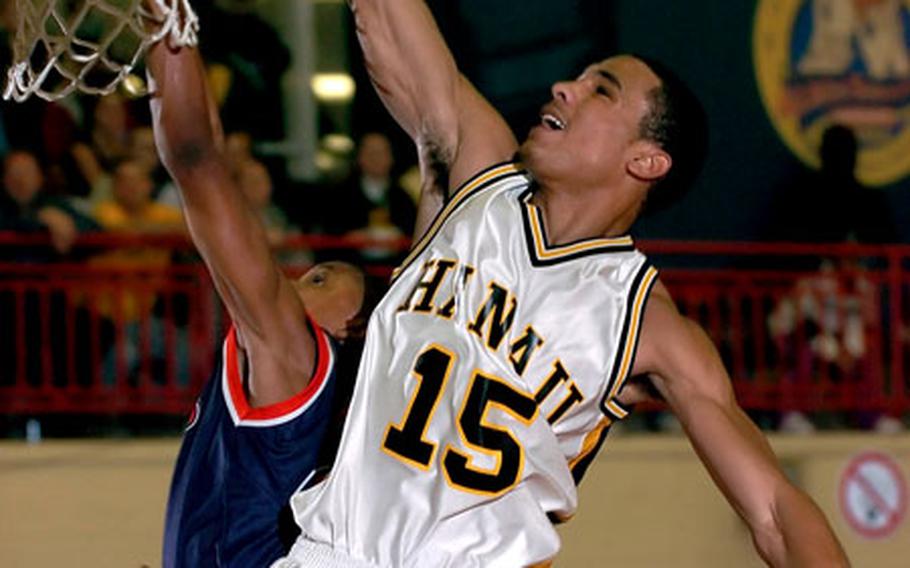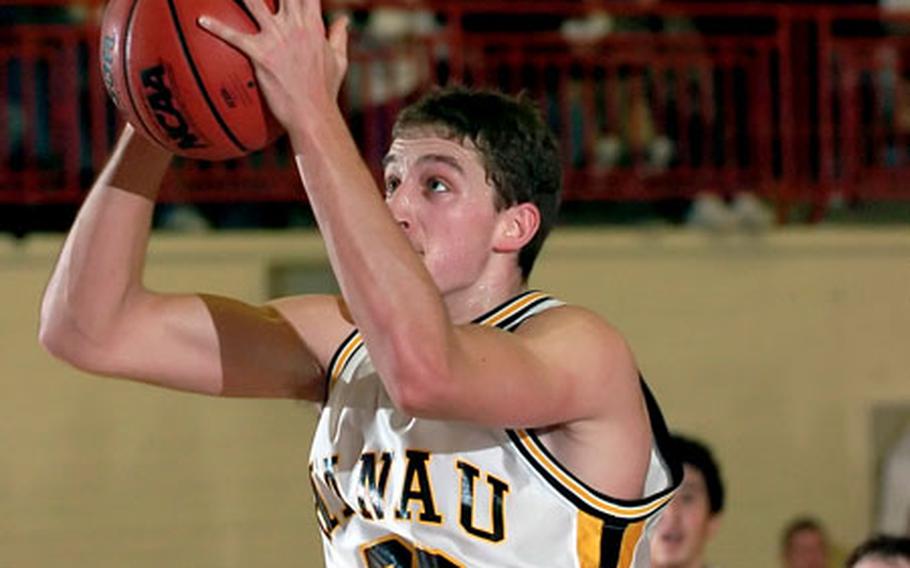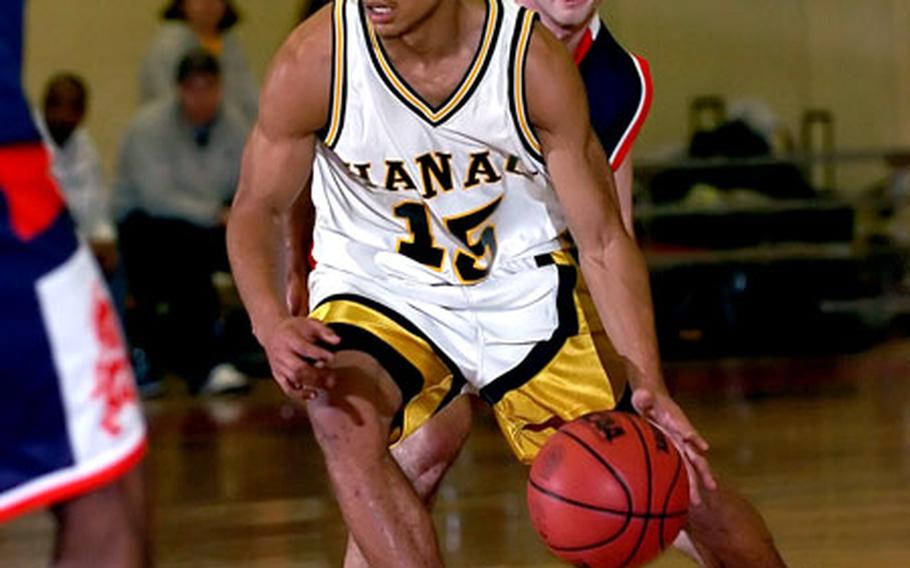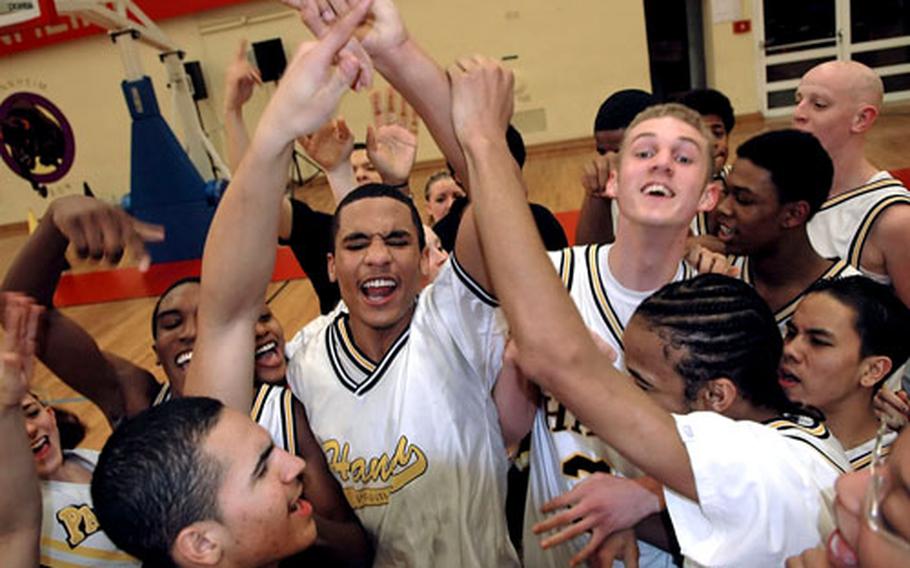 (Click here for tournament scores and summaries)
MANNHEIM, Germany — Just as Hanau coach Tim Smith hoped, Marcus Fontanez played it up big Saturday night, helping the Panthers claim their second straight European Division II basketball championship with a 50-37 defeat of outsized Aviano.
Fontanez scored 17 points and dominated inside as expected against the Saints' smaller defenders.
Aviano's Dustin Miller, who scored a tournament-record 50 points last year, made three of four three-point shots in the first quarter Saturday, staking Aviano to a 13-4 lead.
"He was doing good," Fontanez said of Miller's exhibition. "I thought to myself that if he kept hitting them like that, we were going to have trouble."
Miller, however, was hitting his threes over Hanau's packed-in starting front line of 6-5 sophomores Xavier James and T.J. Shulson on either side of the 6-4 Fontanez.
Smith put the sophomores into the lineup to take the boards away from Aviano, whose tallest players barely reach 6 feet. The way Aviano was shooting in the early going, though, there weren't any rebounds to get.
Smith's answer was to replace the sophomores with Cameron Warner and Ivan James and allow them and his starting backcourt of Jeremy Marshall and tourney MVP Malcolm Lane to push Miller all over the floor.
"We started pressuring him and he started missing," Fontanez said of Miller, who hit only one of seven from the floor the rest of the way. "We do real well off the bench."
Particularly with the scrappy James, who pulled down seven rebounds, made four steals and seemed to have a hand in everyone's face.
Also contributing to Hanau's game-sealing 31-8 run over the next two periods was the Panthers' ability to pound the ball inside to Fontanez.
"We didn't go inside at first," Smith said. "Instead, we tried to shoot outside with them. We wanted to get the ball inside."
The tactic wore out Aviano's Mikal Fair, who was assigned to front Fontanez. Fair, a head shorter than Fontanez, held his own in the early going and limited Fontanez to four first-quarter points. But as Marshall, Warner and Lane, who scored 11 points, made crisp entry passes and Fontanez started muscling to the ball and to the hoop, Fair got bounced around.
"When they let the game get physical," Aviano coach Ken McNeely said, "the game's over for us."
Fontanez, fully recovered from an ankle injury he suffered earlier in the tournament, dropped in two put-backs, a field goal and a free throw in the second quarter as Hanau cut its deficit to 16-15 at halftime. With 5:55 to play in the third quarter, Marshall, who scored 10 points, banged home a three-pointer that gave Hanau the lead for good.
"We let up in the second quarter," McNeely mused as Hanau pulled away. "We should have gone right at them."
---
---
---
---