Europe boys soccer: Lane leads Hanau with four goals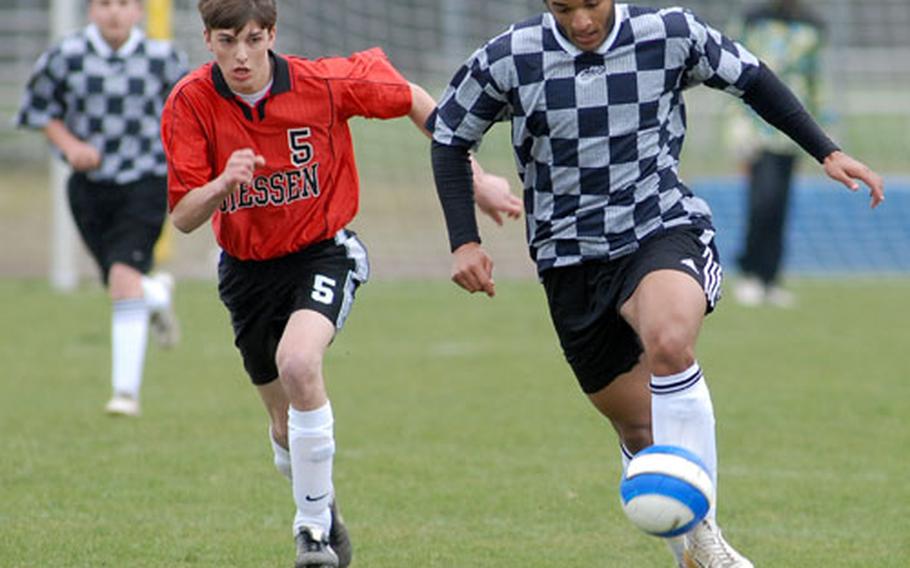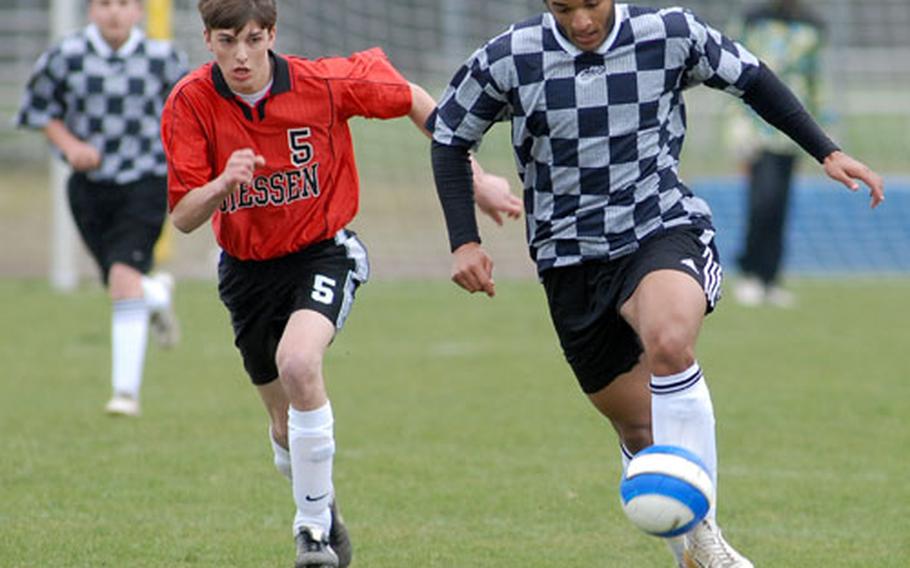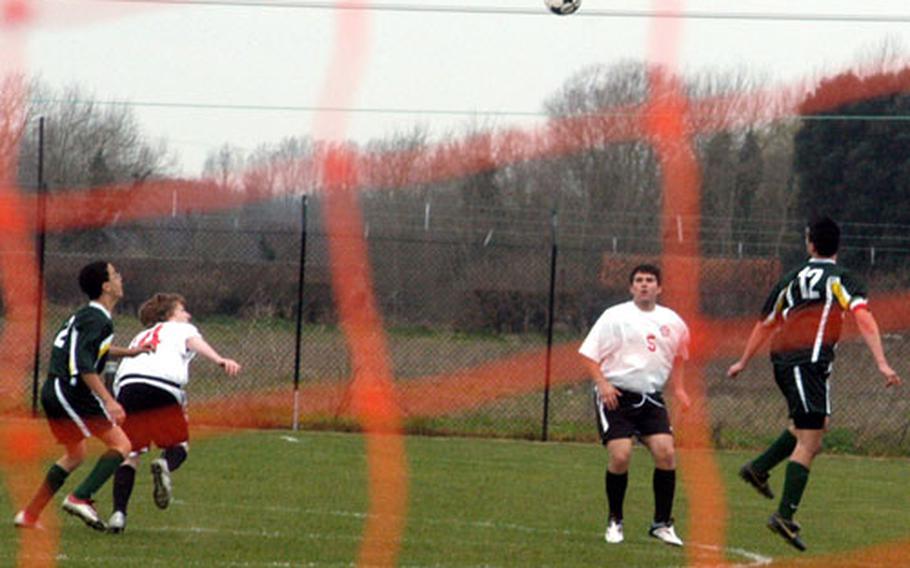 Stars and StripesEuropean edition, Sunday, March 18, 2007
Corey Lane opened the 2007 season by scoring four goals Saturday afternoon to lead Hanau to a 6-3 home victory over Giessen in a Division III-South high school soccer game.
Malcolm Griffin assisted on one of Lane's goals and later crossed the ball to Jamal Henerey, who headed in another score. Fulgencio Beken scored Hanau's other goal unassisted.
Hanau led 4-1 at halftime of this nine-on-nine game, brought about, according to Hanau coach Travis Schupp, when only nine Giessen players met eligibility rules for the opening game of the season. Hanau elected to play nine in deference to Giessen.
Juan Munoz scored all of Giessen's goals, Schupp said, assisted each time by Nate Potter.
Hanau's Emmanuel Moore, playing his first soccer game ever, according to Schupp, had four saves. Matt Potter was credited with seven saves for Giessen.
In other boys games of note on opening day:
Patch 1, Heidelberg 1: At Stuttgart, Germany, Patch's Shant Mathas and Heidelberg's Sean Kerber exchanged second-half goals as the Panthers made their Division I debut by tying the defending European champions.
Zach Hoffer assisted on the goal by Malthas; Josh Darling set up Kerber's score.
ISB 7, Kaiserslautern 0: At International School of Brussels, James Duquid, Lukas Lanwehr and Robert Brown each scored twice as the defending Division I conference champions opened their 2007 D-I regular-season campaign with a seven-goal courtesy-rule victory.
Ramstein 1, Wiesbaden 0: At Wiesbaden, All-Europe defender Michael Soto and his back-line mate Jorge Lopez helped make Dan Whitney's first-half goal stand up for a non-conference victory. Glenn Verley[/BODY] assisted on the goal.
"The game gave the fans a taste of what may be a hotly disputed Division I conference [race]," Wiesbaden coach Ben Arcila wrote in an e-mail to Stars and Stripes.
AFNORTH 5, Baumholder 0: At Brunssum, Netherlands, All-European Chris Eden scored two goals and assisted on a third as AFNORTH broke open a tight game in the second half.
Alex Hartung collected three assists for AFNORTH, which found its offensive spark, according to coach Greg Blankenship, when Tobias Christmann, who scored a goal, moved to center forward in the second half.
SHAPE 3, Bitburg 1: At Bitburg, defending European D-II champion SHAPE managed just four shots on goal, but put three of them past Bitburg keeper Robert Hernandez. SHAPE keeper Sean Murnane, on the other hand, stopped 17 of 18 Bitburg shots on goal, according to Barons coach David Abbott.
"Bitburg controlled the ball throughout, as evidenced by our 18 shots on goal," Abbott said by telephone on Saturday. "The boys fought hard, but we couldn't get the ball into the net."
All-European Brian Schwennecker scored Bitburg's goal unassisted in the second half.
SummariesDivision I
Patch 1, Heidelberg 1 (Saturday at Stuttgart)Halftime—0-0.Goals-Heidelberg: Sean Kerber; Patch: Shant Malthas.Assists-Heidelberg: Josh Darling; Patch: Zach Hoffer.Saves-Heidelberg (Oliver Allen) 4; Patch (Jacob Schoonover) 6.Noteworthy—Although game was between Division I teams, it does not count in conference standings. The teams will play their conference game April 28 at Heidelberg.
Ramstein 1, Wiesbaden 0 (Saturday at Wiesbaden)Halftime—1-0.Goal-Dan Whitney.Assist-Glenn Verley.Saves-Ramstein unavailable; Wiesbaden (Mikey Harder) 15.Noteworthy—According to Wiesbaden coach Ben Arcila, Jorge Lopez and All-European Michael Soto stood out on Ramstein's defense in this nonconference game. Arcila cited his defenders Alan Gray, Ian McKinney and Steven Ponte for superior play. The conference game between these schools is schedulled for April 5 in Ramstein.
ISB 7, Kaiserslautern 0 (Saturday at Int'l School of Brussels)Halftime—ISB 3, Kaiserslautern 0.Goals-James Duquid 2, Lukas Lanwehr 2, Robert Brown 2, Vincent Luscomb.Assists-Kevin Haughan 2, Duquid, Luscomb.Saves-Kaiserslautern unavailable; ISB (Javier Torrijos) 3.Noteworthy—ISB, which went unbeaten in conference play last season, opened its Division I season with courtesy-rule victory.
Division II-North
AFNORTH 5, Baumholder 0 (Saturday at Brunssum, Netherlands)Halftime—AFNORTH 1, Baumholder 0.Goals-Chris Eden 2, James Perea, Tobias Christmann, Andrus Hoppe.Assists-Alex Hartung 3, Kyle Higgins, EdenSaves-Baumholder unavailable; AFNORTH (Brock Blankenship) 9.Noteworthy—According to AFNORTH coach Greg Blankenship, the Lions were able to score just one goal on 12 shots in the game's first 42 minutes until Christmann moved to center forward and got AFNORTH on track. Blankenship also praised the play of fill-in sweeper Endre Gjory.
SHAPE 3, Bitburg 1 (Saturday at Bitburg)Halftime—SHAPE 1, Bitburg 0Goals-SHAPE: Piotr Kwsecien, Erik Iden, Pablo Martinez; Bitburg: Brian Schwennecker.Assists-SHAPE: Sascha Quast, Iden, Martinez; Bitburg: None.Saves-SHAPE (Sean Murnane) 17; Bitburg (Robert Hernandez) 1.Noteworthy—According to Bitburg coach David Abbot, SHAPE took only four shots on goal, while Bitburg had 18.JV—SHAPE 1, Bitburg 0.
Division II-South
Vilseck 3, Mannheim 2 (Saturday at Mannheim)Halftime—Mannheim 1, Vilseck 0.Goals-Vilseck: Eric Bidinger 2, Justin Ingram; Mannheim: Jeff Hartke.Assists-Vilseck: Shean Singletary 2, Justin Ingram; Mannheim: (First name unavailable) Churchwell.Saves-Vilseck (Sean Anderson) 9; Mannheim (Keeper's name unavailable) 7.Noteworthy—Vilseck coach Billy Ratcliff praised the defensive effort of his player Jose Leon.
BFA 7, Würzburg 0 (Saturday at Würzburg)Goals-Unavailable.Assists-Unavailable.Saves-Black Forest Acedemy unavailable; Würzburg (Brad Hannum) 10.Noteworthy—Scorekeeping ended in 32nd minute by seven-goal courtesy rule, according to Würzburg coach Stefan Hopkins. "It was good to face a team of that quality in our first game," he said after his team allowed just two goals in the second half. He said BFA's coaches chose not to name the team's scorers.
Division III-South
Hanau 6, Giessen 3 (Saturday at Hanau)Halftime—Hanau 4, Giessen 1.Goals-Giessen: Juan Munoz 3; Hanau: Corey Lane 4, Jamal Henery, Fulgencio Beken.Assists-Giessen: Nate Potter 3; Hanau: Malcolm Griffin 2.Saves-Giessen (Matt Potter) 7; Hanau (Emmanuel Moore) 4.Noteworthy—According to Hanau coach Travis Schupp, Juan Agosto, who is moving to Vilseck next week, and all-conference libero Beken solidified the Hanau defense. Schupp added that since Giessen had only nine players available, Hanau elected to play just nine at a time.