Europe boys basketball roundup: Kaiserslautern clamps down on ISB
by
Rusty Bryan
December 4, 2005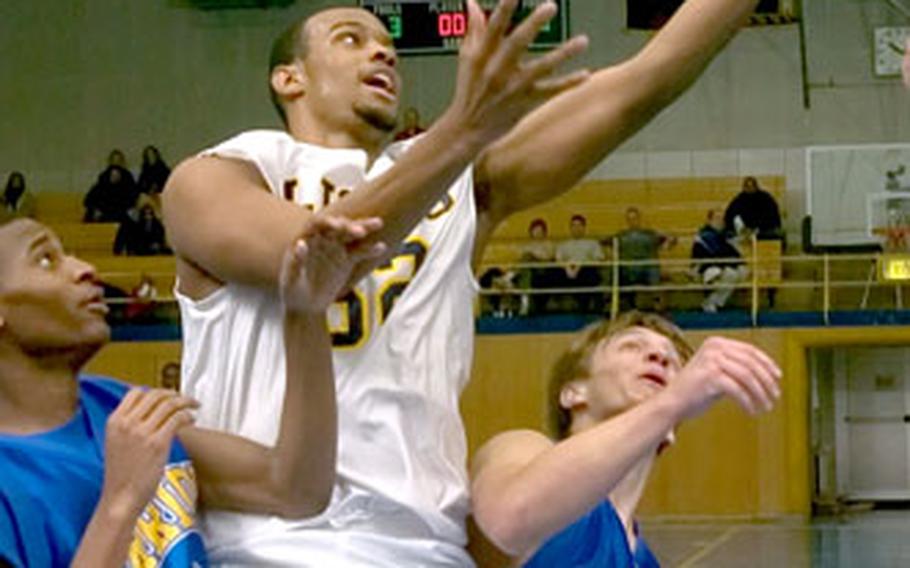 KAISERSLAUTERN, Germany — All-Europeans Quintin Strawder and Jeremy Marshall provided the star power, but a stifling defense made the difference for Kaiserslautern in its 42-25 nonconference victory Friday over International School of Brussels.
Strawder had a game-high 15 points and made three steals in the fourth quarter to blunt ISB's rally.
Substitute Brian Hill scored five straight points in the final 26 seconds of the third quarter to give K-town a 28-21 lead, its biggest of the game to that point.
C.J. McKenzie then came off the bench to take over, scoring all of his seven points in the final 7:35 as the Red Raiders outscored ISB 10-0 over the final 5:30.
"We work on defense all day," said Marshall, who transferred to Kaiserslautern after helping Hanau win Division II titles the previous two seasons. "We have lots of defensive drills."
They paid off Friday, especially against ISB's Israeli star Nir Azran. Azran, who made both of his three-pointers in a nine-point first half, scored only two points after halftime as K-town made it difficult for ISB to get the ball to him.
Marshall, one of the top shooters in DODDS, made only two of eight shots from the floor and finished with six points.
"I'm just trying to fit in here," he said. "We try to work together and work the ball around."
In other games:
Heidelberg 49, Wiesbaden 43At Heidelberg, Damon Fleming scored 31 points and grabbed 20 rebounds for Heidelberg, which had only five players in this nonconference game.
Kenny Klinner contributed 11 rebounds and seven points for the Lions, who failed to win the Division I title last season after winning it the previous five.
All-European David Bradford led Wiesbaden with 21 points.
Bitburg 54-55, BFA 34-28At Bitburg, Charles Whatley and Nick Brown led the Barons to a weekend sweep of their Division II South foe.
Whatley scored 15 points Friday and 13 Saturday, and Brown, who snared 10 rebounds Friday, had nine points and nine rebounds Saturday.
London Central 57, AFNORTH 35At High Wycombe, England, London Central of Division III-North led 32-4 after 16 minutes and throttled the Lions.
Central's C.J. Sampson led all scorers with 17 points and teammate Foxy Thomas had seven steals.
London Central 54, Baumholder 53The host Bobcats improved to 2-0 Saturday thanks to David Marbury's basket with five seconds remaining. The All-European player finished with 20 points.
Aviano wins rain-shortened gameIn Rome, water from heavy rain leaked through the roof of the gym at Marymount International, creating puddles on the floor and forcing officials to call the game in the first quarter with Aviano ahead 14-2.
In the American Schools in Italy League, Aviano (1-0) is one-half game behind Naples, which defeated Livorno 56-21 on Friday, and Milan 46-5 on Saturday.
---
---
---