Europe boys basketball: Rota sends message to D-III competition
---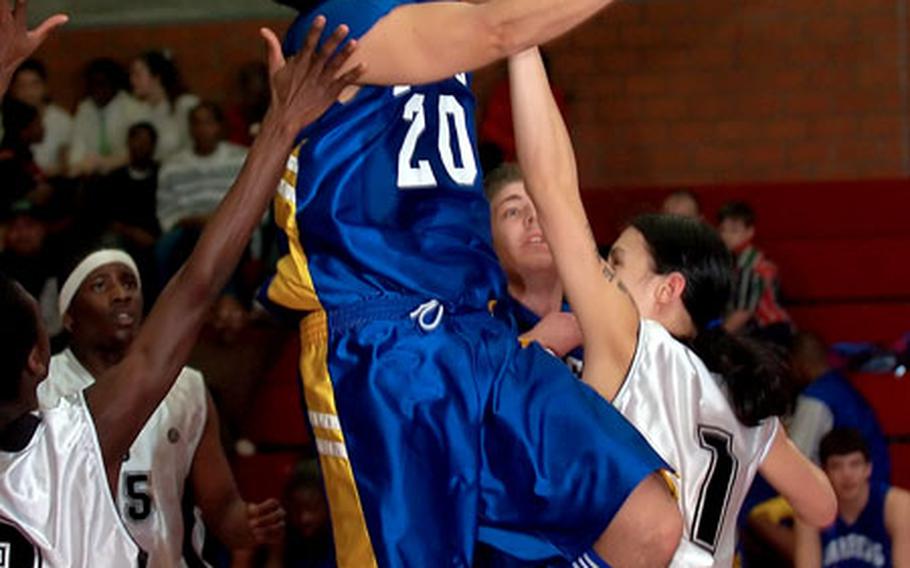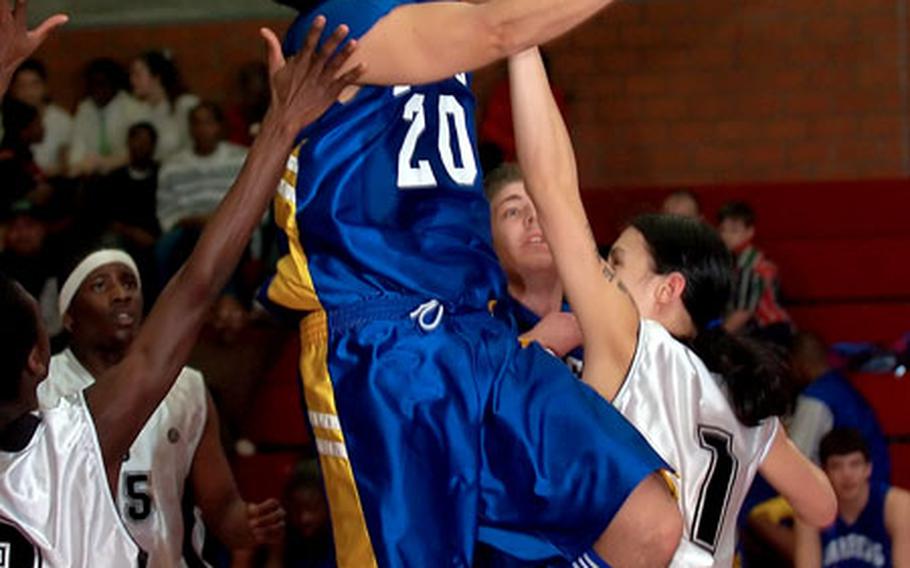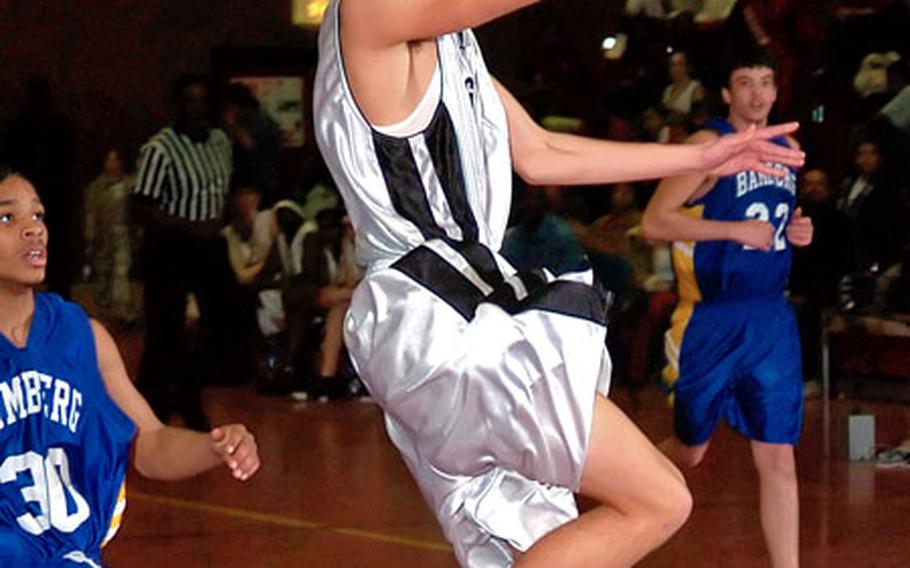 If first impressions count for anything, count Rota in the hunt for the European Division III basketball championship.
"Based on what I have seen and heard, Rota needs to be considered for one of the top two seeds in the Division III tournament," London Central coach Alan Campbell said Saturday after watching the Admirals hammer Alconbury 74-39 on Friday and his Bobcats 63-41 on Saturday.
The two games were Rota's first this season against DODDS-Europe schools.
Eric McMillian scored 22 points on Friday and 13 on Saturday for Rota, which also got good production from Jason Allard (17 and 18), Gilbert Mendez (11 on Friday) and Joseph Casey (12 on Saturday).
In other boys games of note on Friday and Saturday:
Aviano clinches league crown: At Sigonella, Italy, Aviano nailed down the American Schools in Italy League championship with a road sweep that capped an unbeaten ASIL season.
Dustin Miller scored 28 points and Tony Williams 20 on Friday as the Saints romped 76-46. The two reversed position in Saturday's 71-31 rout, with Williams scoring 25 and Miller 21.
Aviano, 12-0 overall, completed its ASIL season 7-0. Sigonella fell to 5-5 and 2-3 in league play and hosts Livorno this weekend.
Hanau sweeps Falcons: At Vilseck, Germany, Hanau swept the Falcons 62-53 and 66-50 to keep its D-II record perfect going into Friday night's game against visiting Mannheim, also undefeated in D-II play.
All-European Marcus Fontanez scored 10 points on Friday, then came back in Saturday's conference game to take scoring and rebounding honors with 21 points and 13 rebounds.
Malcolm Lane scored 26 on Friday and 14 on Saturday to help Hanau improve to 9-2 overall and 5-0 in league play.
Vilseck, which got 19 points from Aaron Vernon and 14 from Rodney Morgan on Saturday, is 7-3 overall and 4-2 in the league.
Mannheim rules the road: In the Netherlands and Belgium, Mannheim advanced to 5-0 in D-II with a 63-58 win over AFNORTH on Friday and a 66-52 victory over SHAPE on Saturday.
Desmond Brown led the way against AFNORTH with 24 points, and Reggie Jenkins did the same against SHAPE with 17.
Mannheim will take a 9-2 overall mark and 5-0 league mark into Hanau on Friday. AFNORTH fell to 3-8 overall and 0-5 in D-II.
Bamberg keeps pace: At Giessen, Germany, Bamberg's Carlos Zapata torched the Griffins for 34 points in Friday's 86-67 Division III-South victory, then came back to score 29 more in Saturday's 88-65 triumph.
The sweep left Bamberg, which got 18 points on Friday and 16 on Saturday from Miguel Lozada, 4-0 in the III-South standings. The Barons are 4-6 overall.
Giessen fell to 2-10 overall and 1-5 in III-South despite 19 points on Saturday from Charles Rodgers.
Ansbach keeps III-South edge: Ansbach, Germany, the home-standing Cougars got 21 points from rising star Taurean Moore on Friday in a 48-29 victory over Hohenfels that left Ansbach with a 6-0 league record.
The Cougars travel to Black Forest Academy for a pair of games this weekend, then close out their regular season with a home-and-home series against Bamberg Feb. 18-19 .
Royals wrap up D-I season: At Lakenheath, England, Ramstein downed the Lancers 53-30 on Friday and 80-55 on Saturday to up its season record to 8-4 overall and 4-2 in Division I.
Allen Weaver, with 14 points on Friday and 15 on Saturday, topped the score sheet both days for Ramstein, which is to close out its regular season with a pair of road games against D-2 foes: Bitburg on Friday and Mannheim on Saturday.
---
---
---
---