Europe boys basketball: Rota's Shelton has triple-double in win over Spanish club team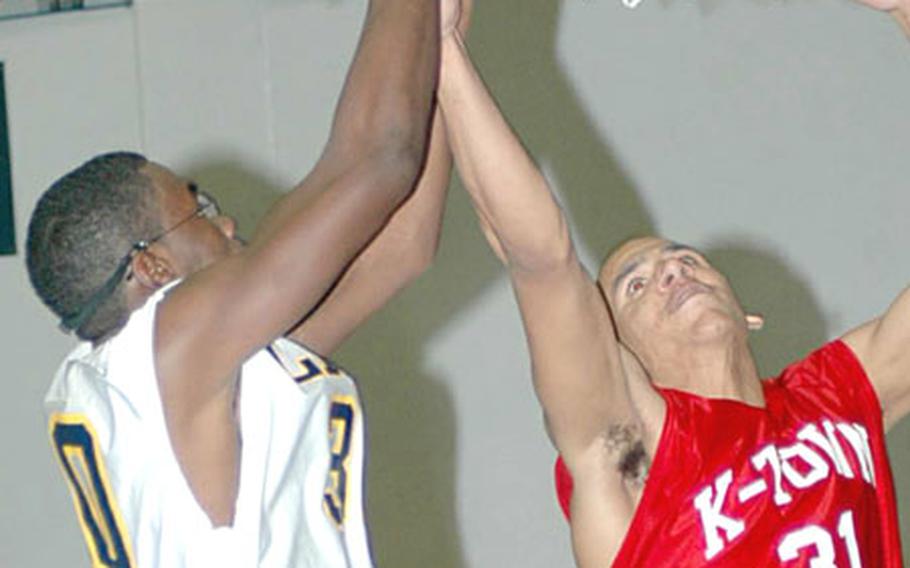 ¶ See game summaries on the scoreboard page.
Paced by Jeffery Shelton's triple-double, Rota outgunned a highly regarded Spanish club team 87-63 on Saturday.
Shelton had 41 points, 16 rebounds, 11 assists and eight steals as the Admirals claimed a wire-to-wire victory over CD Gymnastica Portuenese at Puerto Santa Maria, Spain.
"…Gymnastica is the top-rated team in our area, so this was a big road win for us," Rota coach Ben Anderson wrote in an e-mail.
Road victories are important to the Admirals, the defending Division III champions, who play their only DODDS-Europe games away from home. They travel to Alconbury in January for their only DODDS-Europe competition before the European tournament in February.
Shelton, who scored 25 points with nine rebounds and five steals in Friday's 54-30 home victory over another club team, was one of four Admirals in double-figures on Saturday. Alan Dowden, who had five steals, scored 17; Zach Collins 12; and Tyrell Boddie 10 to go with his 10 rebounds.
Rota (3-0) led 28-19 after the first period, before Gymnastica cut the gap to five at halftime. A 25-point third quarter and 23 in the fourth put the Spaniards away.
"Kevin Rios and Sterling Frost gave great hustle combinations off the bench," Anderson wrote.
In other boys games on Friday and Saturday:
Würzburg 45, Hohenfels 42: Würzburg, the defending European Division I champ now playing in D-II, got 18 points and 19 rebounds from Jamal Caldwell for the home victory against the Division III Tigers.
The Wolves (1-1) lost 41-37 Friday at Hohenfels (3-1) when B.J. Denson scored 19 points, and Anthony Marshall grabbed 13 rebounds for the Tigers.
Würzburg got 20 points, 12 of them on three-pointers, from B.J. Harvey on Friday.
Kaiserslautern 41, Heidelberg 38: At Heidelberg, Jeremy Marshall and Mike Morger scored 13 and 12 points, respectively, in a nonconference game between Division I schools.
Bamberg 59, Vilseck 50: At Bamberg, Nick Bookout scored 17 points, and Dillon Baker had 14 points and nine rebounds as the Barons, who'll play D-IV at tournament time, collected a D-II scalp to go with two victories over D-I Patch last week.
Wiesbaden 61, ISB 28: At ISB, Wiesbaden (4-0, 1-0) claimed a D-I conference victory behind 14 points and 10 rebounds from Dominique Gowens.
Phillip Moore added 11 points to Wiesbaden and Bryce Lee scored 10 for Wiesbaden.
Aviano 55, AOSR 46: At Aviano, Andre Dean scored 21 points, and Chris Carthon posted nine points and 14 rebounds as the Saints rebounded from a slow start against American Overseas School of Rome.
Dean also had four steals for Aviano (4-0, 3-0 in league play).