England eliminates Germany in semifinals
---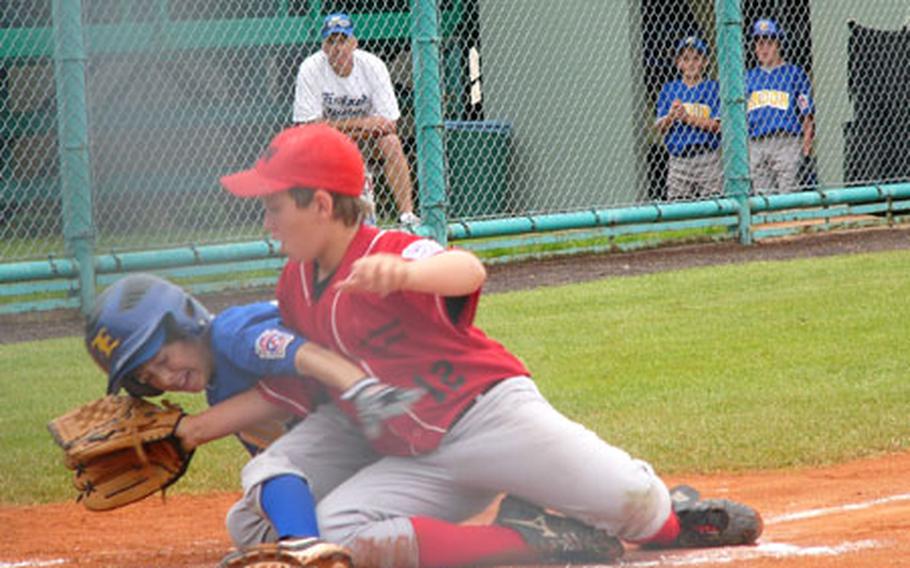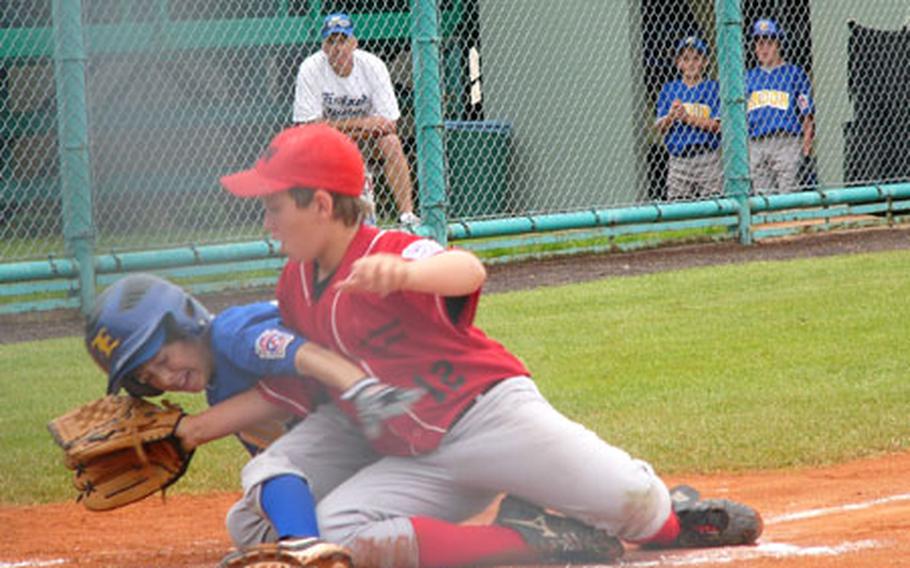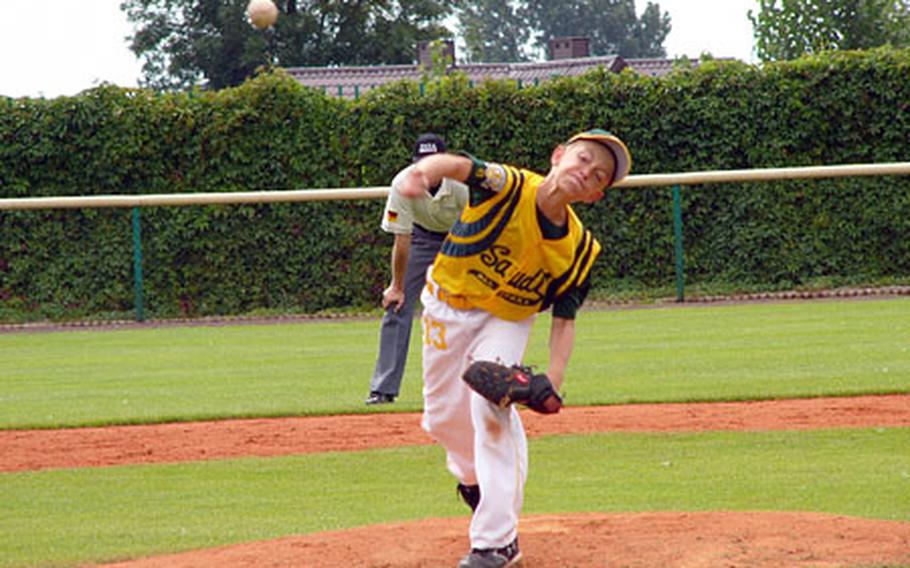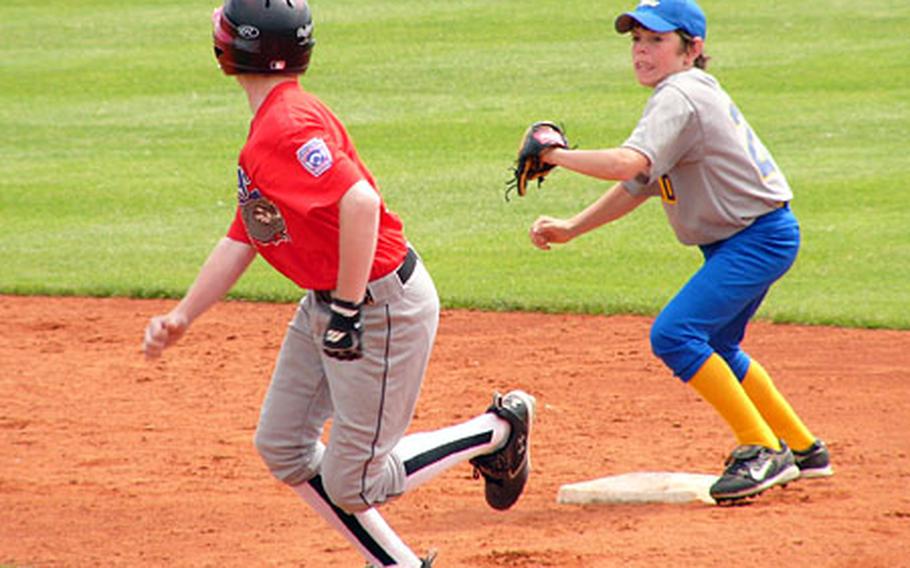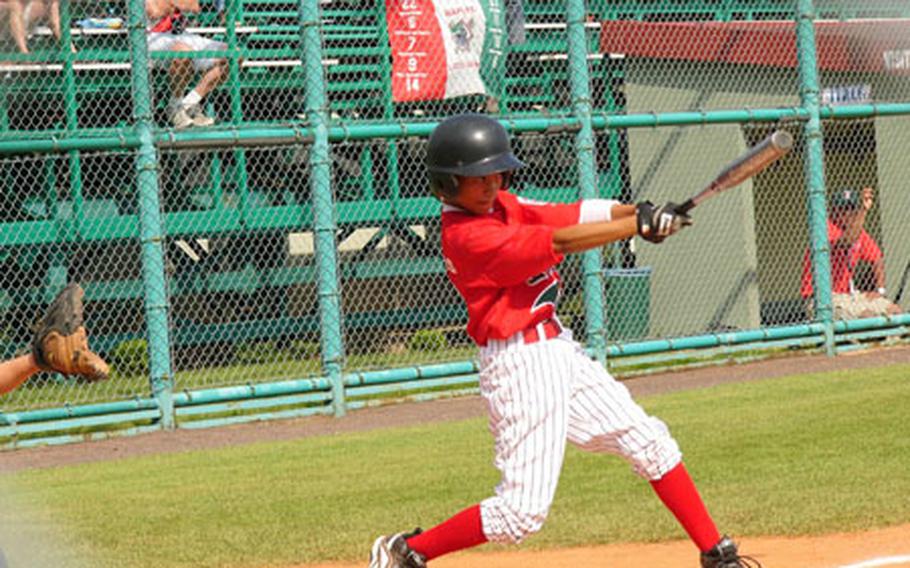 European edition, Sunday, July 29, 2007
KUTNO, Poland — England champion London struck for six sixth-inning runs Saturday, then held on for a 9-6 victory against the comeback specialists from Stuttgart-Wiesbaden in a semifinal game of Little League Baseball's Transatlantic Regional.
The victory set up a rematch Sunday of last year's final between London and seven-time defending champion Saudi Arabia. It took some great relief pitching by London's Cam Opp to arrange the matchup.
Opp came in after the Bulldogs, who were down 9-1 when the bottom of the sixth began, had scored five runs with no outs off London starter and ace Timmy Davison and had two runners on base.
With each batter he faced representing the game-tying run, Opp retired C.J. Kellogg on a pop to first, watched Joey Walter run down Scooter Bynum's line drive to center and induced Joseph "Fish" Patrick to fly out to left.
"That's been our hallmark all year," Stuttgart-Wiesbaden coach Bob Measells said of the five-run sixth his team built around Ryan Tannenbaum's three-run homer.
"We came back against Ramstein (in the Germany tournament) and nearly did it today. ... These kids showed so much heart."
Germany issued four walks, one of them intentional, and missed a double-play opportunity during England's game-breaking sixth. Germany pitchers gave up nine free passes, and six of the runners came in to score.
The Bulldogs were upset by London's rally, but did not give up. The first six batters reached safely, five on solid hits.
"The kids were batting with tears in their eyes," Measells said. "[But] they just kept hitting the ball."
According to Lakenheath's Paul Federenko, a member of the London squad, his team wasn't fazed by Germany's rally.
"We knew we were going to win," he said.
Clay Dudek led London with two doubles and two singles in four at-bats. Dudek is 9-for-16 in the tournament and looks to extend that success Sunday.
"We want to beat them," he said of a Saudi team that defeated London 8-3 in last year's title game. "There's more pressure on them because they've won so many in a row."
Lakenheath's J.T. Green, a member of last year's London runners-up, took heart from his team's 7-4 pool-play loss to Saudi on Wednesday. Those were the only runs Saudi has yielded in five games here.
"We know how to score on them," he said.
Saudi Arabia 6, Dubai 0:In Saturday's first semifinal, Chris Beyers, the Saudi starting shortstop in the defending champions' previous four games, gave the rest of the pitching staff a good rest. He faced all but one Dubai batter, allowing only four hits.
However, Beyers, who was forced by the 85-pitch limit in effect here to hand the ball to A.J. Otis for the final out, wasn't concerned with saving the staff. "I was just trying to get them out," he said of Dubai.
He did, and the Saudi juggernaut, idle on Friday, will have ace Ted Fitzmaurice ready to pitch in the finale. Fitzmaurice, who shut out Stuttgart-Wiesbaden on three hits Monday, hasn't pitched since he retired all four batters he faced Thursday.
The Saudi power game was on display again Saturday as Otis hammered his second home run of the tournament — his team's eighth here — in the first inning off Dubai starter Zeno Stone. The three-run blast to left center gave Saudi a four-run lead, more than enough for Beyers.
Sunday's winner advances to the Little League World Series Aug. 17-26 in Williamsport, Pa.
---
---
---
---