End is near for Mustang brand in Europe
---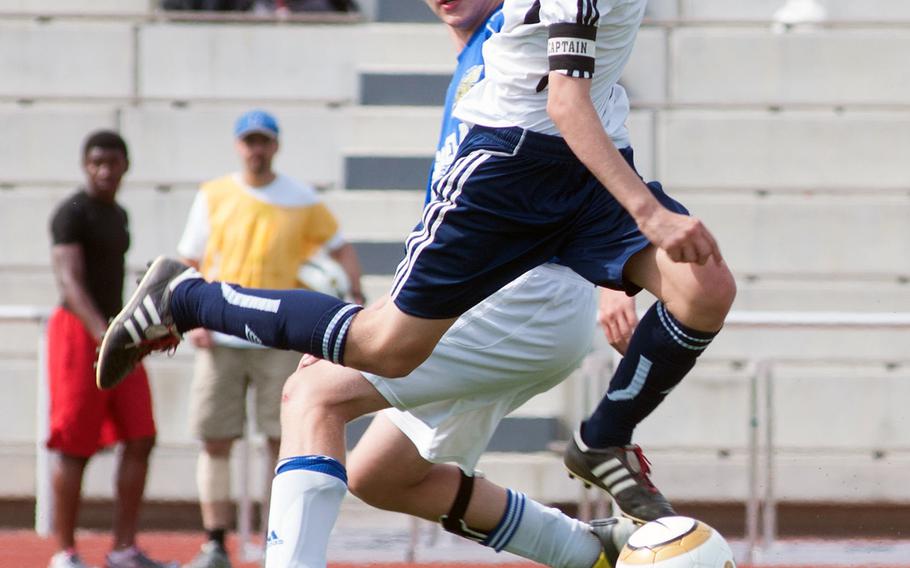 Menwith Hill is a small school with a big history. Soon, history is all that will remain.
The school, reduced to just 49 high-school age students as of DODEA enrollment figures for May 1, will shut its doors for good at the end of the school year, a side effect of operational streamlining that slashed servicemember and civilian jobs on RAF Menwith Hill.
Despite its dwindling numbers, Menwith Hill was able to field Mustang girls and boys soccer teams this spring for one final season of DODDS-Europe competition. The regular season comes to an end Saturday when the school hosts its final sporting events, a soccer doubleheader with English neighbor and longtime adversary Alconbury.
"We've always been a proud, competitive sports program winning as many games as we've lost," Menwith Hill athletic director Pete Resnick said. "Even though we've usually been the underdog in all our games."
Remarkably, that's not necessarily the case Saturday. Coach Michael Hernandez and the Mustang boys have fared well in their final season, highlighted by a convincing 3-1 win over Brussels that featured two goals by striker Val Evans. A win over Alconbury on Saturday would give them a winning regular-season record and establish the Dragons as a viable contender in the Division III tournament, which starts May 18 in the Kaiserslautern Military Community.
The girls team, meanwhile, has spent its season tangling with the more existential challenge of fielding a regulation 11-player team. The winless team will play against Alconbury on Saturday, Resnick said, but won't participate in the Division III tournament after three players PCS before the postseason begins.
The final days of a DODEA school year, moreso than at more stable stateside schools, are often tinged with melancholy as friends prepare to separate for what might be forever. That sense is heightened at Menwith Hill, as it was at other recently-closed schools such as Heidelberg, Bamberg and Schweinfurt.
"The students seem to have a mix of emotions," Resnick said.
That's likely because they have a mix of immediate futures to confront. Some will transfer to larger schools such as Lakenheath. Others will stay in the area and attend local British schools. Some are graduating, the end of their high school careers neatly coinciding with the end of their high school.
It's simply another version of the kind of upheaval to which many DODDS students have grown accustomed.
"They're used to change," Resnick said. "They're excited about the new experiences ahead."
That goes for Resnick as well: he'll complete a tour of all three of DODDS-Europe's current United Kingdom schools when he transfers to Alconbury next year.
Two decades ago, Resnick was the athletic director, basketball coach and football coach at Lakenheath. At the time, he recalled, Menwith Hill – close to 200 miles north of Lakenheath – had a school that served students in kindergarten through ninth grade. High school sophomores, junior and seniors lived in dormitories near Lakenheath. In 1998, the school expanded to Menwith Hill Elementary/High School and welcomed all K-12 students. Resnick was named athletic director.
"I had already known most of the students from Lakenheath," Resnick said. "It was an easy transition."
Over the ensuing 17 years, the Mustang athletics program has been a fixture of DODDS-Europe Division III sports despite consistently drawing from a high school population of around 100 students. Alconbury, the nearest comparably-sized school, has served as a constant adversary for Menwith Hill over that span.
Dragons athletic director Jeffrey Black reflected on the loss of his program's worthy foe.
"It's always been competitive," Black said. "In the end, our matches have always been played in good spirit."
The schools share a conflicted relationship, that special blend of rivalry and solidarity produced when school allegiance comingles with pride of place. For the Dragons and Mustangs, that feeling manifests as "U.K. All the Way," the chant the British schools have long used to support each other's efforts at mainland championship tournaments.
"On the field the teams play to win," Black said. "But when we aren't playing each other, both schools have always been supportive of each other."
That dichotomy will play out once again over the next few weeks.
On Saturday, the Mustangs and Dragons share an English soccer pitch for the last time.
Days later, they'll share a bus to Germany, where each team will alternately root for the other's progress through the Division III tournament or try to eliminate them on the field.
Twitter: @broomestripes
---
---
---
---