Girls basketball athlete of year
Encarnacion paced Stuttgart to a perfect season
by
Gregory Broome
March 5, 2017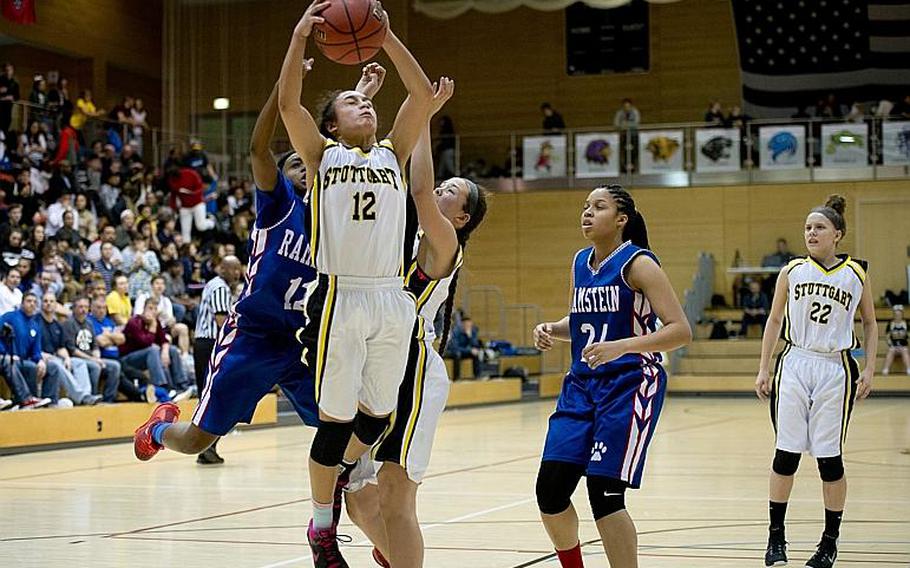 Statistics can't begin to define the impact of Stuttgart senior point guard Marissa Encarnacion. Unless you count 14-0 and 36-8 as statistics.
That first figure is the Panthers' undefeated record this season. The latter is their winning score over the rival Ramstein Royals in the DODEA-Europe Division I championship game.
Those numbers illustrate Encarnacion's excellence quite succinctly, and are a big reason why she is the 2016-17 Stars and Stripes girls basketball Athlete of the Year.
"She brought more to the team than just points, steals and assists. She brought enthusiasm, dedication and pride," Stuttgart coach Robin Hess said. "Her teammates fed off her, and I can safely say that Marissa's energy played a vital part in our team's success."
That's exactly the role Encarnacion set out to fulfill this season.
"I've never seen myself as that offensive powerhouse," Encarnacion said. "I see myself more as an all-around type of player."
To that end, Encarnacion's contributions weren't all of the intangible variety. She averaged 5.4 points, 2.7 rebounds and 1.3 assists per game. She did produce one eye-popping statistic - an average of 5.7 steals per game, nearly three times the two turnovers per game she committed as the Panthers' primary ball-handler.
All told, Encarnacion's effectiveness can't be fully measured by either metric. A narrow look at her statistical production underestimates the profound impact of her leadership. But an overemphasis on her leadership and motivational qualities unfairly downplays her considerable talent and advanced skill.
Encarnacion prefers to let her team's results tell the story.
"Basketball is not an individual sport," Encarnacion said. "It's a team sport."
But every team needs a leader, and Encarnacion was the best in DODEA-Europe this season.
"I've always seen point guard as the leadership position on the court, the person that facilitates the offense, and keeps everybody level-headed and in a positive mindset," Encarnacion said. "I just tried to do that throughout the season on the court."
With her DODEA-Europe hoops career complete, Encarnacion is likely to shift her attention back to another court. The senior is a two-time Stars and Stripes girls tennis Athlete of the Year, and she plans to pursue that sport competitively after high school.
But wherever that individual sport takes her, she'll look back fondly at her time leading a special group of talented friends and teammates.
"I knew from the beginning that we had a lot of individual talents," Encarnacion said. "And I was just glad that we were able to play together as a team."
Twitter: @broomestripes