Edgren's Lally scores 13 points in return to Zama
by
Dave Ornauer
February 1, 2004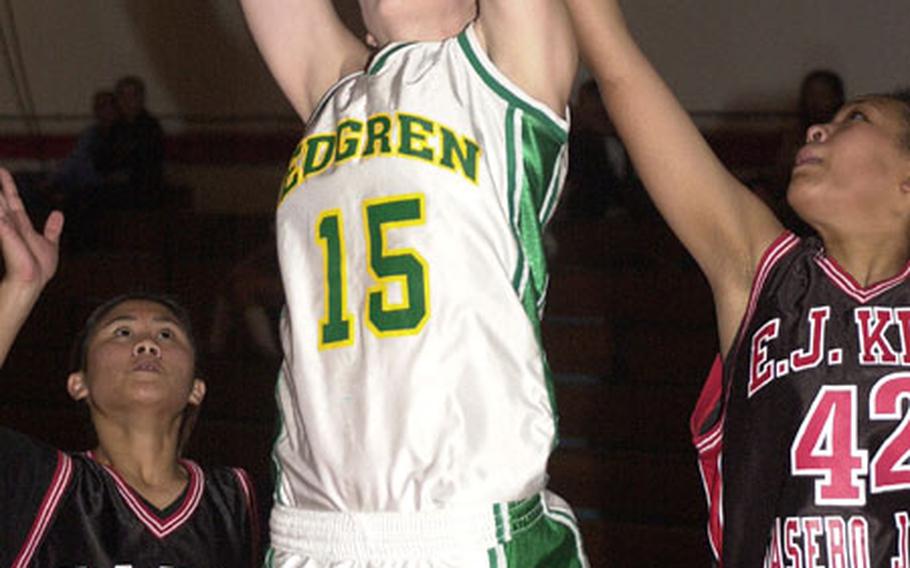 CAMP ZAMA, Japan — Liz Lally watched the errant shot, nudged her way into position between two defenders, grabbed the rebound and went up with a putback for two points.
"Go, Liz!" a spectator shouted from the stands at the other end of the gym. "We love you, Liz!"
It was like old times for Lally — a pillar of strength at both ends of the floor.
Only a couple of things were different.
Lally was wearing No. 15, instead of her customary No. 14. And instead of Zama American black, maroon and white, the junior sported the green, gold and white of her new school, Robert D. Edgren of Misawa Air Base in northern Japan.
"It feels good to be back," Lally said after scoring 13 points and grabbing seven rebounds in Edgren's 51-20 victory over E.J. King, of Sasebo Naval Base, on Friday, the opening night of a four-team Japan Basketball League weekend series on her old home floor.
A year ago, Lally was scoring consistently in double figures and dominating the boards for the Trojans.
When her father, Capt. Bob Lally, was transferred to Misawa in October, she changed schools - and volleyball teams — midseason.
Lally looked forward to her Saturday date with Zama.
"It's going to be fun to play them, see where they're at and where we're at," Lally said. "It gives a more competitive vibe out there on the court, knowing we're friends and we expect to beat each other pretty badly."
Before Friday's games, Lally mingled with her former classmates and teammates, catching up over lunch and walking leisurely around post.
The friendships, Lally said, are what she treasures most, particularly when the team played in the Far East Class AA Tournament last February on Okinawa.
"The friendship, the bonds, Far East last year, getting to know everybody," she said of her only season in Trojans uniform. "I was close with them. It's hard seeing them and being on a different team."
Saturday wasn't the first time the two teams met this season; the Trojans defeated the Eagles 37-28 on Dec. 12, but at Yokota Air Base, not Zama.
Back then, for the Trojans, it seemed odd playing against their old teammate, "but not now," Zama swingman Simara Williams said.
"She's been playing for this team for awhile. It's good to see her again, but when we get on the court, it makes no difference that she's a friend."
Lally felt likewise.
"It's purely a game and I want to win. What goes on the court stays on the court."
---
---
---
---