Edgren hoping to continue upward momentum
by
Dave Ornauer
August 29, 2019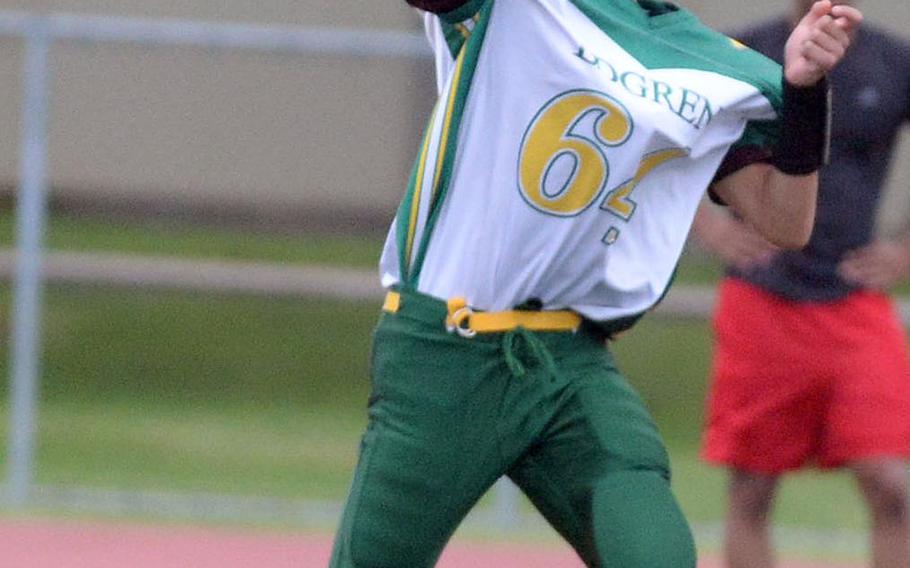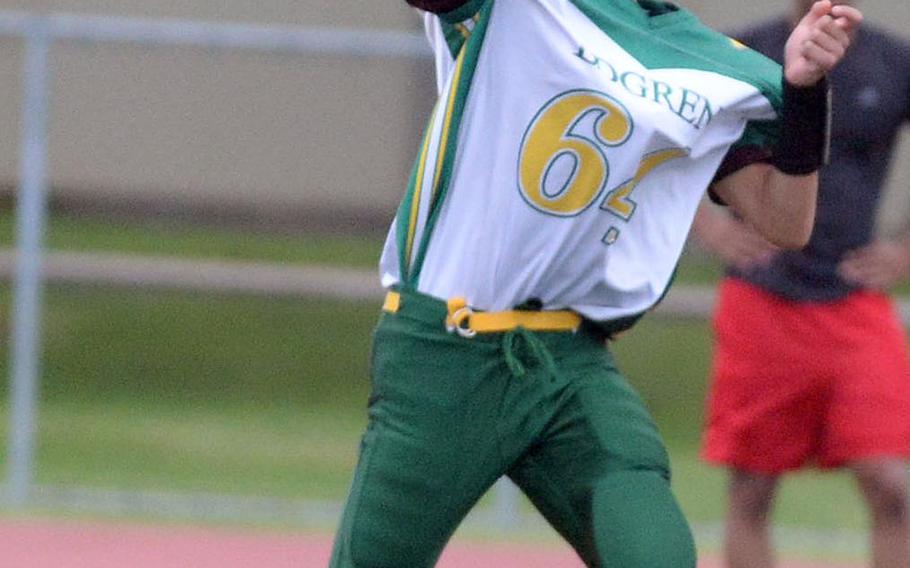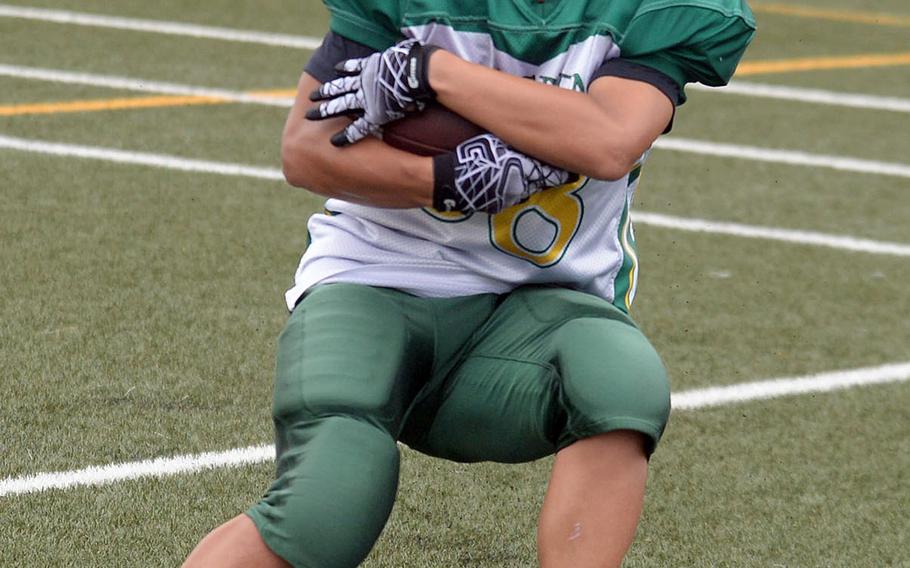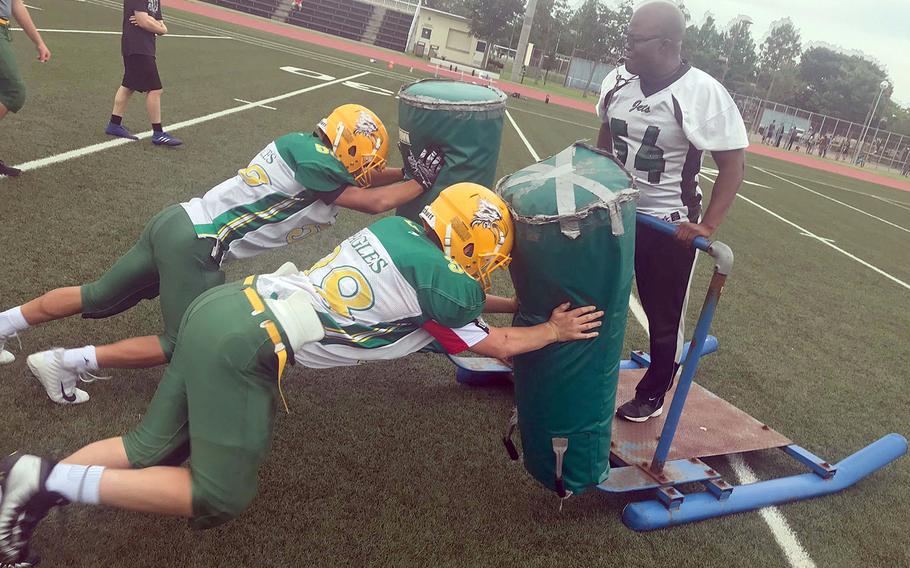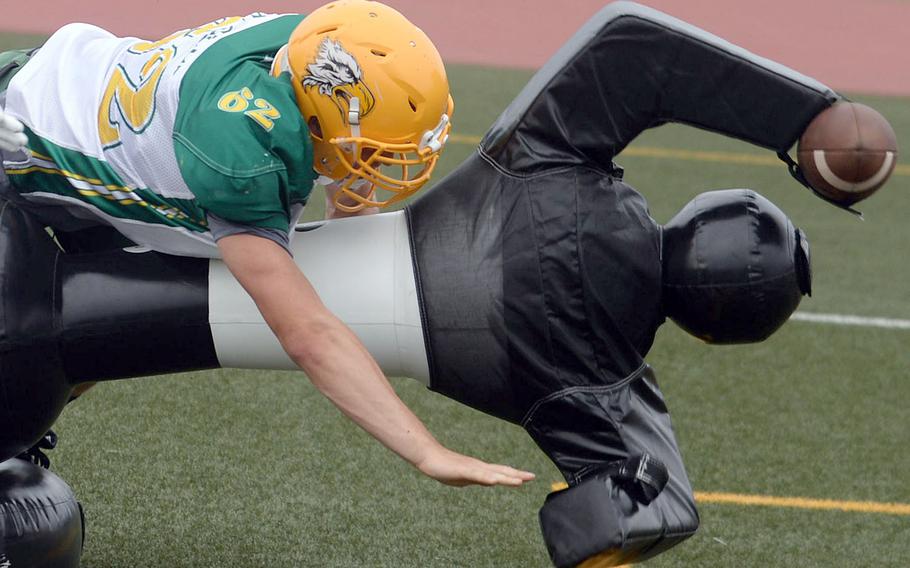 Eighth in a series of DODEA-Pacific high school football previews.
MISAWA AIR BASE, Japan – A season ago, Robert D. Edgren managed to cobble enough bodies together to play part of a season.
A year later, the Eagles are hoping to do better than just show up. They want to thrive, perhaps even play well enough to host the Far East Division II championship Nov. 8. That would be the first time that's happened since 2008.
"That's what we're planning on," said Chase Quigley, a senior lineman and a holdover from the lean days of last season. "Focus on what we need to do. As long as we are doing what we need to do, show up at practice and give it our all in games, we can be more successful than last season."
Quite a jump in stature from a time when coach Jeremy Sanders and the Eagles feared the absolute worst. Sandman, his assistants and players went virtually door-to-door looking for warm bodies. They posted flyers all over the base. They visited AFN and spent a couple of hours on the radio.
The result – the Eagles went 3-2 on the season and came within 1½ games of hosting the D-II final.
And now, the Eagles have 20 players suited up – Sanders says he's still hoping for five more – and the team also has welcome "community support because of what happened, the lightning in a bottle from last year."
"We're trying to get them (players) to understand, when the game is gone, it's gone," Sanders said. "Cherish the moment. Be glad that we have it back."
Whether the Eagles can advance beyond last year will fall on the backs of an experienced, veteran corps of interior players on both sides of the ball. Quigley, a player Sanders refers to as "his elite dude," leads the way.
"He is moldable," said Sanders about Quigley, a third-year Eagle. "He's a terminator. He is so robotic, but in a good way. He's like a machine in his techniques and fundamentals. He's not very vocal, but he does it in his actions."
What Quigley is in the interior, sophomore Doug Tackney is to skills positions; he can play in the backfield, in the slot or as a wideout, as was the case with Raphael Lykins, the team's quarterback and what Sanders called a "coach on the field" last season.
But the Eagles will go from a three-year starter to a freshman, Dylan Tomas, at quarterback. While Tomas has an excellent arm, there are certain mechanics to the position that Sanders says Tomas needs to acquire to be successful.
"You can see the mechanics are still raw, but we're working on that," Sanders said. "There's still untapped potential. Awareness and decision-making. How to pick up press coverage. How to watch safeties. How to watch receivers come back to him for passes. We're working on that."
If the Eagles and their coaching staff can develop Tomas as the offensive triggerman, "if that football IQ is there, we'll be contending," Sanders said.
ornauer.dave@stripes.com Twitter: @daveornauer