Early drama in DODDS track championships
by
Rusty Bryan
May 24, 2003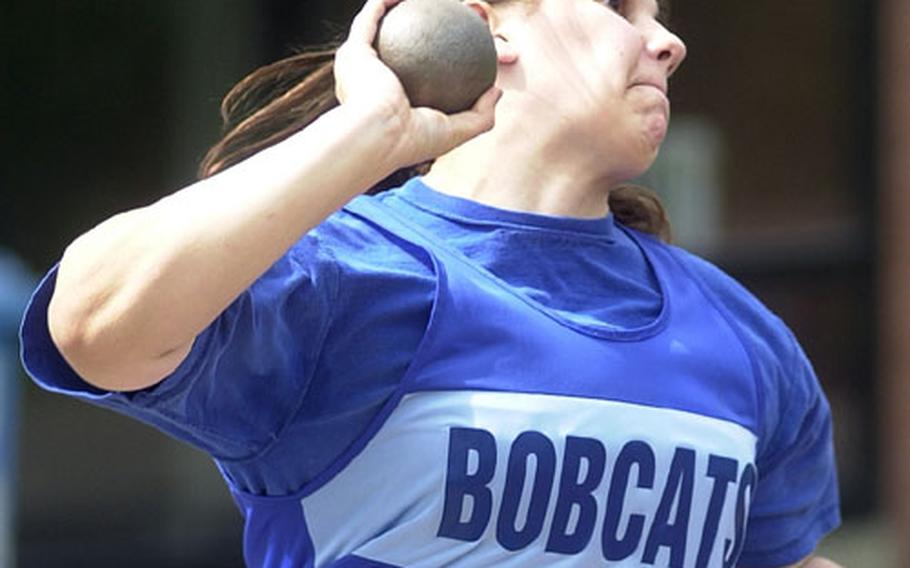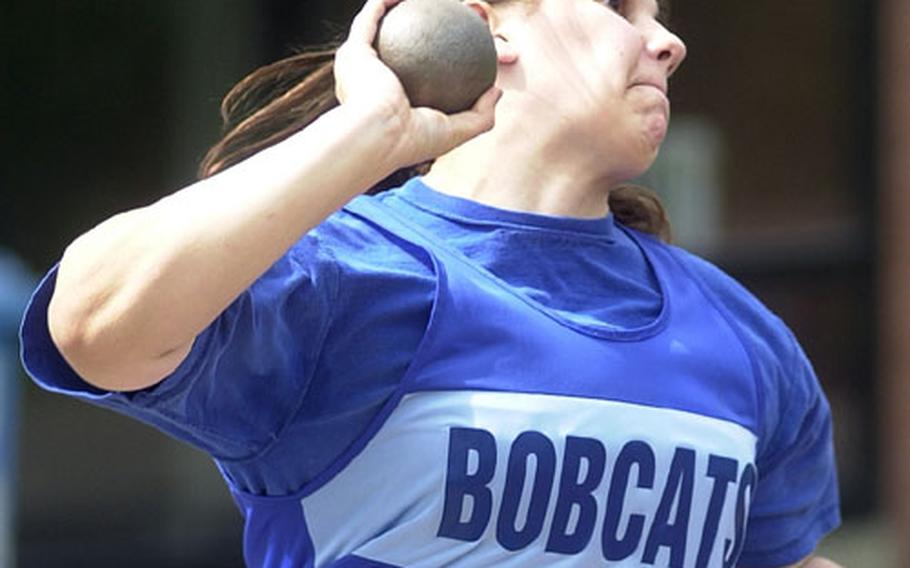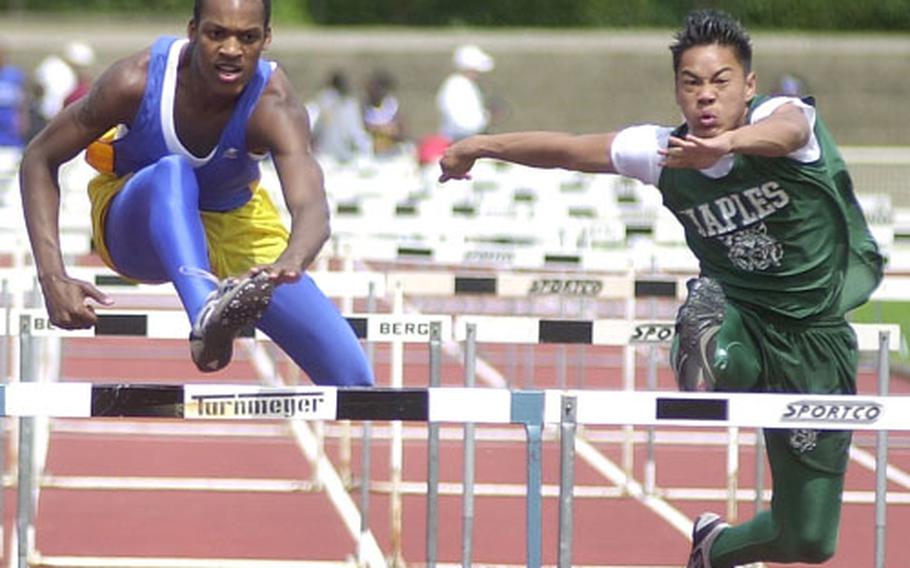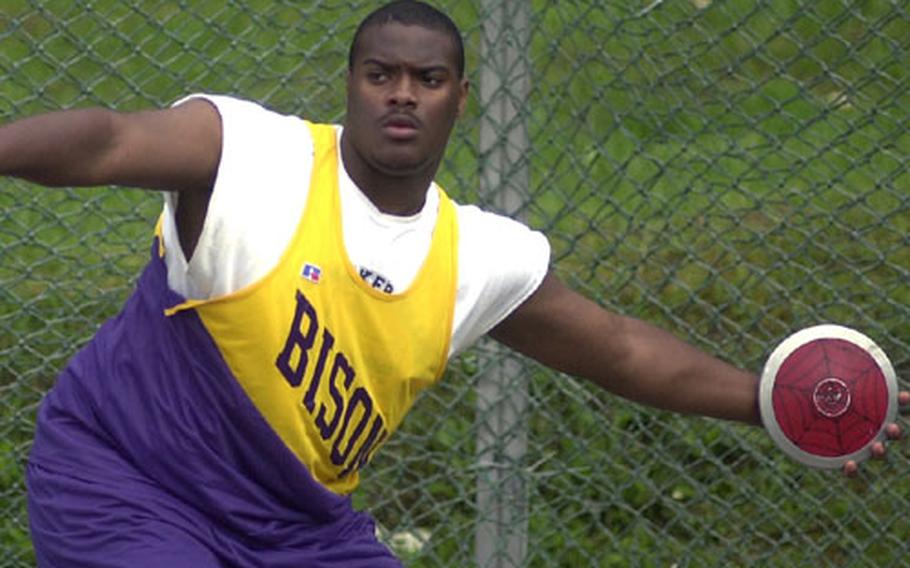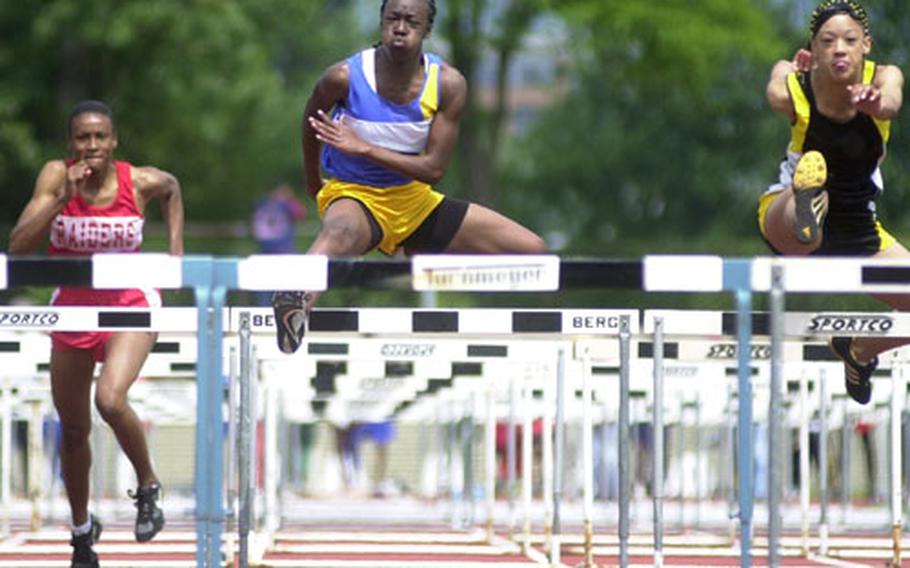 WIESBADEN, Germany — A trio of DODDS-Europe athletes saved their best for last Friday as the 2003 European track and field championships opened at the Berliner Stadion.
Nicole Lassetter of London Central (shot put), Charity Williams of Naples (1,500 meters) and Chris Eubanks of Bitburg (discus) hit season bests in championship performances in early finals.
Lassetter and her opponents provided the most drama as the top three finishers posted the day's best puts in their final three efforts.
Bronze medallist Shalotta Williams of Bamberg got the progression started, uncorking a heave of 35 feet, 5½ inches to take the lead.
Hohenfels' Paige Nicoson topped that with a 36 feet, ¾ inches, only to see Lassetter post a season-best 36-1 on the final throw of the day.
Until the measurement was announced, Lassetter, who slumped her shoulders and looked disappointed in the throwing ring, didn't think she'd done enough.
"The throw was straight ahead," she said. "It's hard to judge how far you've gone when it's straight ahead. It easier to judge when you throw to the side."
Lassetter, a former All-European in basketball and soccer, participated in track and field for the first time this season.
"I was standing there in the ring just looking at [Nicoson's] mark," she said. "I thought that if I could see it, I could beat it. I just gave it my all."
Eubanks also got a boost from his opponents when he uncorked a season-best heave of 147 feet, 2 inches, on his sixth and final throw.
"I love competition," said Eubanks, whose previous best this season was 141-10 3/4. "I have no clue what I would throw without competition."
Eubanks was also helped by a first throw of 146-6, which allowed him to be aggressive the rest of the way, he said. He was. Four of his six throws cleared 140 feet.
Second to Eubanks was Jordon King of Würzburg, whose best toss traveled 136-7½. Eubanks and King will return next season, in which the DODDS-Europe record of 161-6, set in 1980, looms large for Eubanks.
"I'm going for the record," he said.
Williams, who dyed her hair Naples green for her first finals, clocked a season-best 4:53.49 and ran the rest of the field into the ground.
"It's a personal best for me," Williams said. "I've never been under five minutes before."
Williams burst out from the pack on the first curve and padded her lead the rest of the way. She led by 20 yards at the end of the first 400 meters and won by 60 yards — and 11.64 seconds — over Patch's Carolyn House.
Williams, who expects to stay at Naples until graduation, said she plans to run in Saturday's 3,000 and cross country in the fall.
"Cross country's my sport," she said. "I'm liking track more and more, but cross country's still my favorite."
Saturday's schedule is all-finals, beginning at 10 a.m. Headlining the proceedings will be Jacob Palmer's pursuit of DODDS-Europe records in the 110 highs (14.40) and the 300 intermediates (38.2). Palmer ran his 110 heat in 14.77 Friday.
There is no admission charge.