E.J. King's Suriben courting success
by
Dave Ornauer
October 13, 2005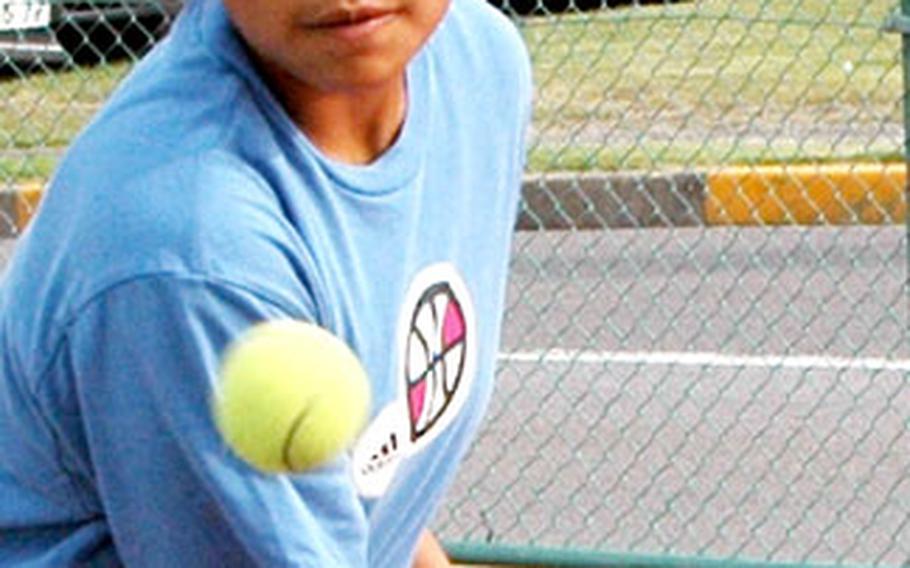 Head down, walking off the court at Kadena Air Base's Risner Tennis Complex on a scorching day last November, Kristia Suriben felt as if she'd been run over by a bus.
The then-freshman from tiny E.J. King High School entered last year's Far East tournament as Japan's No. 1 seed, but her baseline game did no good in an 8-1 thrashing by Kadena senior Lori Kanikkeberg in the quarterfinals. It was the only singles match Suriben played that week.
One year later, an improved Suriben says she's returning to next month's Far East tournament on Guam with a purpose: To try to become the first Department of Defense Dependents Schools-Japan player to win a gold medal in the tournament's 27-year history.
"I've been there. I know what's expected. I know what Far East is about now," Suriben said. "Last year, everything was new to me. I feel like I should have done a lot better at Far East."
Suriben has given every indication that she'll play more than one Far East match this time. In six singles matches against DODDS-Japan opposition, Suriben hasn't dropped a set. Teaming with Jemari Nimedez, Suriben was unbeaten in doubles in the first month of the campaign.
She balances a hectic tennis schedule — in the past two weeks, she's played matches in the Tokyo and Osaka areas — with a class workload that includes Honors English and Honors History. A 4.0 grade-point average student, Suriben is involved in Junior ROTC and National Honor Society, serves as the sophomore class president and is eyeing a career as a military officer.
She's a three-sport star and made the All-Far East team in February's Class A basketball tournament. Suriben was also selected to All-DODDS-Japan teams in basketball and softball.
In the past year, Suriben said tennis has become "more of a priority." She is attracted by the individual nature of the sport. "It's all you. If you lose, if you win, it's all on you. Not like in team sports, where you share the glory. There's more of a sense of urgency. My dad likes it, and he really wants me to play tennis. And I really enjoy tennis."
Suriben is a different player now than the one who camped on the baseline, trying to frustrate her opponents into making mistakes. During the summer, she played against her father, Cesar, a Navy senior chief petty officer who plays local tournaments on base.
"He's a lot better than me," she said of her father, who works at Sasebo's Personnel Support Detachment. "If you play people better than you, you improve your game."
These days, Suriben is the aggressor.
"Last year, she didn't have any great shots; she just returned and didn't make mistakes," coach Rick Kendall said. "This year, she has a great serve, her groundstrokes are very good and she has a net game — serve and volley — which is a big difference from last year. She plays really smart. She outthinks the opponent, moves them around and wins points. She has no flaw in her game any more."
"She's taking control and attacking the net more," said Nico Hindie, coach of a Nile C. Kinnick team whose top singles player, Joyce Cao, has dropped two matches in straight sets to Suriben this season.
Net games are more common among DODDS boys players in Japan, while girls tend to stay on the baseline. That makes Suriben a rare commodity, Hindie said.
"It's refreshing to see that in this league," he said. "She's improved her game a lot. Kendall has worked hard to bring up her game, and it's seemed to pay dividends. She's expanded her game."
Suriben feels her toughest challenge has been Cao, even though Cao lost 6-0, 6-0 in their matches this year. Frances Santiago of Zama American, who lost to Suriben 6-1, 6-1, is viewed as another threat.
"Joyce is more of a challenge," Suriben said. "She has a better serve and more power. We have close matches. We go to deuce all the time; I just win those. She's made it tough for me, tougher than Frances."
Kendall feels Suriben can become the same type of player as gold medalist Amy Lopes, who transferred from Kadena to Arizona last year.
"She would have given Amy a good game, but Amy was a lot stronger player than her," Kendall said. "But you're talking about … one of the best female athletes in Japan. She can become that kind of player. No doubt."