Home Team
Duenas in control of emotions, pitches on mound
by
Dave Ornauer
March 15, 2018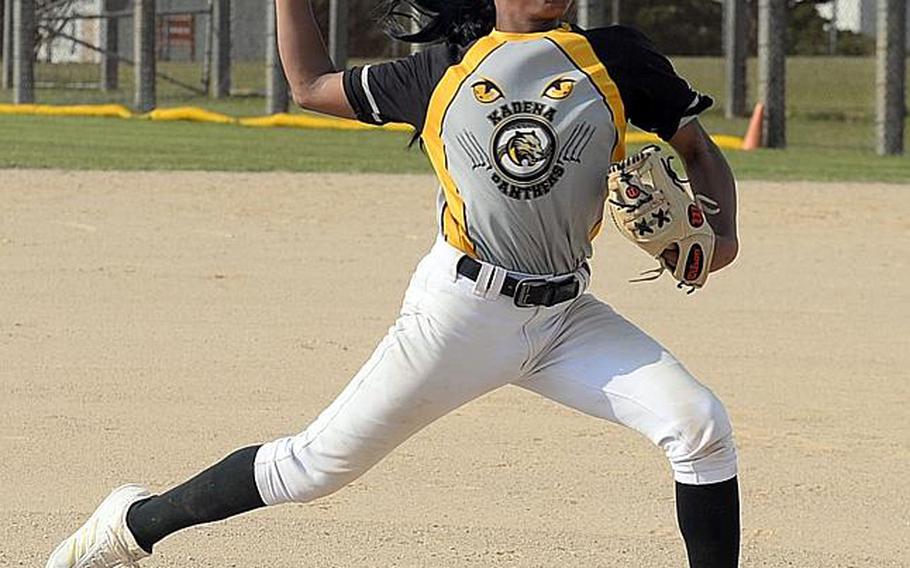 KADENA AIR BASE, Okinawa – Usually, a pitcher who completes a no-hit, no-run game in high school baseball might find himself carried on his teammates' shoulders or dogpiled by same in a wild celebration.
Not so after Kadena's cool-as-ice right-hander Jared Duenas' 2-0 shutout of Kubasaki last Saturday at Kadena's Four Diamonds Complex.
In many ways, it was just another contest between the two longtime Okinawa rivals.
In fact, the sophomore said he didn't know what he'd accomplished until Panthers coach Boe Roberts told him as he walked off the field into the dugout for the last time on a balmy, beautiful afternoon.
"I knew I was doing well, but not that well," Duenas said after his first career no-no. "I didn't know until the end of the game. Coach told me he was surprised I'd never done that before. It was just like any other game, to me. I wasn't nervous at all."
"He's a tough guy to read; he's not emotional, he doesn't say much," Roberts said.
"Everyone was pretty calm until the end," Dragons coach Randy Toor said.
Duenas faced 24 batters in seven innings, walking one - Shannon Hyde in the second inning - and striking out eight. One other batter, Cade Schaffner, reached on a seventh-inning error. Duenas threw just 71 pitches.
"He just threw a lot of strikes," Toor said. "He just kept getting ahead of batters. He had that nice curve ball working. Anything we did hit, their defense made plays. A few well-hit balls, but right at people. But that's baseball."
Duenas, who stands 5-foot-7, has only been playing baseball for five years. He sports a lengthy pony tail the same as his father, Keith Sr.
The father pitched in high school on Guam in the 1990s and has mentored his three sons, Keith Jr., Nate and Jared, on the diamonds both on Guam and in Temecula, Calif., where Jared picked up the game in 2013.
Jared played youth services ball on Okinawa after arriving on the island during his seventh-grade year, three years ago.
"He taught me all about pitching, how to follow through, different grips on the ball, pickoff moves, how to watch baserunners, things like that," Jared said.
He first learned a two-seam fastball, followed by a four-seam fastball, a curveball after that, then a changeup.
"He's developing a slider now," said Roberts, the Panthers' head coach the last five seasons after assisting the previous three; he coached Jared's older brothers as well. "He's got that whip action on the mound. He's working on a cutter, too."
His freshman season saw Duenas strike out 33 batters while allowing 14 walks and 24 hits in 25 innings; his ERA was 3.60.
Throughout his freshman season last year and the current campaign, Jared said, he's tried to maintain the same mindset: Don't look too far ahead or worry too much about getting through an entire game, but keep an eye on what's in front of him.
"Just keep going, try to strike them out or get a play on the field, just one batter at a time," Duenas said.
Duenas said he got a very important takeaway from an 8-1 semifinal victory over Seoul American in last year's Far East championships, something that's helped him so far this season.
"I was really nervous at first" during the semifinal, he said. Once the game started, "I just kept my cool, like it was just another game. It helped my confidence. Now I know what to do in a similar situation."
It's not clear whether Duenas will finish out his high school career at Kadena. Wherever he concludes his high school years, Duenas said: "I just want to keep going, go to college and play there."
Twitter: @ornauer_stripes