Dublin: A fine place to spend St. Paddy's Day
by
Karen Bradbury
March 15, 2011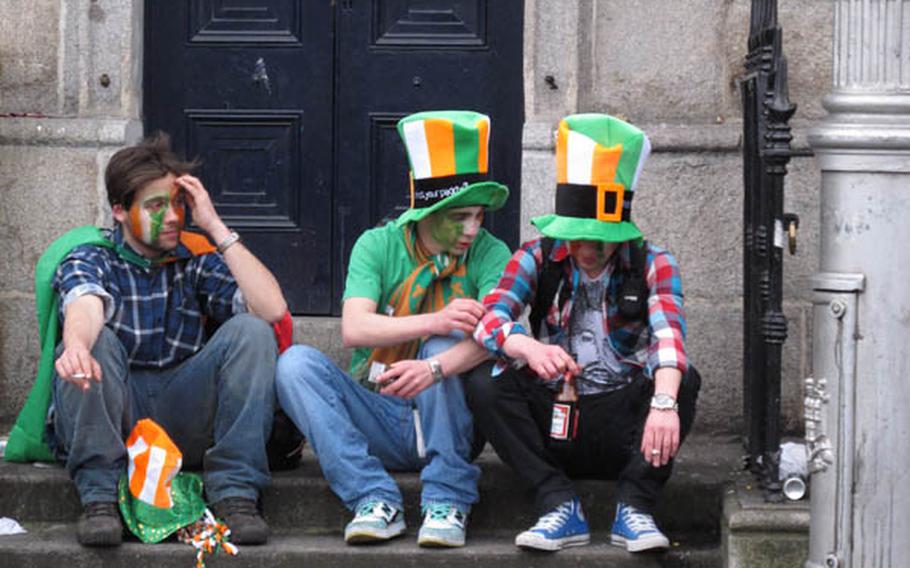 Is a quick trip to Ireland to celebrate St. Patrick's Day worth the effort and cost?
In 2010, three friends and I made a quick but memorable overnight foray from our home base in Germany to Dublin to mark the day in the land of its origin. Here is how it went:
To minimize costs, we decided to fly in the morning of March 17 and limit our stay to just one overnight.
We booked with Aer Lingus well ahead of time, so our round-trip flight from Frankfurt to Dublin came in well under 100 euros each. And since we felt comfortable enough in one another's company to share a quadruple room, our individual costs for lodging at the Ariel House Guesthouse in Ballsbridge (www.ariel-house.net) were also surprisingly low.
By the time we had landed at the Dublin airport and taken a short cab ride to our lodging, checked in, freshened up and ventured out on foot toward the downtown area, we were already seeing streams of people heading out of the center. When we reached the parade route, the marchers had come and gone.
Spirits remained high, however, and costumed revelers were out in the streets in force. Cafes and pubs were busy, but not to such an extent that it was impossible to get served. After a fish-and-chips dinner at Beshoff Restaurant on Upper O'Connell Street, we made our way — it was probably inevitable — to the Temple Bar district, a center of Dublin nightlife.
Fitzsimons seemed as good a bet as any. The music played, bodies swayed, friends were made. The evening was unfolding swimmingly until one of us reached for her wallet to cover the next round and came up empty-handed. By the time the loss was discovered, our light-fingered foe was long gone. So back we headed to our lodging to cancel credit cards and put things right. It was a bit earlier than we might otherwise have called it a night, but the hour was late and the day had already been a full one.
The next day we enjoyed a hearty Irish breakfast, included in the room's cost, and spent the few hours remaining until our flight perusing the shops. One last Guinness at the scene of the crime was our farewell to Dublin's fair city.
Would I go back to Dublin for St. Patrick's Day? Having crossed this off my "bucket list," I must admit the urgency isn't there anymore.
But I do know that a return to the wonderful, bubbly, shirt-off-your-back-friendly city is definitely in the cards. I fondly recall an earlier visit when the city had an even more celebratory feel. Several years ago, on the first weekend in September, our visit coincided with the All-Ireland Hurling Final, the championship of Ireland's national sport. Dublin was awash in the colors of both sides, and pubs were packed with supporters of each team in equal numbers. But at no point was there a hint that things might take an ugly turn.
I'm betting there are plenty of festive times during the year to discover Dublin. You don't have to limit it to St. Patrick's Day.
---
---
---
---