D-I volleyball
Dragons soar to third straight championship
---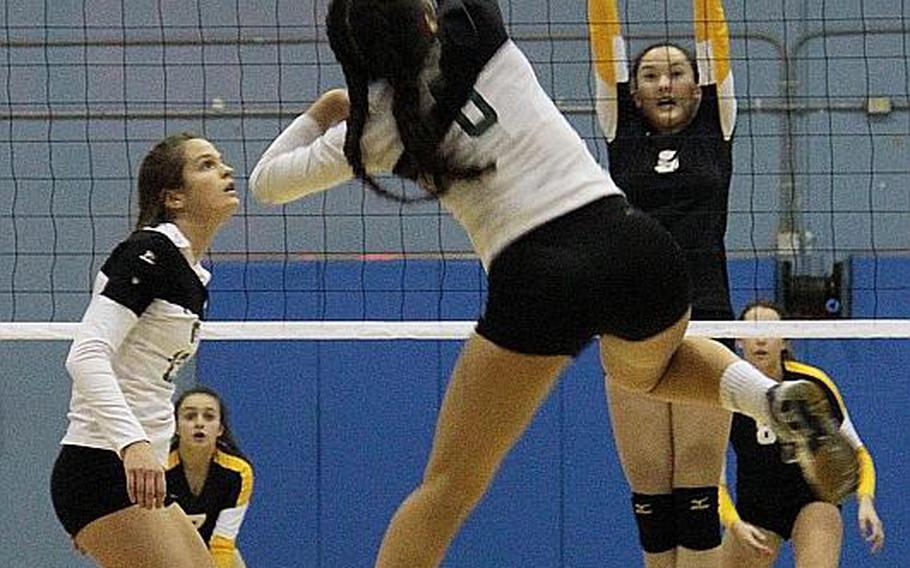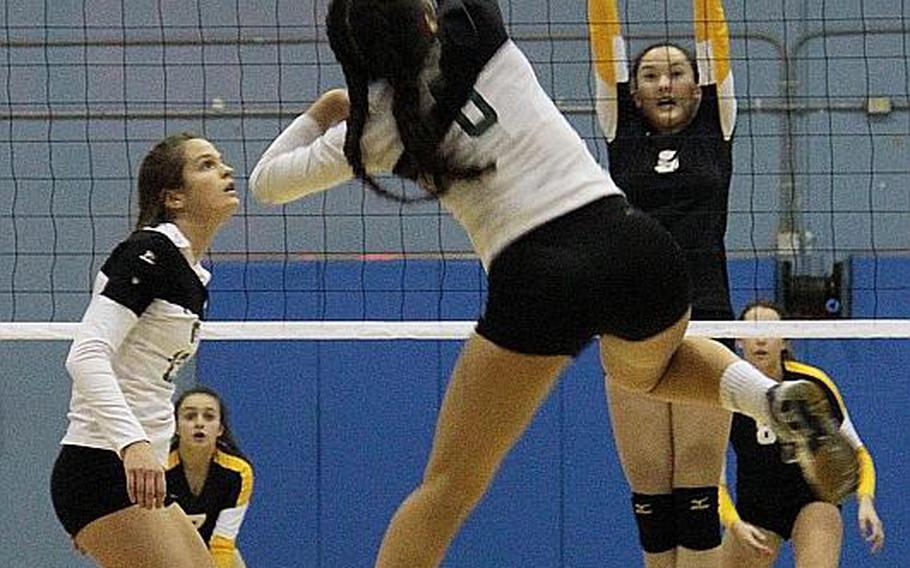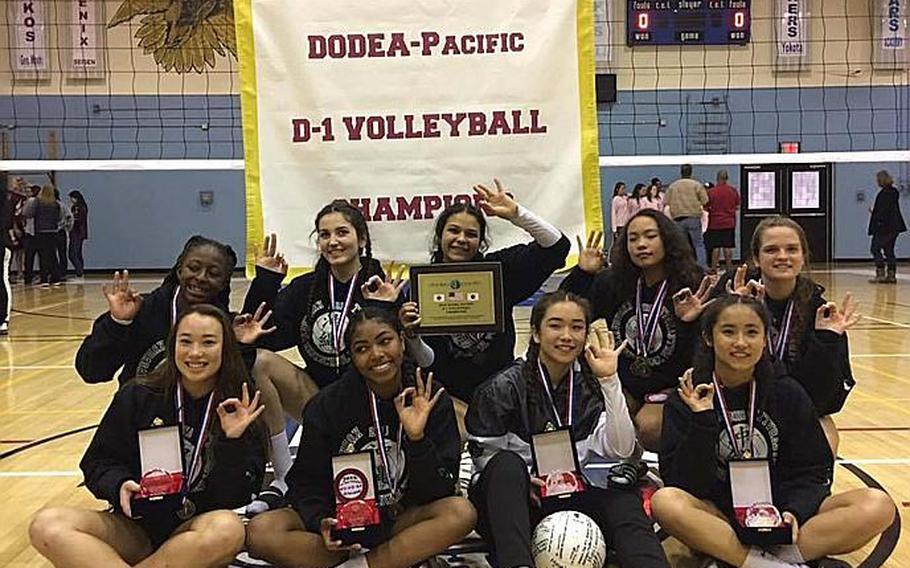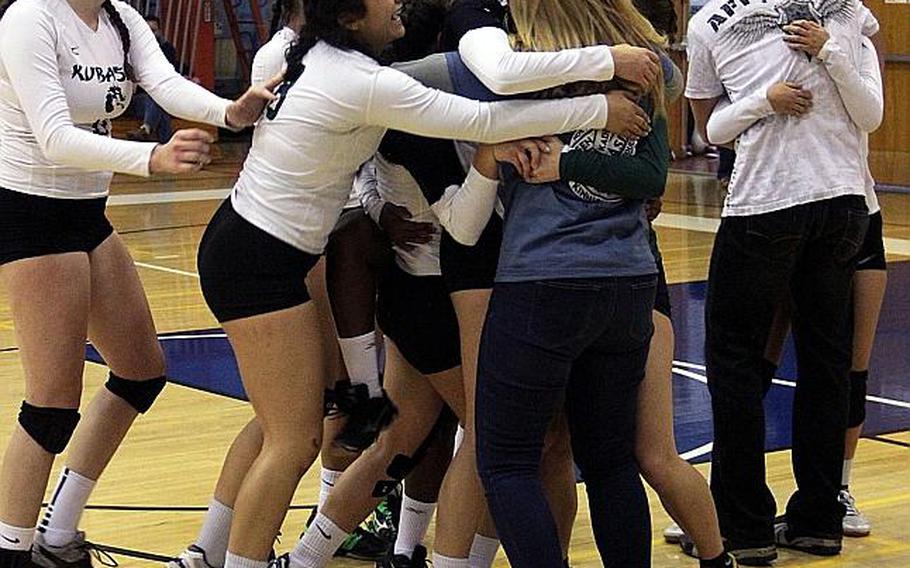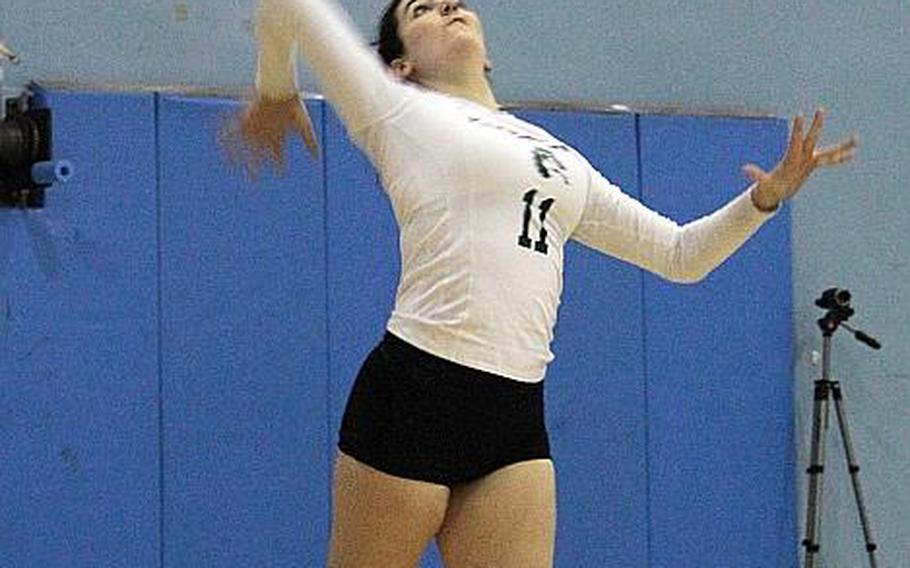 YONGSAN GARRISON, South Korea – Kubasaki left nothing to chance in Thursday's final of the Far East Division I tournament at Seoul American High School. Led by MVP Maiya Larry's seven kills and 12 by Chloe' Stevens, the Dragons won their third straight title, sweeping ASIJ 25-19, 25-23, 26-24.
"Overjoyed," said senior Jordyn Deleon Guerrero, the tournament's two-time Best Defender. "For my senior year, this was the icing on the cake. I couldn't be happier."
"It's so great to win three in a row," said Larry, who preceded Guerrero in 2014 as Best Defender. "That was our goal the whole season. I'm so happy we made it this far."
The Dragons had the Mustangs on the ropes, up two sets to none in last month's American School In Japan/YUJO volleyball tournament final, only to let the Mustangs off the hook.
Kubasaki finished the season with two losses - their first to island-rival Kadena since 2011 and that YUJO final in five sets - en route to becoming the first DODEA team to win three straight Far East titles.
The Mustangs, D-I champions from 2011-13, lost for the third straight time in the finals, all to Kubasaki. ASIJ entered the D-I tournament unbeaten, having won the Kanto Plain regular-season title, but lost three times in Far East, twice to Kubasaki.
"Credit Kubasaki; they played an extremely good finals match," said Kristi Hoskins, in her first year as Mustangs coach after assisting now-retired coach Gail Lanier.
"Everybody bought into the program, everybody had their role, they came together early, the never gave up and the YUJO tournament was an example. They hit the floor for everything. They just came up short today," Hoskins said.
Watching a two-set lead evaporate at ASIJ last month provided the spark that the Dragons needed, coach Mike Hogen said. "We have a young team this year and the young kids needed that sort of arena to experience the stress and pressure," Hogen said.
He called the YUJO final a "critical point" that "kept everybody hungry. We realized it was not like we were going to win every match, that we're going to lose sometimes," Hogen said. "It kept them resilient and committed to accept the process and they bought into it."
The Dragons did not lose a match the rest of the season - closing their four-match season series against Kadena with a three-set sweep - and rolled through the competition at Far East without dropping a set.
---
---
---
---