Dragons roll over Titans, repeat as Okinawa champions
by
Dave Ornauer
November 28, 2005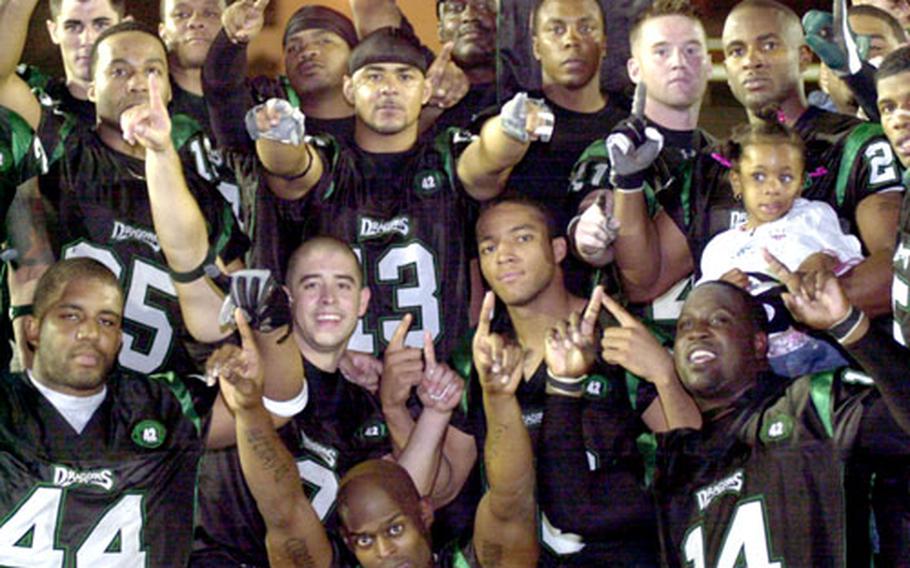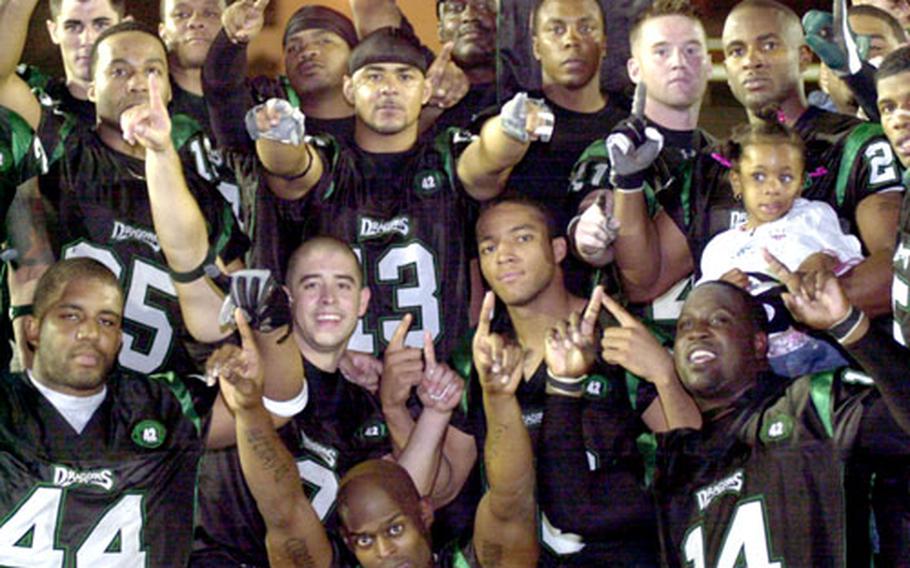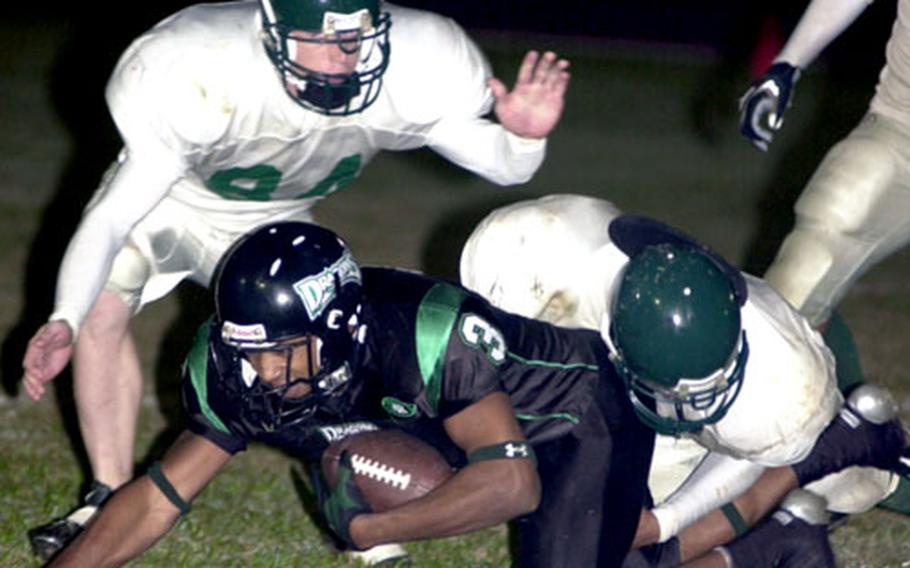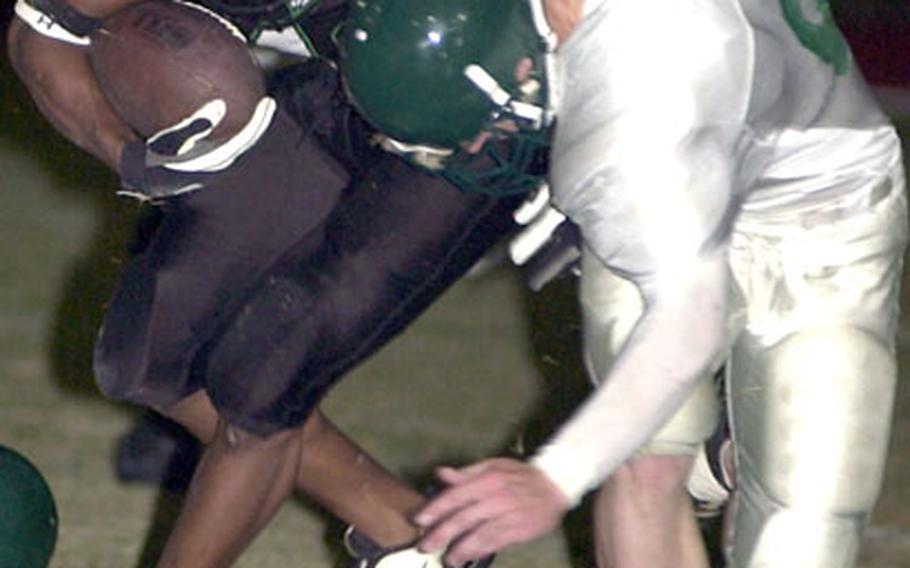 CAMP FOSTER, Okinawa — Trailing 7-0 and having gone nowhere on their first two possessions, Kadena needed a spark.
Tyrell McClora gave the Dragons just what they needed, blocking a punt and falling on the ball in the end zone for a touchdown, and Kadena scored seven unanswered TDs en route to a 45-7 victory over the Courtney-Hansen Titans and its second straight Okinawa Football League title in the Habu Bowl on Saturday at Mike Petty Stadium.
"It seemed like the gates opened and called me to come to the ball," McClora said. "The ball was coming toward me and I had to block it. And when the ball hit the ground, I just wanted to get to it before anybody else did."
One possession earlier, Maurice Johnson's 47-yard run gave the Titans (3-4) a 7-0 lead.
Kadena's defense stiffened and on fourth-and-7 at the Titans' 33-yard line, Courtney-Hansen's Jesse Hampton lined up to punt. McClora charged in from the left side to block it, and a gaggle of players from both sides chased it down. McClora covered it just past the goal line.
"That sealed the deal right then and there," Kadena coach Will Cupp said. "After that, they [Titans] gave up playing football."
"That turned the momentum over to them [Dragons] and we never recovered," said Titans coach Rodney Best, whose team reached the title game with a 7-6 upset of Foster-Futenma. "It took away our mental edge. They pride themselves on scoring points off of turnovers, and once they did that, they were in control. They were in command."
Coming off a 69-0 semifinal victory over Kinser, the Dragons' offense found itself after McClora's big play and rolled to an outcome much different from the teams' two previous close encounters. Kadena won those contests 28-18 and 13-6.
Quarterback Adam Hendrickson did most of the damage, going 12-for-22 for 195 yards, including touchdown passes of 13 yards to Eric Lazenby, 6 to Tarrick Jackson and 5 and 41 yards to Jermaine Baker.
"Adam is the best quarterback in the league, and he showed tonight why he's the champion that he is," Cupp said of Hendrickson, who was chosen as the league's MVP. He finished the season 73-for-142 for 1,033 yards and 14 touchdowns.
Baker, who had been deployed the previous six weeks, returned in style, catching five passes for 94 yards, gaining 75 yards on five returns and intercepting a pass.
Cupp called Baker's return to the lineup "pivotal."
"We missed him the last few games, on offense and defense. He's a playmaker," he said.
Jackson caught four passes for 66 yards and Lazenby had 29 yards on two receptions. Isaac Warren rushed 12 times for 84 yards, including a 23-yard TD. Ossian Satterwhite added a 6-yard TD run.
"We came out a bit soft, but after a few key plays by Courtney-Hansen, we buckled down and took care of business the rest of the game," Cupp said. "Championship games bring out the best in a championship team and that's what we did tonight."
Johnson paced the Titans with 59 yards on 11 carries, and David Burnell gained 136 all-purpose yards. But Courtney-Hansen quarterback Derek Nicholas was harried and harassed all night; he was sacked five times, with defensive end Kevin Carter racking up four to finish the season with a league-leading 11.
Kadena 45, Courtney-Hansen 7
At Camp Foster, Okinawa
Courtney-Hansen 7 0 0 0 7
Kadena 0 14 12 19 45
First quarter
C-H—Johnson 47 run (Lira kick), 7:48.
Second quarter
K—McClora punt block recovery in end zone (Noyes kick), 1:56.
K—Lazenby 13 pass from Hendrickson (Noyes kick), 10:38.
Third quarter
K—Warren 23 run (kick failed), 4:02.
K—Jackson 6 pass from Hendrickson (kick failed), 8:29.
Fourth quarter
K—Satterwhite 6 run (run failed), :52.
K—Baker 5 pass from Hendrickson (run failed), 6:01.
K—Baker 41 pass from Hendrickson (Noyes kick), 9:27.
Kadena C-H
First downs 16 5
Rushes-yards 27-175 23-101
Passing yards 195 36
Comp.-Att.-Int 12-22-0 3-12-1
Sacks-yards lost 1-12 5-27
Total yards 358 110
Return yards 92 129
Fumbles-lost 0-0 2-1
Penalties-yards 12-85 10-90
Individual statistics
Rushing—Kadena, Isaac Warren 12-84, Daniel Noyes 2-35, Emmanuel Griffin 7-22, Bronshay Limson 3-21, Ossian Satterwhite 3-12. Courtney-Hansen, Maurice Johnson 11-59, Jesse Hampton 4-21, Derek Nicholas 3-14, David Burnell 4-9, Leroy Randall 1-(minus-2).
Passing—Kadena, Adam Hendrickson 12-22-0-195. Courtney-Hansen, Derek Nicholas 2-11-1-11, David Burnell 1-1-0-25.
Receiving—Kadena, Jermaine Baker 5-94, Tarrick Jackson 4-66, Eric Lazenby 2-29, Jerry Carter 1-6. Courtney-Hansen, Derek Nicholas 1-25, Trevor Highsmith 1-8, Jesse Hampton 1-3.