Dogan's 2 TDs help Seoul edge Daegu
---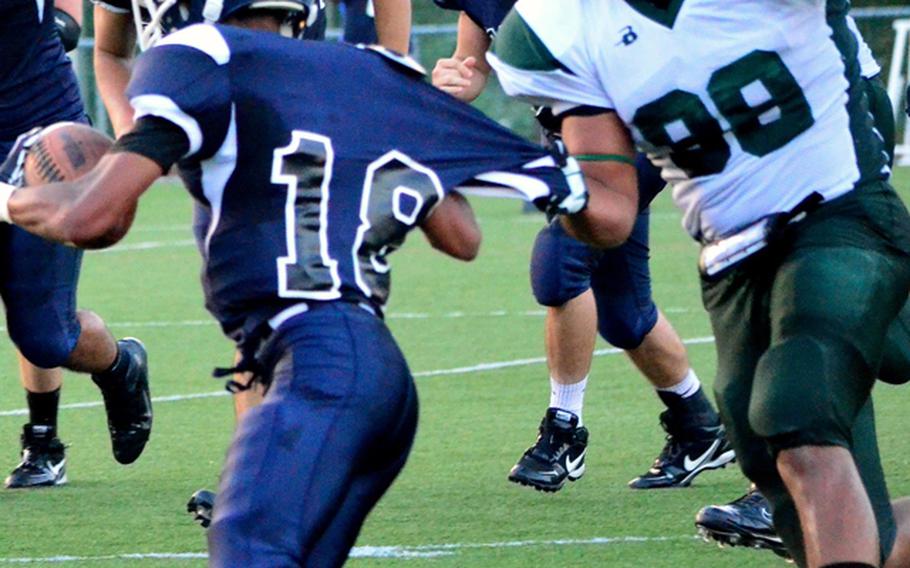 CAMP WALKER, South Korea – It wasn't pretty, but Seoul American made Jim Davis victorious in his Falcons coaching debut Saturday, as Ronald Dogan scored two rushing touchdowns in a 13-12 comeback win over Daegu at Camp Walker's Kelly Field.
"I'll take the win, yes, sir," said Davis after Dogan rushed for touchdowns of 57 and 6 yards, the latter with 2 minutes, 50 seconds left, and Olu Akinbayo and Darius Benton each picked off two Warriors passes.
It could have been much more for the Falcons, who fumbled the ball away four times in Daegu's red zone. Then again, the Warriors, who got a touchdown pass each from Caleb Gosserand and Caleb Page, missed both their two-point conversions.
"We hit one of those, we win the game," Daegu coach Ken Walter said.
"I think we both shot ourselves in the foot," Davis said. "This is stuff that you can clean up. This isn't off-season stuff. All four fumbles in the red zone, that's something we can fix, too."
After Dogan's first TD run and Devyn Williams' extra point put the Falcons ahead 7-0, Gosserand tossed a 20-yard touchdown pass to Javante Williams to cut it to 7-6 just before half.
Caleb Page, the starting quarterback who left briefly with in an injury, returned to throw a 72-yard TD pass to Patrick O'Houlahan and Daegu led 12-7, setting the stage for Dogan's game-winning score.
"We made too many mistakes to win this game," Walter said. Page went 8-for-15 for 145 yards and ran six times for 32. Ronald McLean added 87 yards on 15 carries and Gosserand caught seven passes for 87 yards.
Daegu had won five of its last eight games against the Falcons dating back to the 2009 season.
"That's a testimony to how good a program Ken has built with the few numbers that he has, and how competitive they've been over the years," Davis said.
The Falcons next visit Kadena at 2 p.m. Saturday on Kadena's Upper Field, while their regular fields undergo renovation. The Warriors travel to Kubasaki for a 6 p.m. Saturday kickoff.
---
---
---
---