DODEA to shift to more regional alignment for upcoming school year
---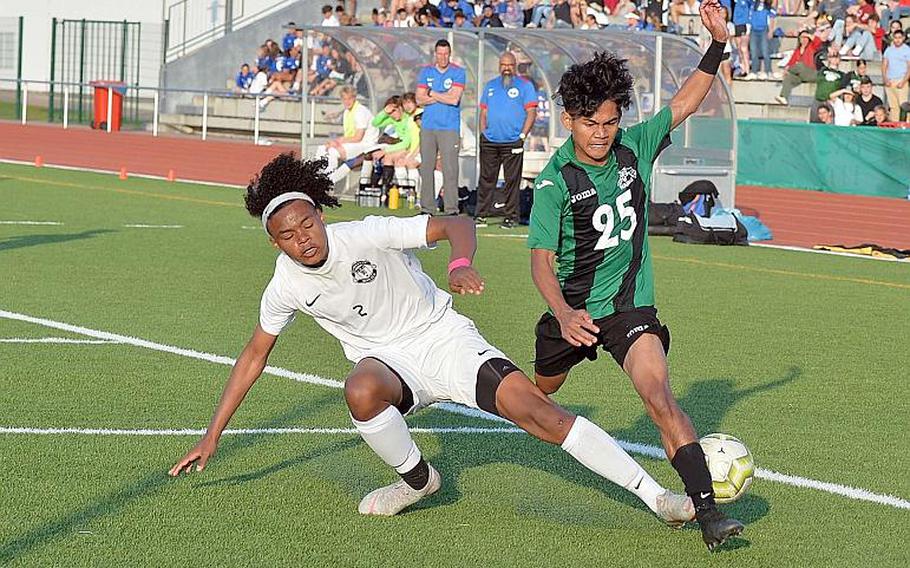 The competitive balance is shifting again in DODEA-Europe athletics.
A realignment announced last week by DODEA-Europe athletic director Kathlene Clemmons will send Italian schools Naples and Vicenza from Division I to Division II, promote Black Forest Academy from Division II to Division I and drop AFNORTH from Division II to Division III. The move applies to all sports but football and starts in the 2019-20 school year.
The move represents a shift in approach for DODEA-Europe, which formerly sorted its teams into divisions strictly by school population. This realignment, Clemmons explained, was intended to scale back on the considerable amount of time DODEA-Europe teams spend on the road.
"The decision to reorganize the divisions... was made to reduce travel time and minimize the loss of classroom instruction," Clemmons said. "Enrollment numbers and location of the schools also were factored into the decision."
In essence, the move consolidates Division I in the north of Europe and Division II in the south, with small Division III schools still widely scattered.
The new eight-team Division I field features six German schools along with Belgium-based SHAPE and England-based Lakenheath. Black Forest, a non-DODEA private school in Kandern, Germany, has typically played regular-season schedules primarily against Division I neighbors such as Kaiserslautern, Ramstein, Stuttgart and Wiesbaden, priming itself for highly successful tournament runs at the Division II level.
Naples and Vicenza return to Division II nearly five years after their call-up to Division I as part of a major 2014 DODEA-Europe realignment. The eight-team divisional lineup features four other Italian programs along with Bahrain and Spain-based Rota.
DODEA-Europe had made an effort in recent seasons to incorporate Naples and Vicenza into the Division I regular-season mainstream, bringing the two Italian teams north and sending Lakenheath and the German schools south for midseason matchups. The travel required for those trips made for time commitments well in excess of the traditional Friday-Saturday format for DODEA-Europe sports.
The move comes just weeks after Naples won the 2019 Division I boys soccer title, a breakthrough the two Italian schools had been chasing since joining the upper division a half-decade prior.
AFNORTH, meanwhile, follows the path of Spangdahlem as a Division II stalwart with an enrollment dwindling to Division III levels. Spangdahlem made the switch last fall.
The Division III landscape is otherwise unchanged, as the wide expanse between DODEA-Europe's smallest schools makes it all but impossible to achieve the kind of geographic order now evident in the upper divisions. The division's nine far-flung members include Sigonella on the Italian island of Sicily, Alconbury in the English countryside north of London and Ankara in the Turkish capital along with a smattering of programs in Germany and the Benelux.
Changes are also afoot in DODEA-Europe football, which has long operated under a divisional structure distinct from the organization's other sports.
The Division III football ranks add two more members in the form of a restarted Alconbury program, returning to the gridiron for the first time since 2015, and Spangdahlem, the former Division II dynasty making its expected shift to the small-school ranks. The division's six-man brand of football has proven far more workable for DODEA-Europe's lower-populated schools, offering respite for former Division II powers such as Ansbach, which restarted its latent football program and claimed the inaugural six-man championship last fall.
Division II will play with five teams (SHAPE stays at D-II for football) this fall as International School of Brussels has completed its withdrawal from DODEA-Europe competition, at least for the time being. ISB pulled out of all other DODEA-Europe sports in 2017.
broome.gregory@stripes.com Twitter: @broomestripes
---
---
---
---