DODDS-Pacific volleyball teams face tough rebuilding year
by
Dave Ornauer
September 10, 2006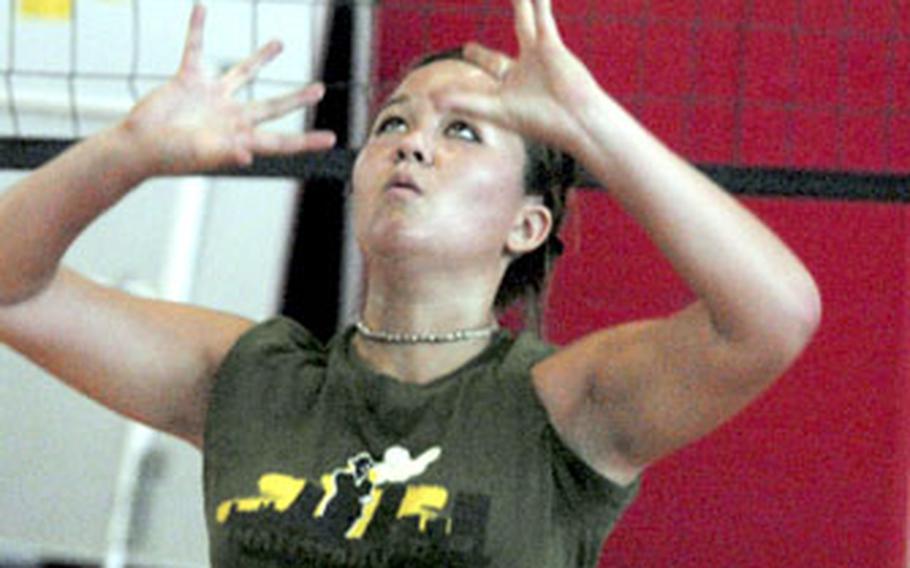 YONGSAN GARRISON, South Korea — Very rarely in his 27 years at the helm of the Seoul American Falcons volleyball team has coach Denny Hilgar seen so many Department of Defense Dependents Schools-Pacific teams in full rebuilding mode.
Transfers and graduations have hit DODDS-Pacific programs especially hard this year, suggesting it's possible Tokyo-area international and Guam public and private schools might seize the top eight spots in the Class AA tournament and the top three in the Class A tourney in November.
"God, I hope that doesn't happen," said Hilgar, who faces a season without his top hitter and setters, all having graduated. He enters the season with just four returnees, including one proven hitting threat in junior Avianca Manning.
"My guys are working hard," Hilgar said. "They just don't have the experience."
Likewise, Okinawa's Kubasaki Dragons will take the court minus vaunted spiker Alex Fernandez, who graduated. Even the coach, Chris Kelly, is new.
"We might be rebuilding … but who isn't when you had an Alex last year?" Kelly said of a squad lacking size and hitting power.
Perhaps in the worst shape are South Korea's Taegu American Warriors, Class A champions a year ago. But now, coach Jennifer Sharp must make do without four-year veterans Kelli Cox and Class A tournament MVP Lynnette Grant (graduated) plus all-around star Kadijah Parker and promising setter Courtney Hallenback (transferred).
"We're rebuilding," Sharp said. "These girls have potential, they're going to work hard and those who are returning know what it feels like to win."
Still, that's a tall order, especially when DODDS programs already face long odds against Tokyo-area and Guam schools' player and coaching continuity.
The numbers don't lie: Since the tournament began in 1976, two DODDS-Pacific programs have won Class AA titles, four by Zama and one by Wagner of the Philippines. Taegu and Osan American of Korea have won one Class A title each since that tournament's inception in 1998.
DODDS schools also have a significant disadvantage: no middle-school programs.
"International schools … start with the basics early … their games are advanced," said coach Shane Hernandez of Nile C. Kinnick in Japan. "For some of our girls, this is the first time to play organized high-school volleyball. We spend the first three weeks just getting used to playing with each other."
Hilgar said: "You rarely get all your kids on the same sheet of music because of different agendas. You have to rework your team's focus every year, with the transient population."
Hernandez's new assistant, Al Garrido, coached for more than 10 years on Guam and holds one Class A and one Class AA title.
"Both sides have potential; that's what a coach looks for," he said. "What is their mental approach? How badly do they want it? How much do they want to sacrifice? With some, their focus may be on other things. A lot of it is in the heart and the mind."
Perhaps the one school returning enough veterans at all positions might be the Zama American Trojans of Japan. It's enough talent, said coach Dennis Decker, that his squad could make a run at the Class AA top eight.
"Absolutely, anything is possible," he said. "We look forward to working with these girls and see what they've got."