DODDS-Europe golf championship: Low temperatures keep scores from rising
by
Rusty Bryan
October 16, 2009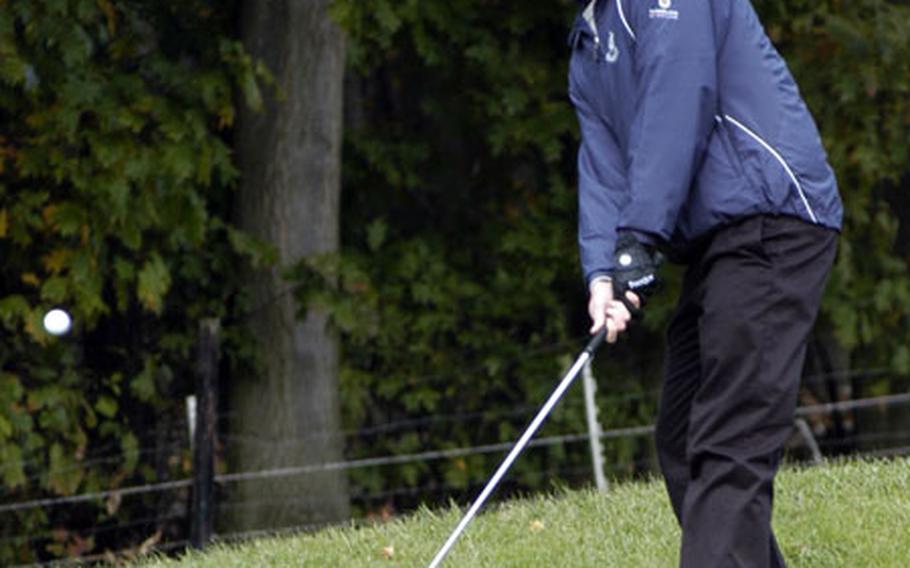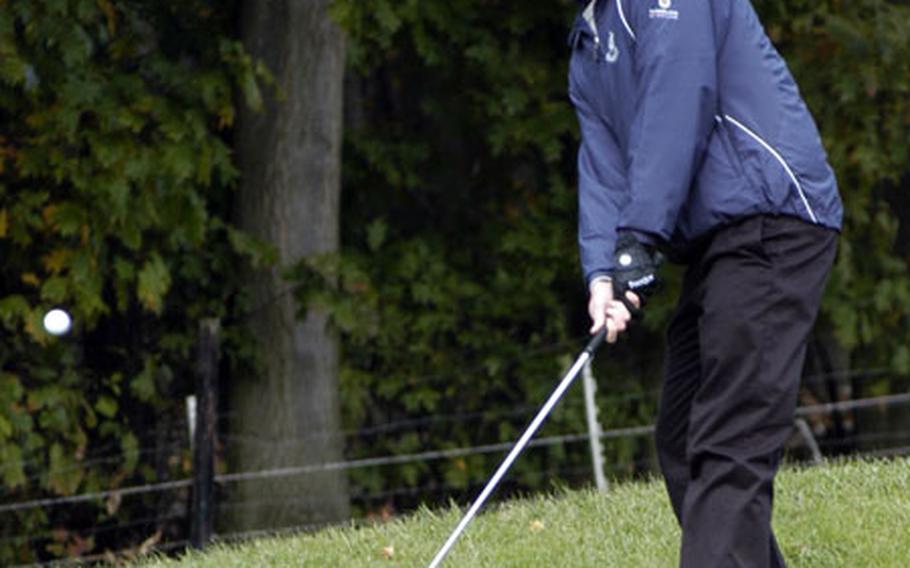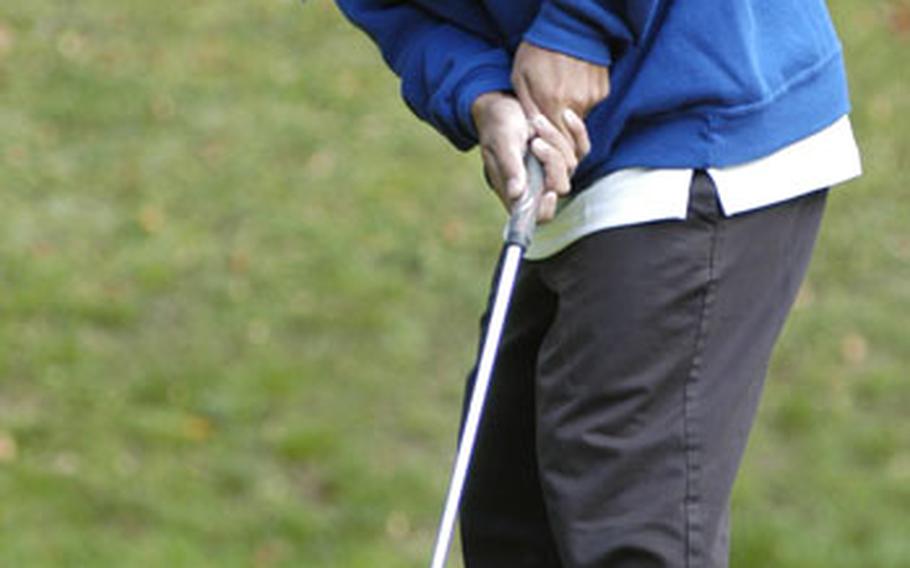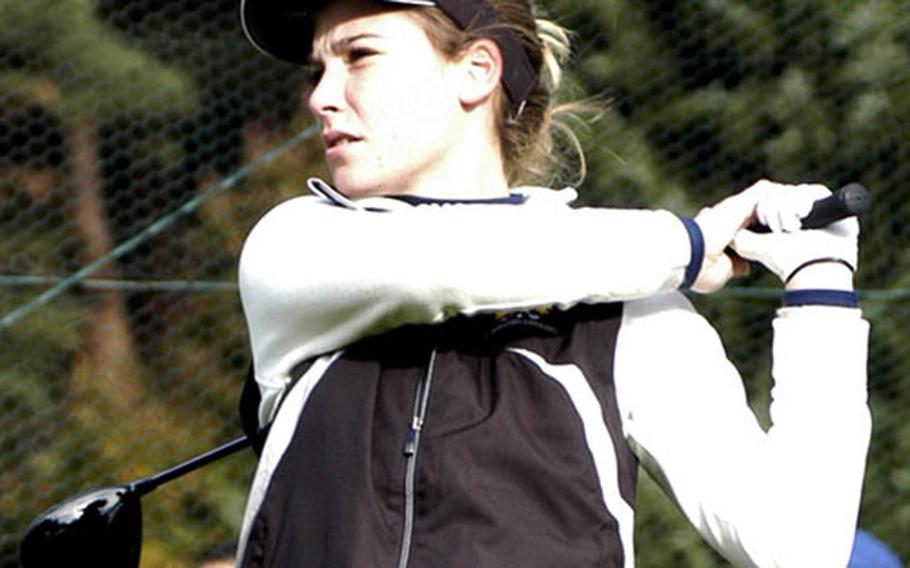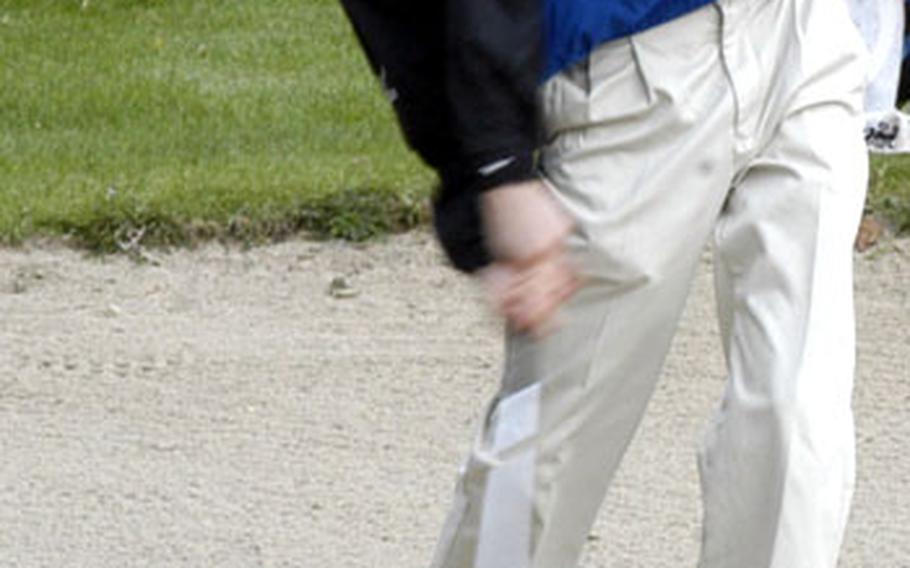 WIESBADEN-DOTZHEIM, Germany — Thursday's chill and a rush job by the greenskeepers left the leaders cold after the first day of the 2009 DODDS-Europe high school golf championships.
"The cold made a big difference," said first-day leader Lucas Clarke of Heidelberg. "It was hard to swing wearing all these layers."
Clarke, a junior who transferred to Heidelberg from North Carolina over the summer, wrested 44 Stableford points from the 6,606-yard, par-72 Rheinblick Golf Course to forge a four-point lead over teammate Mike Baltich, also a junior. Each player carded a birdie, worth four Stableford points under the school system's chart, which awards one point for double-bogey, two for bogey, three for par, four for birdie and six for eagle or ace.
Clarke, who sank a 25-foot putt for his birdie on the 137-yard, par-3 fourth hole, said the condition of the cups on Thursday cost him points.
Thursday's start of play was delayed by frost on the greens, and the frost and time constraints affected the greenskeepers, too.
"They didn't cut in the cups," Clarke said. "There were lips around the cups on a lot of holes. I left a few birdie putts on the lips."
Baltich, who sank his birdie putt on the 538-yard, par-5 No. 6, credited Clarke for his par-beater.
"I just read Lucas's line," he said. "He had the same putt I did on that green."
Thursday's third of four birdies carded by the field of 28 boys and nine girls went to girls' leader Hollie Salvo, a Wiesbaden sophomore. Salvo, second here last year to Ramstein's Elizabeth Ward, took a 28-25 lead over Ward on Thursday, largely on the strength of a long birdie putt on the 142-yard, par-3 No. 11.
Salvo didn't pace off her putt.
"It was super-long," she said, "all the way across the green,"
Salvo led Ward by a point last year after Day 1, and thinks another year of experience will help her retain her edge this time.
"I'm kind of more comfortable," she said.
Ward, too, plans to call on last year's experience.
"I believe it will help," she said, "but tonight I'm going to try to completely forget about [today's round]."
Ward, who uncharacteristically picked up on four holes, said the weather got to her.
"The wind was bugging me," she said. "My hands felt really stiff."
Today's forecast calls for warmer temperatures but with a chance of rain. Clarke, however, said he'd try to ignore the conditions, whatever they turn out to be.
"You've just got to play golf," he said, "and try to hit the ball well."
DODDS-Europe championship
WIESBADEN-DOTZHEIM, Germany — First-day results Thursday from the two-day DODDS-Europe high school golf tournament played on the par-72 Rheinblick Golf Course. Distance is 6,606 yards for boys and 5,631 yards for girls. Scoring is modified Stableford awarding 1 point for double-bogey, 2 for bogey, 3 for par, 4 for birdie and 6 for eagle or ace. Team scoring is total of top four golfers; at least two golfers are required for a girls' team.
Boys
Team scoring—Heidelberg 139, Ramstein 104, Lakenheath 87, Kaiserslautern 81. Baumholder, Patch, Rota, SHAPE, Vilseck were incomplete.
Individuals
Lucas Clarke (Heid) 23-21 44
Mike Baltich (Heid) 22-18 40
Ryan Brady (Patch) 16-18 34
Jordan Linder (Rams) 17-14 31
James Cho (Rams) 14-15 29
Mackenzie Bradley (Kais) 10-18 28
Jack Cannon (Heid) 13-15 28
Allen Genido (Rota) 14-14 28
Joseph Patrick (Heid) 16-11 27
Tyler Breed (Rams) 17-8 25
Zachard Price (SHP) 12-12 24
Caleb McGrady (Lake) 10-13 23
Jason Roberts (Vils) 15-8 23
Michael Williams (Kais) 11-12 23
Andre Sittenauer (Kais) 9-12 21
Tyson Campbell (Lake) 8-13 21
Cullen Broughton (SHP) 12-8 20
Timi Huang (Patch) 13-7 20
Rudolfo DeLeon (Rams) 7-12 19
Ryan McDonnell (Lake) 9-8 17
Kevin Coffell (Baum) 8-8 16
Stephen Lewis (Rams) 9-6 15
Chris Nelson (Vils) 8-6 14
James Workman (SHP) 6-5 11
Michael Cassaboom (Kais) 4-5  9
Daniel Buffett (Lake) 2-4  6
Drew Guffey (Rams) 2-3  5
Girls
Team scoring — Ramstein 37, Lakenheath 10. Kaiserslautern, Rota, Vilseck were incomplete.
Individuals
Hollie Salvo (Wies) 16-12 28
Elizabeth Ward (Rams) 13-12 25
Vikki Leavitt (Kais) 8-7 15
Kayla Eck (Rams) 5-5 10
Marielena Teng (Rota) 2-5  7
Erica Larson (Lake) 3-3  6
Victoria Kander (Vils) 3-2  5
Katherine Lewis (Lake) 2-2  4
Taylor Honlee (Rams) 0-2  2