DODDS-Europe Division I football championship: Line play sends Ramstein past Heidelberg
by
Rusty Bryan
November 4, 2007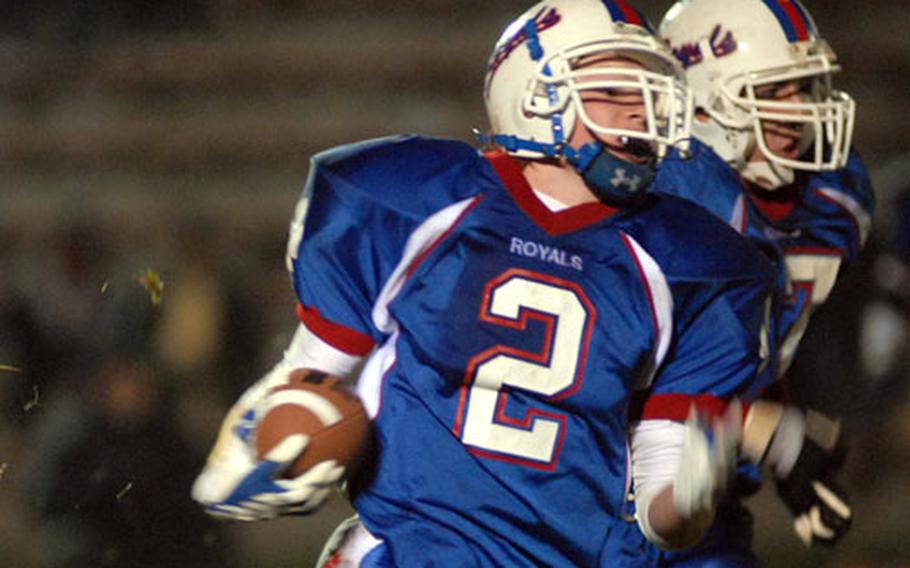 BAUMHOLDER, Germany — The storyline on Ramstein's 21-7 victory over the Heidelberg Lions in the Division I European high school championship game was right under quarterback Jackson Knox's nose all night Saturday.
"Our lines did the job," Knox said after his offensive front sprang Royals runners for 73 rushing yards and two touchdowns on Ramstein's first two possessions of the game.
"They took care of business."
Both ways.
Ramstein's defensive front, led by 260-pound senior tackle Michael Kelly, who was chosen as the game's defensive MVP, provided decisive first-quarter field position by limiting the Lions to three-and-outs on their first two possessions.
Heidelberg punter J.C. Sharer got off a 48-yarder that forced Ramstein to cover 71 yards on its opening march, but Knox retrieved most of the 48 with a 38-yard completion to senior Matt Burns on third-and-8 from his own 31. Sophomore running back Michael Wallace covered the final 21 yards of the six-play drive.
Ramstein's next possession began on Heidelberg's 43 after Sharer shanked a 10-yard punt. Offensive MVP Evan Canfield, a junior, capped that five-play march with a 25-yard run up the gut.
"Our line was fantastic," said Canfield, who gained 49 of his 53 rushing yards on Ramstein's first two drives. "That's the bottom line."
Or, in this case, the top line on the field. In the second quarter, Ramstein added a 16-yard field goal and 5-yard TD run, both by Canfield. Both scores were set up by 40-yard punt returns by Scott Sublousky and Burns, respectively.
The Royals then settled in to protect their 21-0 lead by letting the air out of the ball and, if possible, the Lions lined up across from them.
"Smash-mouth football is always fun," Kelly said. "We were trying to stop them outside and contain them when they came back to the middle."
Except for Heidelberg's ensuing possession, a 71-yard, 10-play drive that produced the Lions' lone TD, the strategy worked perfectly. Thonda Taylor carried on seven of those plays and covered 47 yards, more than half of his 91 yards on 21 carries for the day. QB Chris Frazier sneaked the ball in from the 1 with 2:50 left in the half, and Kyle Ulses added the PAT kick.
It was to be the final score by either team. Ramstein managed just 100 yards on the ground in the final three quarters; Heidelberg, which rushed for just 1 yard in the opening 12 minutes, gained only 70 yards in the second half.
Each quarterback completed just one of four pass attempts. Knox's covered 38 yards; Frazier's 27.
The Mountain West it wasn't.
The Seven Blocks of Granite it was.
"The offensive and defensive lines won it for us," Sublousky said. "Our coaches told us before the game that that's what would win it for us."
Photo gallery2007 DODDS-Europe football championships