DODDS-Europe boys tourneys laden with teams unbeaten in conference
---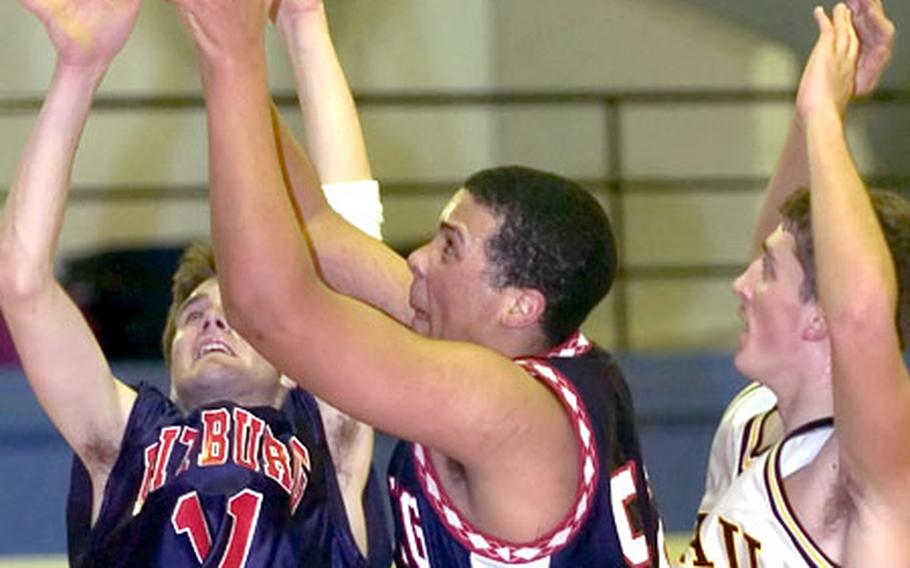 Can the "unbeatens" keep their streaks alive?
That's the question facing several teams as the Department of Defense Dependents Schools European basketball championships begin Wednesday.
Twelve schools enter the championships — set to tip off at 9 a.m. at six sites in the Mannheim-Heidelberg area — with spotless conference records.
Division I
"Four teams are going in with a legitimate shot," said Heidelberg coach Brad Shahan of the Division I event that runs through Friday night. "Wiesbaden is peaking at the right time, Ramstein is a good team, and Kaiserslautern has as much talent as any team in Europe."
Shahan's Lions, of course, are the favorites. Heidelberg not only comes in with a 6-0 conference record, but the Lions have won five straight European titles.
Shahan said he wasn't expecting such success.
"When the season began, we didn't have any starters back," he said. "It was a completely different team from the one that won last year."
In one stretch, the Lions lost three of four games before the conference season began.
"I thought it would be that way all season," Shahan said. "I'm amazed at what we've done."
Most amazing was the manner in which the Lions compiled their league mark. Heidelberg claimed one-point victories at Kaiserslautern and at home against Wiesbaden.
Division II
Something has got to give in Division II.
The defending champion Hanau Panthers (7-0) are one of two teams coming in with unblemished conference records. Aviano is the other.
Balance is the key in Division II, according to Hanau coach Tim Smith.
Like Heidelberg, Hanau went unbeaten through the league season, but not by runaway margins.
"I think it's going to be pretty even," Smith said. "There are about five teams with a good chance."
Five teams besides Hanau, that is. Smith named unbeaten Aviano and last year's Division III champion Naples.
Bitburg could be a darkhorse, despite its 4-3 conference record, Smith said. The Barons are coming off impressive victories over Mannheim and AFNORTH.
"Their guards are pretty good and they have that big kid (Perry Hardy, 45 points and 29 rebounds in the two victories) underneath. He's 6-6 or 6-7 and wide."
Division III
Ansbach tops the list in Division III.
Because of a large number of teams in the Division III field, the Cougars have received a first-round bye and won't play their first game until Friday.
"Not playing until Friday is a big advantage for us," coach Ted Marr said, although his Cougars are deep and experienced enough to play every day.
"We go eight or nine deep," Marr said. "I could start five seniors if I wanted to. That's very unusual for Ansbach."
Marr sees Rota (2-0) and Bamberg (6-1) as major obstacles in his team's title quest.
"We played Rota last year," Marr said. "They were good, and they're the same kind of team this year."
Division IV
Widest open of all is Division IV, which brings together the league's smallest and most far-flung schools.
Geographically, Division IV stretches from Iceland to Turkey.
Iceland has only played two conference games, but won both.
There is some familiarity among the teams. The three Division III-North teams, Alconbury, Brussels and Menwith Hill know what to expect from one another. Menwith Hill has played Iceland. Milan and Livorno have met, and Incirlik and Ankara have played each other four times.
Aside from that, no one knows much about the other teams.
It's the definition of wide-open.
Championship games in Divisions I and IV are scheduled for Friday; Division II and Division III will decide their crowns on Saturday.
All title games are scheduled for the Benjamin Franklin Village Sports Arena in Mannheim.
---
---
---
---