DODDS-Europe boys basketball preview: More questions than defending champs this season
by
Rusty Bryan
December 5, 2008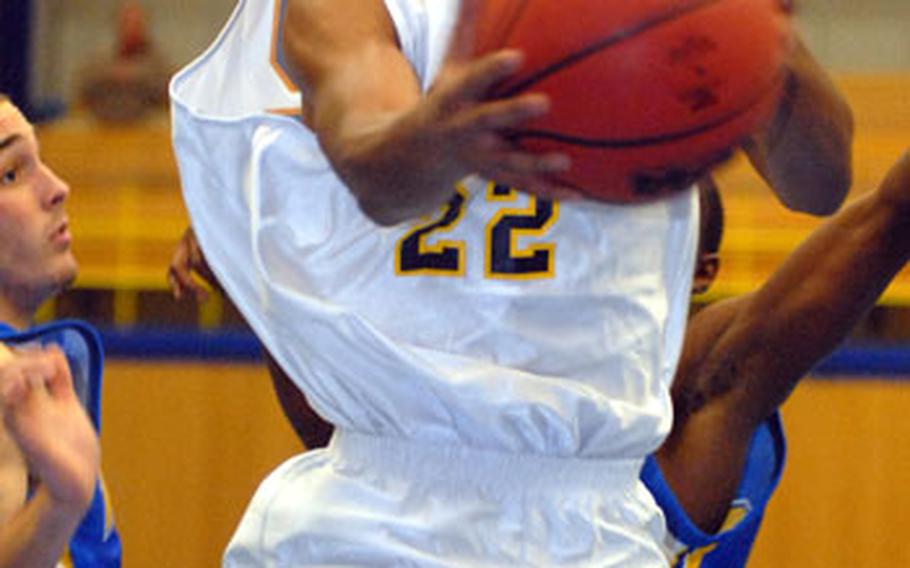 The 2008-09 boys high school basketball season tips off in earnest Friday with a lot of questions.
Two of last season's four European divisional champions have vacated their titles, one via a school closing and the other by a change in status. Division IV was guaranteed a new titlist last June when Hanau shut its doors. D-III champion Bamberg moved to Division II for the 2008-09 campaign, much to the annoyance of D-III runner-up Baumholder.
"Our boys were upset to learn that Bamberg had been bumped up to D-II," Bucs coach Spencer Bean wrote in an e-mail. "They were looking forward to a rematch of last year's championship game (won 44-42 by the Barons)."
Bean will be looking to replace the 15 rebounds per game the Bucs got from departed All-Europe center Rico Rawls but will count on returning All-Europe second-teamer Artrell Davis (17 ppg) for a run at the top of D-III.
SHAPE returns to defend its D-II crown, but the Spartans are minus two All-Europe first-teamers as they take on challenges from last season's runner-up Wiesbaden, buoyed by the return of All-Europe second-teamer Kiante Clifton (13.7 points per game); D-III king Bamberg, which handed the reins to former Hanau coach Tim Smith and welcomes back All-Europe first-team forward Josh Robinson (15.2 points, 10.3 rebounds per game); and Ansbach, led by 6-foot-9 All-Europe first-team center Sam Freeman (14 points, 10 rebounds, five blocks per game), among others.
"I would think Wiesbaden, Ansbach, Mannheim and Aviano would be very strong," SHAPE coach Steve Richardson wrote in an e-mail. "Naples (under new coach Bruce Collins) always comes prepared, so I see D-II as wide open."
Even more open is D-IV, composed of the system's smallest schools. Chris Vahrenhorst's Brussels Brigands showed surprising power in Tuesday night's opener, losing at D-I International School of Brussels by just four points. Former Wiesbaden soccer coach Hank Hurren takes over at Menwith Hill, while Alconbury and Rota will try to transfer their football success to the hardwood.
Only in D-I does a clear favorite emerge. Heidelberg got a jump on the season Tuesday night with an impressive 63-45 romp over visiting Wiesbaden behind 19 points from returning All-Europe first-team guard Chris Frazier (16.8 ppg). The Lions also have 6-6 All-Europe center J.C. Sharer back for a run at their third straight European crown and eighth since 2000.
As usual, Ramstein will be in the D-I chase, this time under new coach Andrew O'Connor. O'Connor can call on All-Europe forward Brent Shuck, a gym rat toughened by a stint on the U.S. Albert Schweitzer team last April, and the Royals' usual large pool of athletes. Kaiserslautern always plays tough, and Vilseck mounts its first D-I campaign under new coach Rick Ritter.
For the second straight season, regional play is the regular-season watchword, and that's fine with Wiesbaden's Carl Johnson, a proponent of the all-inclusive final tournaments he experienced while coach in the Pacific.
"I like the regional play as we are able to cut down on our traveling and we are able to play quality teams out of our division," Johnson wrote in an e-mail. "It is nice not to have to play all the same teams in the regular season and then play them again in the tournament."
For all four divisions, this year's tournaments are scheduled for Feb. 18-21 in Mannheim.
Regional lineups
(Divisional status in parentheses)
Region I—Alconbury (IV), AFNORTH (III), Brussels (IV), International School of Brussels (I), Lakenheath (I), Menwith Hill (IV), SHAPE (II)
Region II—Baumholder (III), Bitburg (II), Kaiserslautern (I), Mannheim (II), Ramstein (I), Wiesbaden (II)
Region III—Ansbach (II), Bamberg (II), Black Forest Academy (II), Heidelberg (I), Hohenfels (III), Patch (I), Vilseck (I)
Region IV—American Overseas School of Rome (III), Aviano (II), Marymount International School of Rome (III), Milan (IV), Naples (II), Sigonella (III), Vicenza (III)
Friday's games
Alconbury at AFNORTH; Baumholder at Hohenfels; Kaiserslautern at Vilseck; Patch at Wiesbaden; Ansbach at Black Forest Academy; Marymount at Aviano; Vicenza at AOSR; Milan at Sigonella
Saturday's games
Alconbury at AFNORTH; Bitburg at Patch; Baumholder at Hohenfels; Kaiserslautern at Vilseck; Wiesbaden at Heidelberg (girls only); Ansbach at Black Forest Academy; Marymount at Aviano; Vicenza at AOSR; Milan at Sigonella