DODDS-Europe basketball tournaments: No. 6 Heidelberg girls advance to Division I final
---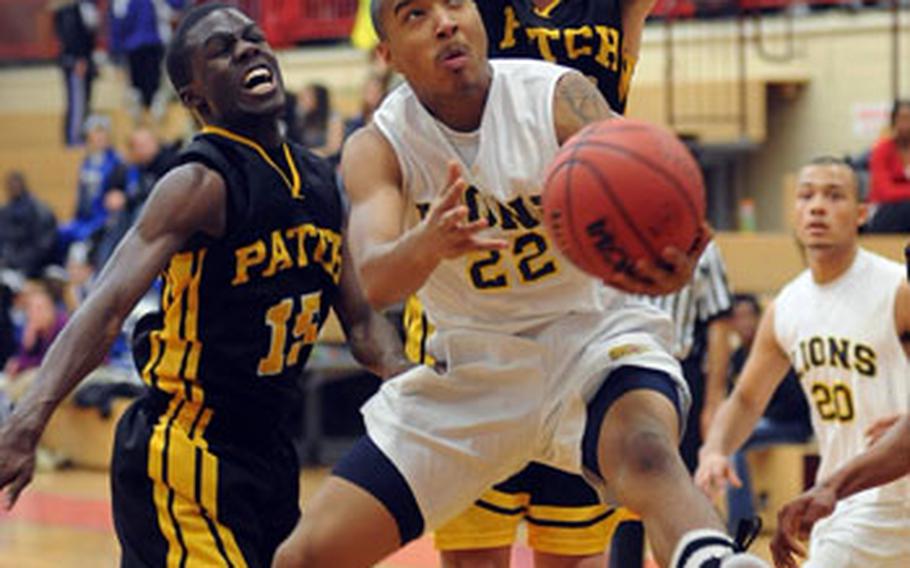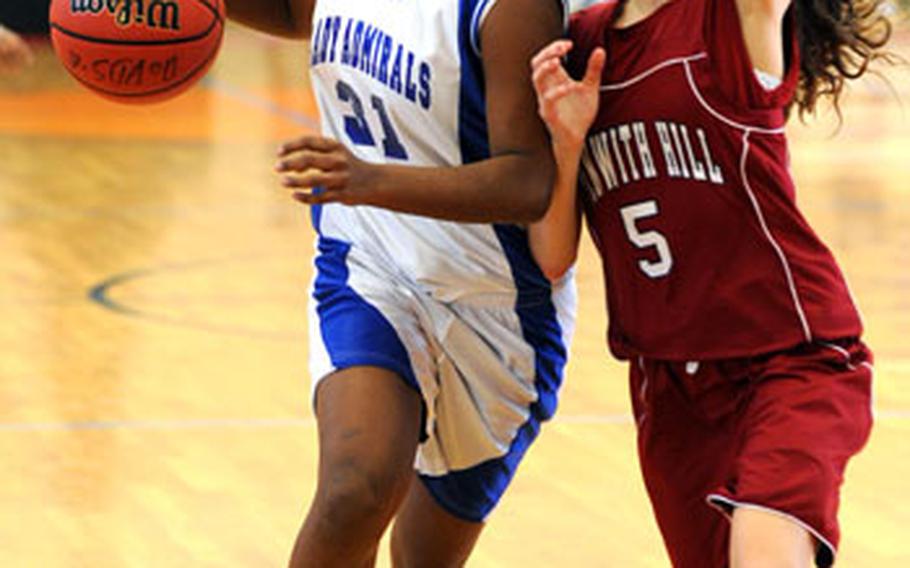 MANNHEIM, Germany — Before the DODDS-Europe basketball championships opened Wednesday, Corey Sullivan, coach of the defending Division I champion Kaiserslautern Lady Raiders, said he wouldn't be surprised if the No. 6 or No. 7 team won the D-I tournament.
On Thursday, the No. 6 Heidelberg Lady Lions put themselves into Friday's 4:30 p.m. title game and kept Sullivan's prediction alive with a 37-29 semifinal victory over No. 4 Ramstein.
Heidelberg prevailed largely through the effort of Ashley Hicks, who scored eight of her team-high 19 points after Ramstein, which fell behind early, clawed ahead 24-23 with 6:15 left in the game on a basket by Lataiya Harrison. Harrison scored 15 of her game-high 22 points after halftime.
"In the third quarter, we were playing Ramstein ball, playing their sets," Hicks said. "In the fourth quarter, we started playing Heidelberg ball."
Ramstein was coming off Wednesday night's late 38-22 victory over top-seeded Lakenheath that knocked the Lady Lancers out of the title picture.
Heidelberg will face the winner of Friday's late semifinal between Patch and Kaiserslautern. Heidelberg defeated K-town 45-42 in overtime in Thursday morning's final pool-play game, but Hicks said she had no preference about Friday's opponent.
"We don't care who we play," she said, "as long as we play Heidelberg basketball."
In the other early semifinals:
Rota girls 32, Menwith Hill 25: The top seeds in Division IV put all their eggs in All-Europe senior Bethany Walcott's basket to fend off the scrappy Lady Mustangs.
"They're a great team," said Walcott, who sat out half of the first period after picking up two fouls. "I'm happy we got past them."
Rota got through because after returning to the game at the start of the second quarter, Walcott elevated her game to finish with 20 points, 19 rebounds, six steals, two assists and three blocks.
Rota will play three-time defending champion Brussels for the European D-IV title at 1 p.m. Friday. The Lady Brigands, who split their regular-season games with Rota last month at Alconbury, downed Ankara 43-19 in the other D-IV semi.
In Division I boys, second-seeded Heidelberg defeated No. 5 Patch 69-54 in the first semifinal. No. 1 Ramstein was to meet No. 6 Kaiserslautern in the other one.
In the D-IV boys semis, Rota and Sigonella emerged from a pool-play tie with Alconbury to face Menwith Hill and Brussels, respectively, late Thursday. The winners will clash at 2:30 p.m. Friday for the D-IV boys crown.
Divisions II and III: Pool play began Thursday in the midsized schools' category with few surprises. In the early going, the Aviano boys and girls, both seeded No. 1 in Division II, remained unbeaten this season. Aviano's boys thumped Black Forest Academy 58-30 and Mannheim 69-48, and the Saints' girls topped No. 9 Bamberg 60-42 and No. 6 SHAPE 47-45.
There were mild upsets Thursday among the D-II boys. No. 8 SHAPE edged No. 2 Wiesbaden 51-50 in overtime, and No. 5 Ansbach beat No. 3 Bitburg 46-34.
In Division III, the Baumholder boys and girls, like Aviano both seeded No. 1, coasted through their openers. The Lady Bucs remained unbeaten, 56-18 over Vicenza, and the Bucs boys downed the American Overseas School of Rome 65-60.
Play begins at 8:30 a.m. Friday at the BFV Sports Arena and at 9 a.m. at the other three sites — Sullivan Barracks, the Sportshalle Neckarstadt in the Mannheim suburb of that name, and at the MWS Halle am Herzogenried, also in Neckarstadt.
Admission charges of $5 for adults and $3 for students come into effect today at the Sports Arena, where the first four of the eight championship games follow one another beginning at 1 p.m.
The other four are scheduled for the Sports Arena on Saturday.
---
---
---
---