DODDS-Europe Basketball: Baumholder girls seek to maintain momentum
---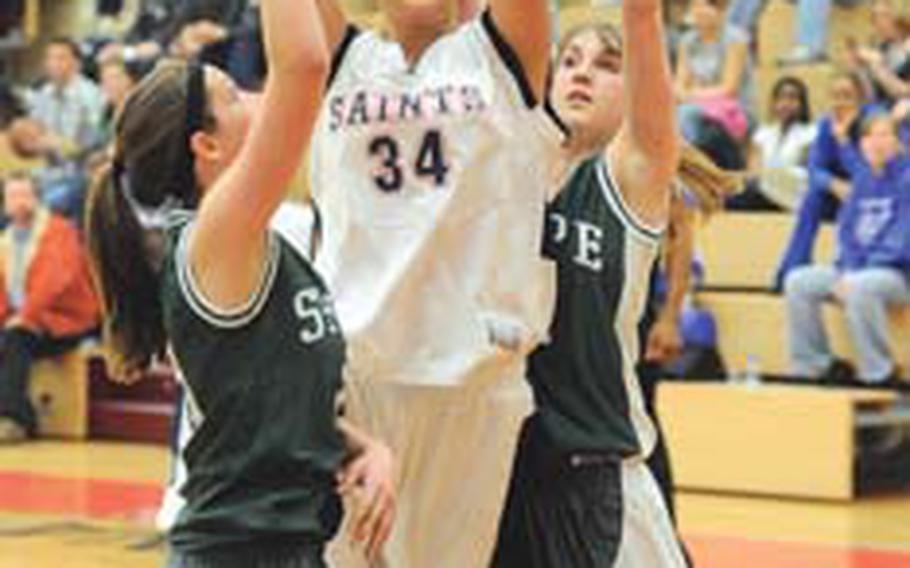 Coaching changes, player departures, the continuation of regional play in the regular season and a new divisional alignment usher in the start of the 2009-10 DODDS-Europe girls basketball season Friday night at 11 sites across Europe.
But the big business on opening night is old business, as the defending European Division III champion Baumholder Lady Bucs lay their school-record 31-game winning streak on the line at home against Ansbach. They'll do it, moreover, under a new coach and with a team that is replacing departed All-Europe first-teamers Elizabeth Styles and Veronne Clark with two players from the junior varsity.
It's a daunting task for new Baumholder coach Johann Westerhorstmann.
"We are fully aware of the team's winning streak and will try to keep it going one game at a time," Westerhorstmann said in an e-mail Monday. The streak is three shy of the DODDS-Europe-record 34 straight won by Ramstein from 1998 to 2000. "Hopefully we can build on the successes and traditions of the previous Baumholder teams by focusing on great hustle and relentless defense."
If the young Lady Bucs can get past Ansbach Friday night and Saturday afternoon, however, the climb to 34 gets even steeper. They are scheduled to play at Division I contender Wiesbaden on Dec. 11.
Westerhorstmann, who replaced Carter Hollenbeck after he stepped down to spend more time with his family, is one of two coaches taking over a championship girls program from 2009. Mike Williams is replacing Greg Mead at defending D-II champion Aviano.
In addition to the changes on the benches, there's plenty of room for new stars to emerge. Just six of last season's 20 All-Europeans return for the new campaign.
Two of them — the Thomas twins, LeAndra, a defensive star who averaged 11 points and six rebounds per game and is the only first-teamer back from last season, and LeAmber, who averaged nine points and nine rebounds per game — suit up for Wiesbaden. They help make the Lady Warriors, third in D-II last season, instant contenders in realigned D-I.
Wiesbaden coach Jim Campbell, who also returns senior point guard Claire Freelove, also expects good things from Ramstein, where Nathan Brewster takes over from Kent Grosshuesch and welcomes back guard Lindsey Jones and forwards Nadia Booker and Mackenzie Bannister, and Patch, which will be led by All-Europe second-teamer Janelle Loney, a 14-points, 14-rebounds-per-game performer.
New Vilseck coach Nicole Fields likes her combination of Jamilla Harvey, Alex Velez, Najja Beaulieu-Hains, Deraj McClinton and Thea Dunn, but Kaiserslautern — which adds Erica Turner, an All-Europe second-teamer last season at Lakenheath — and Heidelberg are expected to be rebuilding, according to Campbell.
SHAPE, which returns second-team All-Europe choice Tammy Northshield, joins Wiesbaden in shifting from D-II, a move welcomed by Kaiserslautern's Corey Sullivan.
"I'm extremely excited to see the tournament with more teams (nine), as I think it will add a lot to the quality of play," Sullivan wrote in an e-mail."
With the departures at Baumholder, and Wiesbaden and SHAPE moving to D-I, the new Division II appears wide open.
AFNORTH, which according to coach Darwin McDonald had lost 30 straight games prior to the 2008-09 season, which saw it finish second in Europe, is among the contenders behind All-Europe second-teamer Brenda Broadwater. The Lady Lions also return starters Kylee Wilstead and Natalie Everingham.
Bamberg, too, returns power in point guard Jenna Cepe, 20 points and 10 assists per game, shooting guard Rochelle Streaker, 10 rebounds per game, and center Racquel Davis, 22 points and 13 rebounds per game.
Defending champ Aviano returns forward Jasmine Mailoto, but is rebuilding, as is Black Forest Academy, with just starter Jessica Krause returning.
In Division III, Brussels, with Kathleen Anderson and Alexandra McVicker leading the way, and Rota figure to be the teams to beat.
Regional play again rules the regular season, regardless of enrollment size. However, Region I has been split into two divisions, for Big Schools (AFNORTH, International School of Brussels, Lakenheath and SHAPE) and Small Schools (Alconbury, Brussels, Menwith Hill and Rota).
The European championship tournaments, scheduled for Feb. 24-27 in Mannheim, will be divided among Divisions I, II and III.
2009 girls championsDivision I — HeidelbergDivision II — AvianoDivision III — BaumholderDivision IV — RotaDivisional alignmentsDivision IHeidelberg, Ramstein, ISB, SHAPE, Kaiserslautern, Vilseck, Lakenheath, Wiesbaden, PatchDivision IIAFNORTH, BFA, Ansbach, Hohenfels, AOSR, Mannheim, Aviano, Marymount, Bahrain, Milan, Bamberg, Naples, Baumholder, Vicenza, BitburgDivision IIIAlconbury, Lajes, Ankara, Menwith Hill, Brussels, Rota, Incirlik, SigonellaRegional alignmentsRegion IAFNORTH, Lakenheath, Alconbury, Menwith Hill, Brussels, Rota, ISB, SHAPERegion IIBaumholder, Mannheim, Bitburg, Ramstein, Kaiserslautern, WiesbadenRegion IIIAnsbach, Hohenfels, Bamberg, Patch, BFA, Vilseck, HeidelbergRegion IVAOSR, Naples, Aviano, Sigonella, Marymount, Vicenza, Milan
---
---
---
---