Division III title goes to Rota girls on tiebreaker
---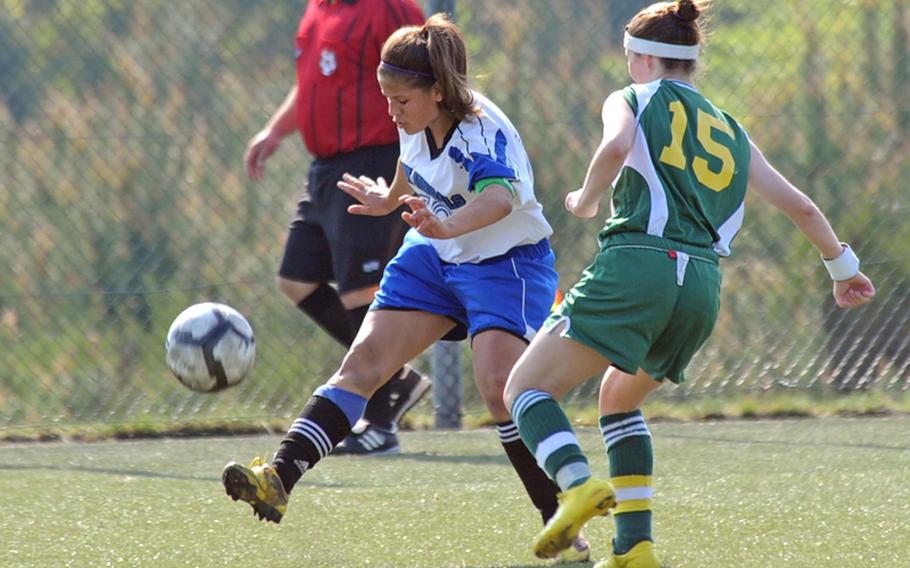 KAISERSLAUTERN, Germany — Third-seeded Rota claimed the DODDS-Europe Division III girls soccer championship Saturday as the result of a game it won Thursday.
When Rota and fourth-seeded Menwith Hill won Saturday at the 1FCK Sports Park, it finished the six-team round-robin tournament tied with the most points. To determine the winner, officials went back to the teams' head-to-head game, won by Rota 4-0 on the first day of play.
Since that loss, Menwith Hill battled back with four victories, capped by their 3-1 triumph over Ankara on Saturday. Rota, however, finished undefeated with three victories and two ties — one of which ended with a shootout victory to produce an all-important extra point. Teams received three points for a victory, one for a tie and one if they won the shootout following the tie.
"I told the girls they needed to step up to win this tournament, and they did," Rota coach Clarice Brown said after Rota defeated Alconbury 1-0 to secure the crown.
Rota's must-win final game against fifth-seeded Alconbury was scoreless until 11 minutes into the second half when junior Ashley Stedge took a shot from just inside the 18-yard box and dropped the ball behind the Alconbury keeper.
"I just shot it," Stedge said of the game-winning goal. "I thought I wasn't going to make it, but it went over the goalie's hands. I was so happy, I was so excited. I'm really proud of the team, winning our second year in a row."
Rota won Division IV last year, its first as an official team. This year the tournament was consolidated into three divisions.
Rota's keeper, freshman Meghan Morand, finished with several saves in holding off the sporadic Alconbury attackers, but some of her biggest saves came in Friday afternoon's shootout victory over top-seeded Brussels, which knocked the Lady Brigands out of the running.
The freshman had few words to describe her performance.
"It felt pretty good," she said.
"She has done an outstanding job as a freshman in such a critical position as goalkeeper," Brown.
But she added Morand was not the only one who earned this championship.
"It took a team of girls for this victory," she said. "It took hard work, just coming out and working as a team."
The final game of the round-robin was Saturday at Ramstein High School — where the other divisions were holding their championship games — when second-seeded Sigonella defeated Brussels, 1-0, to finish third with 10 points.
blottenbergerd@estripes.osd.mil
---
---
---
---