Division II H.S. football: ISB wins it with diving catch on last play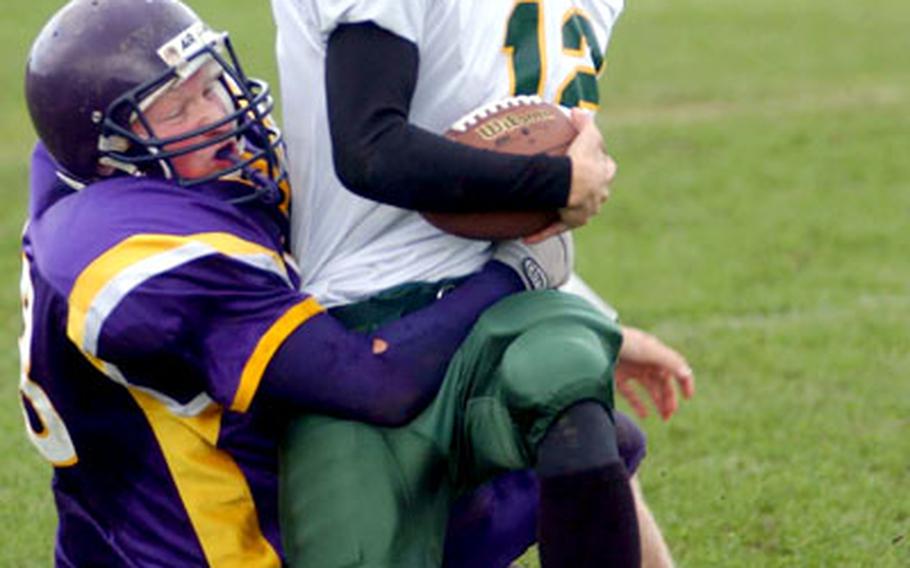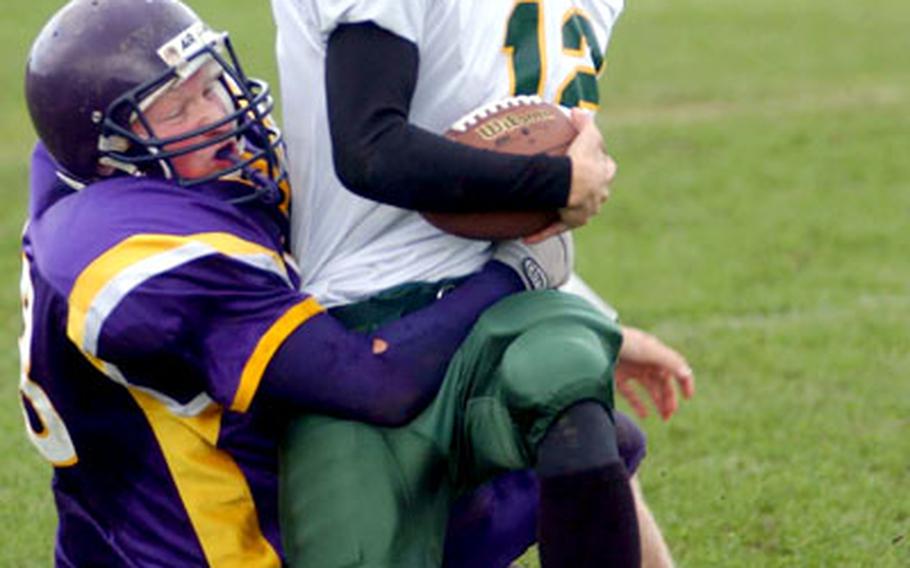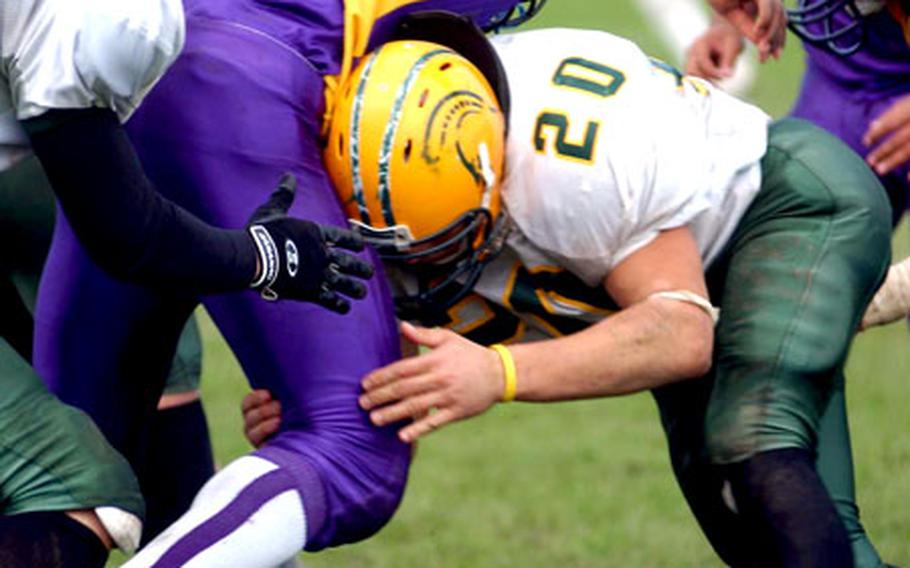 Andrew Vanderlind's diving catch in the end zone on the final play of the game lifted International School of Brussels to a 12-7 victory over visiting Bitburg to clinch the Division II-North crown.
Vanderlind's fifth reception of the game from quarterback Phillip Lippman capped an improbable drive. It began after the Barons (2-2 overall and 1-2 in Division II-North) had taken a 7-6 lead with 19 seconds left in the game on an 11-yard pass from Trey Wilson to Brandon Morales and Zach Whitney's PAT kick.
Lippman answered with three straight completions, the first to Drew Thigpen and the final two to Vanderlind, the first a 12-yarder which carried to the Bitburg 30 and the second the game-winner from there as the gun sounded.
Lippman was 6-for-7 passing for 84 yards. He rushed 18 times for 128 yards and scored the first TD of the game for ISB (4-0, 4-0) on a 6-yard run.
Bobby Hernandez carried 23 times for 137 yards for Bitburg.
In other Division II conference games on Saturday:
SHAPE 36, Mannheim 0
At Mannheim, Germany, Steve Small and Richard Rendon each rushed for two TDs as the Spartans (3-1, 2-1) rebounded from the previous week's home loss to ISB.
Danny Camarena led the Spartans' ground game with 105 yards on 14 carries, and quarterback Sean Corcoran threw a TD pass of 28 yards to Zach Rabiegio for SHAPE.
Mannheim (0-4, 0-3), which got 13 tackles from Josh Cameron, closes its regular season at Bitburg in a must-win game to stay alive for the playoffs which begin the following weekend.
Naples 30, Hanau 10
At Naples, Italy, Charles Cleveland carried 26 times for 152 yards and caught a touchdown pass as Naples (3-1, 2-1) took control of the II-South race.
The Wildcats got a pair of TD runs from Austin Webb before Webb left the game with an injury in the first quarter.
Fullback "Que" Roshell added a 1-yard TD run for Naples, which also got a 37-yard field goal from Tyler White.
Hanau (2-2, 2-1) was led by Malcolm Lane's 121 yards on 11 carries. Lane left the game with a third-quarter injury.
"When [Lane] went down, it changed the complexion of the game," Naples coach Jim Hall said.
Aaron Ellison rushed for 111 yards on 18 attempts for Hanau.
Patch 32, Aviano 27
At Aviano, Italy, David Kennedy carried 23 times for 157 yards, and quarterback J.D. Lindsay rushed for 109 yards and passed for 81, including a 48-yard TD pass to Neil Griffin as the Panthers won their second straight and finished their II-South schedule at 2-2.
Aviano (1-3 overall, 1-2 in II-South) got a pair of TD passes and a touchdown run from quarterback Sean Daniels.
Daniels hit Jordan Kelsey with a 23-yard TD pass and Carl Cephas with a 31-yarder. He also ran a score in from two yards out.
Jacques Watson ran 7 yards for the other Aviano TD.
---
---
---