Div. II boys: Lelli scores twice to key AOSR's OT win over Naples
by
Rusty Bryan
May 23, 2004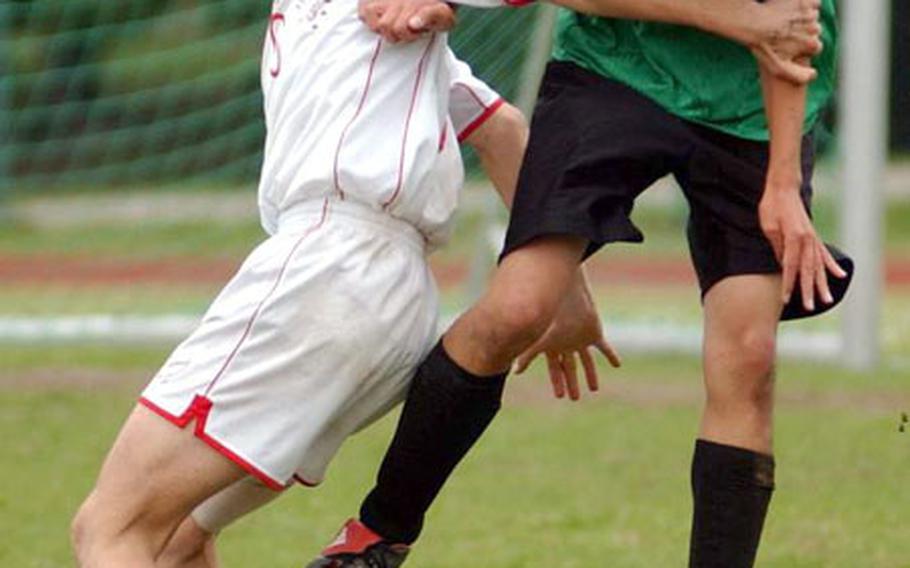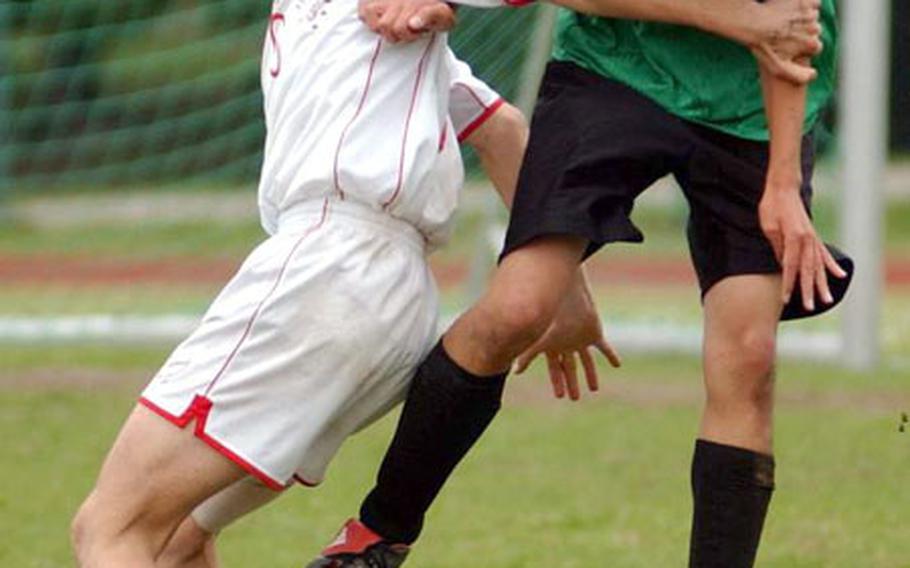 RAMSTEIN AIR BASE, Germany — Davide Lelli converted a penalty kick late in the first overtime period Friday night to lift American Overseas School of Rome to a 2-1 victory over Naples in the championship game of the European Division III soccer tournament.
After Lelli's second goal of the game, AOSR held Naples scoreless for the remaining 11-plus minutes to capture its second straight Division III title.
Under DODDS rules, there is no sudden death during two 10-minute overtime periods.
"This was the toughest game we played all year," AOSR captain Nick Stoll said after the 100-minute match. "They beat us in the [Mediterranean Regional] tournament, and we just wanted to even the score."
Lelli's game-winner was set up by a foul inside the penalty box.
"That's part of the game," Naples coach Peter Nagafuchi said. "We're taking a little step up every year. Next year it's our turn."
Lelli scored his first goal 18:30 into the game when teammate Guilio Caperchi stripped a Naples defender of the ball on the left side of the Naples penalty box and quickly passed it to Lelli. For the only time during the game, Lelli found himself free of his shadow, Naples defender Josh Kaimikaua, and booted it home.
"We've played them four times this season," said Kaimikaua, who marked Lelli every time. "He's really good."
Naples tied it with five minutes left in regulation when Jason McKenchnie was finally able to get to a free ball in the penalty area and convert.
"I was telling myself I needed to score a goal," McKenchnie said. "I had been waiting for one all tournament long."
Instead of postgame handshakes, the teams exchanged hugs.
"We faced them four times this season," said tournament MVP Keegan Porter of Naples. "I love facing them. I'd face them 100 times over if I could."
Division III boys soccer all-tournament teams
Keegan Porter (MVP), Mike Monaco and Alfonso Tafur, Naples; Davide Lelli and Nick Stoll, American Overseas School of Rome; Collins Wonzina and Christian Peel, Bamberg; Kyle Cox, Lonnie Ruffin and Marc Silos, Brussels; Anthony Moore, Giessen, and Seth Hansen and Jeremy Tibbetts, London Central.