Div. II boys: Custer saves Black Forest in shootout win over Vilseck
by
Rusty Bryan
May 23, 2004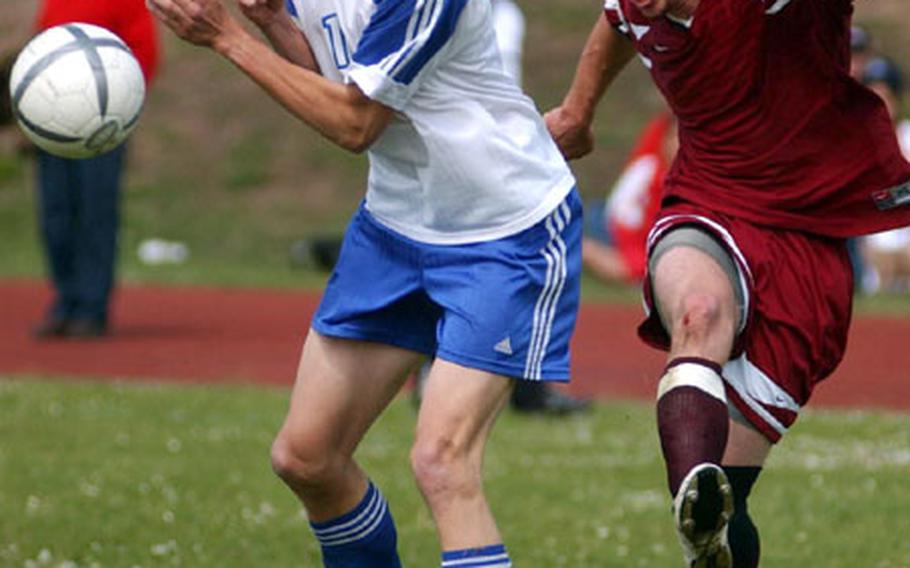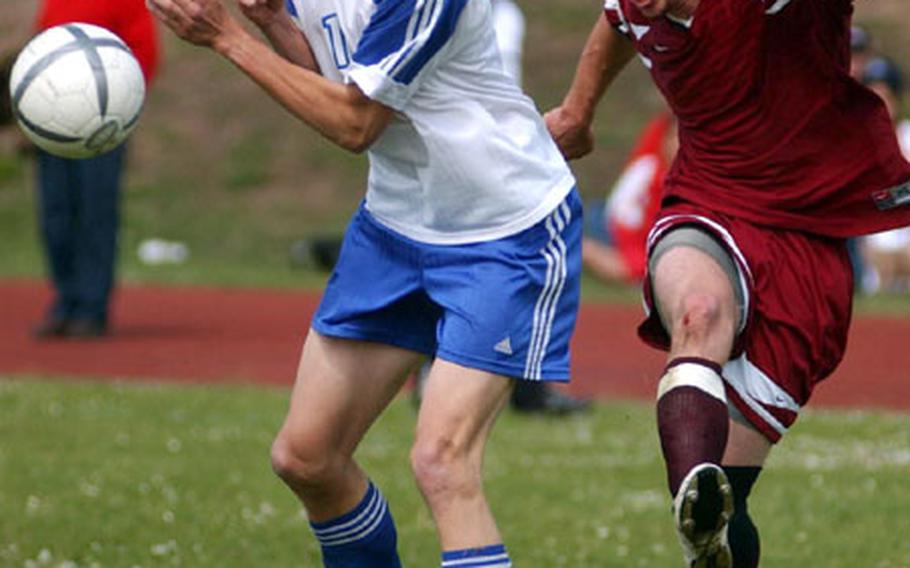 RAMSTEIN AIR BASE, Germany — Scott Custer saved two penalty kicks in a shootout Saturday to boost Black Forest Academy to a victory over Vilseck in the European Division II boys' soccer championship game.
After 80 minutes of regulation and 20 minutes of overtime, the 1-1 tie was settled by tournament MVP Custer and Vilseck goalkeeper Kevin Pollack.
After each team converted its first try, Custer saved the next two to win it for BFA.
Late in the first half, Custer stopped a penalty shot — and the rebound — to preserve a scoreless tie. Custer's diving save of Steven Tracy's shot helped prepare the keeper for the shootout.
"I watch four things," Custer said about penalty kicks. "The hips, the feet, the position of the eyes when he puts the ball down and a fourth thing I won't tell. It's a deep, dark goalkeeper's secret.
"We work on that almost every day at the end of practice. Everyone lines up to take a couple of penalty kicks so we'll know what to do in this kind of situation."
BFA's Ryan Fultz started the shootout with a shot into the left side of the net as Pollack dove to the opposite side. Prince Osiang tied it for Vilseck, using the right half of the net as Custer went left.
Shawn Newby put BFA ahead to stay, then Custer stopped two Vilseck shooters. BFA's Chris Adams and Josh Gentile converted their shots, with Gentile's score providing an insurmountable 4-1 lead in the shootout.
Custer's teammates hoisted him on their shoulders during the post-game celebration.
It was a well-deserved ride.
Vilseck's Aaron Vernon scored the first goal of the match 10 minutes into the second half when he banged home a blocked clearing attempt.
The lead lasted 10 minutes before BFA's Fultz headed a cross from Ben Brucato just inside the right post.
Vilseck coach Jon Reilly wasn't disappointed.
"We were the fourth seed coming in," he said. "We played with heart, but heart can only take you so far."
Division II boys
Saturday's results
Championship: BFA 1, Vilseck 1 (BFA wins shootout 4-1)
Third place: AFNORTH 3, SHAPE 0
Friday's semifinals
Vilseck 2, SHAPE 0
Black Forest Academy 5, AFNORTH 4
All-tournament team
Scott Custer (MVP), Ryan Fultz and Shawn Newby, BFA; Mike Kincaid, Dominik Breuer and Pal Skangen, AFNORTH; Jeff Jones, Patch; Christopher Sympson, Francisco Gallo and Marvin Coombs, SHAPE, and Jon Reilly, Kevin Pollack and Steve Tracy, Vilseck.