Distance runners give boost to Kubasaki, Kadena track teams
by
Dave Ornauer
March 18, 2010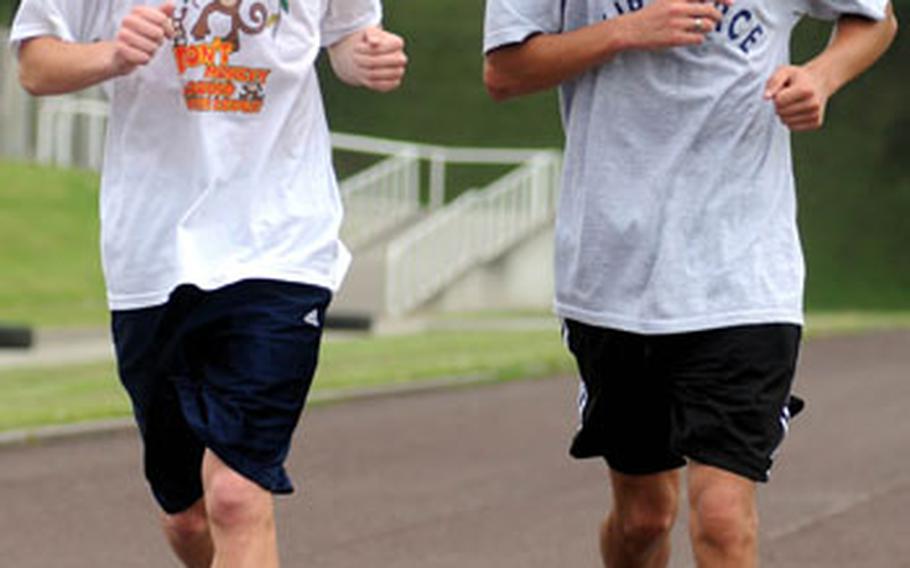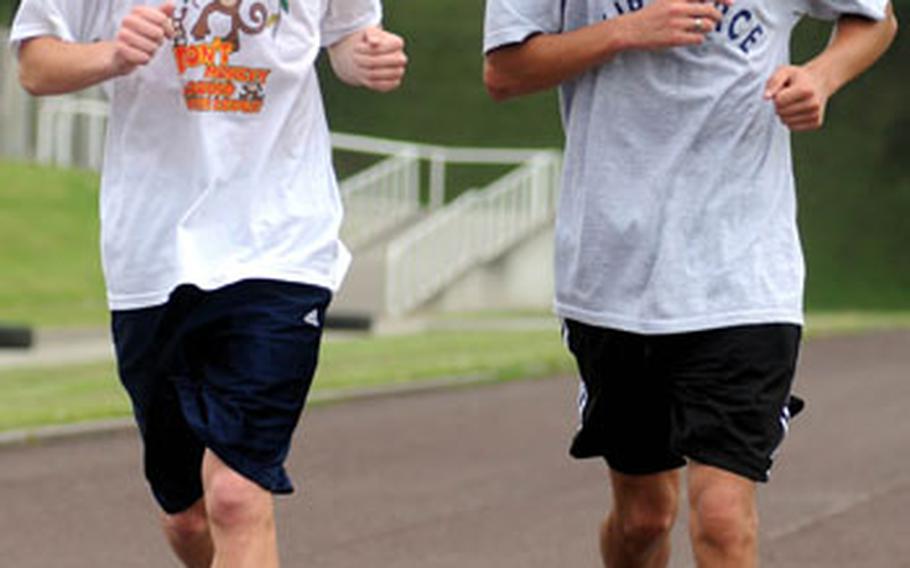 CAMP FOSTER, Okinawa — Their legs burned, their lungs drawing deep drafts of the warm afternoon air, as they crossed the finish line — Jessica Powell in 2 minutes, 46 seconds and Abigail Wall, her training partner and best friend, two seconds behind.
They'd just swept four distance events — the 800, 1,500, 3,000 and two-mile relay — in the Okinawa Activities Council's season-opening track and field meet and stamped themselves, along with Kadena's Jacob Bishop and Tomas Sanchez, as the OAC's "Long-Distance Crew."
"Coach, you realize we've run 5½ miles today?" Powell, a sophomore, asked her Kubasaki Dragons coach Charles Burns.
"Yes, and you looked really good doing it," Burns replied.
"We were counting up the points we were scoring on Saturday, and it was almost 60 points," Powell said Monday, two days after the meet. "It's a neat thing."
"They're fun to work with. They're fun to watch," Burns said Monday. "It's a pleasure having two kids like that."
Minutes after Powell and Wall finished their sweep, Sanchez and Bishop finished their turn, with Sanchez crossing the line at the finish of the 800 in 2:05 and Bishop seconds behind. Sanchez also won the 1,500, while Bishop captured the 3,000.
"They're going to challenge each other all year long and we're going to use them strategically in some races," Panthers coach Sergio Mendoza said afterward. "They're good teammates."
Normally, Mendoza has had just cornerstone distance specialist to work with, Cliff Johnson and Tim Nabonne in the last decade, Bishop the last two years. But Sanchez, after winning the OAC island cross-country championship last fall, has risen to become friend and rival to Bishop.
"This is a lot better," Bishop said, after last season when he was "out there running by myself." He likens this season to his freshman year at Zama American, where he had All-American Andrew Quallio to push him.
On a typical "long distance" practice, Bishop, Wall, Sanchez and Powell might run as many as five miles, through the hills and dales of Foster's Kishaba Housing Area or Kadena's west side.
On the track, Bishop paces Sanchez in his strongest event, the 800, while Sanchez sits on Bishop's shoulder for the 3,000. "The mile is the big fight, I guess," Bishop said.
But while pushing each other in practice, the two ensure that neither pushes too hard, too soon during meets. "He keeps me in check, basically," Sanchez said.
On a team that has been known for its sprinters, having two such athletes could yield a bonus of points and medals up and down the lineup for Kadena, Mendoza said.
"We've had just one person who we hoped could score points for us," he said. "It's exciting for me to have them and be able to score in the 800, 1,500 and 3,000. Now, we're going to be balanced. I think we'll be able to progress more as a unit I think than we ever have."
What Bishop and Sanchez, both juniors, are to Kadena's boys, Powell and Wall are to Kubasaki's girls — Powell a sophomore, Wall a freshman who began the year at Lester Middle School but accelerated to high school in January. Powell terms the two "rivals, but friends, definitely."
While Bishop and Sanchez are more training partners, Powell and Wall are practically inseparable. They live next to each other at Foster's Plaza Housing Area, and they do everything from train to hanging out to sleep overs at each other's homes.
On the track is where the competition heats up.
"We don't fight about it, but we're both way too competitive to allow each other to win," Powell said. "But as long as it's somebody wearing a green jersey."
While Mendoza's Panthers have generally fielded one solid distance runner, Burns and the Dragons have over the years been blessed with sisters, Crystal and Candace Sandness in the early 2000s and Beth and Lisa Nielsen later in the decade.
"These two are almost siblings doing just as well," Burns said. "They train like people possessed. They're not happy unless they're running. They're an unusual bunch, but I'm delighted to coach them."
While Bishop and Sanchez are due to graduate at Kadena, this will be the last year for Powell and Wall in Kubasaki uniforms. Wall is set to transfer to Yokota and Powell to Illinois over the summer.
Both athletes and coaches exude optimism over where the "Long-Distance Crew" might take them, with the Mike Petty Memorial meet first up April 9-10 at Kubasaki, the Kanto Invitational May 15 in Tokyo and the first Far East meet at Kubasaki on May 24-25.
"We just want to win everything, first or second, doesn't matter which one of us as long as it's Kubasaki," Powell said.
"It's going to be an exciting year," Mendoza said.