Disciplined Adams a key to Hohenfels' repeat in rifle
---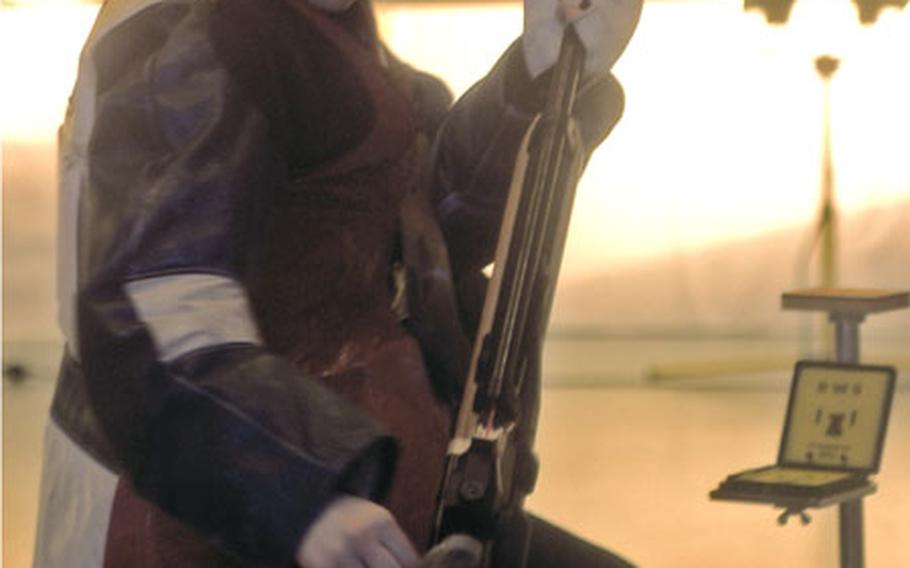 She places a pellet into the rifle and brings it snug to her shoulder.
A deep breath, and then her right eyeball zeros, through the rear sight, then through the front sight, down to a BB-sized bull's-eye 33 feet away.
"You check your positions, make sure it's all square to the target and centered," Sarah Adams said. "You take aim and if it gets perfect enough, you pull the trigger.
"It's just you, the rifle and the bull."
Adams, a sophomore at Hohenfels High School, zeroed in 40 times on Saturday in the USAREUR/DODDS Rifle Championship. She was perfect enough often enough to score 378 points for an average of 9.45 points per shot — nearly a 10-point bull's-eye each time.
No one zeroed in better than Adams, as the 15-year-old won the individual championship and led Hohenfels to the team title.
Adams elevated her game for the occasion. She bested her season average by eight points and held a two-point lead entering the final-round individual shootout. Instead of choking, Adams calmly dusted the competition by posting a final-round best score of 94.
Being the top gun out of 54 shooters takes practice and technique — and attitude. Confidence and pride? For sure. Competitive fire, even cockiness, toward her competitors? Maybe a tad.
"You try not to let it show too much," Adams said. "But there's definitely that part of you that says, 'Wow, I am so going to win this and you're not.' "
Adams joined the Hohenfels rifle team two years ago as a winter sport to complement her volleyball during the fall and soccer in the spring.
She'd shot before. As a kid, she used to go into the woods with her father, Sgt. 1st Class Thomas Adams, and plink cans with a pellet gun.
But marksmanship is different from plinking soup cans.
"We don't hit the can and be happy," said Bruce Andrews, longtime coach at Hohenfels.
"We put the pellet inside the 'A' in Campbell. When you do that — now we're shootin'."
Adams rose to the top, Andrews said, by working at the repetition required of great shooters instead of becoming bored by it.
"A lot of kids, especially teenagers, when they start shooting ... the excitement and fun of shooting starts to go away and then it becomes work," Andrews said.
"But for Sarah, she still strives to shoot three perfect 100s (in standing, kneeling and prone shooting positions). She hasn't done one yet in competition, but that's her goal."
Adams has learned to become one with the rifle and to read how her body reacts to the different shooting positions. Adjusting the sights and trigger, and figuring out how to rest her face are all variables to putting a pellet on the bull.
For matches, she had to learn how to control her nerves for an hour or longer while thwarting the natural adrenaline rush of competition.
Then, of course, she had to learn how to come through in the clutch.
"The real beauty of it is you have to stay calm," Adams said. "And then shoot the targets, one by one."
---
---
---
---