Boys soccer AOY
DeMarco's stats, leadership helped Yokota retain title
---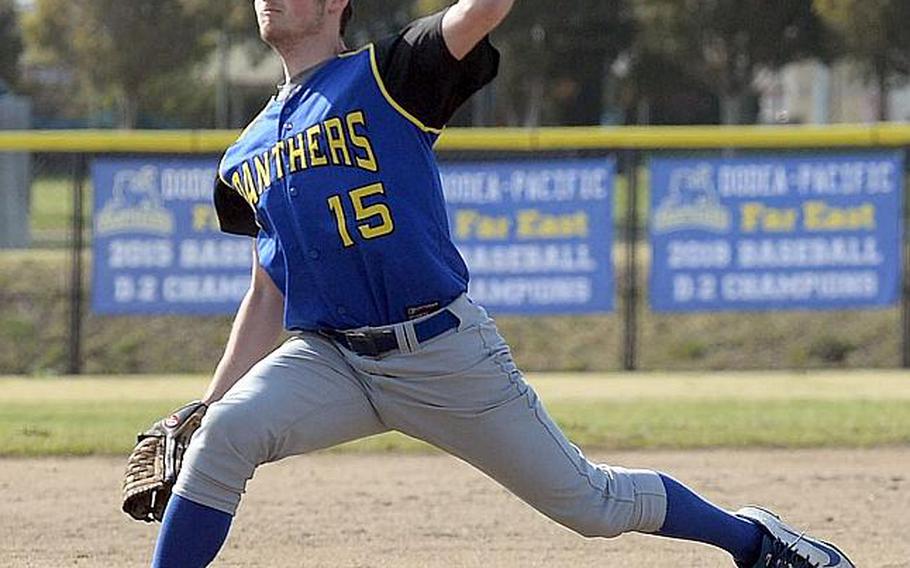 Play solid defense. No matter what happens, just don't make mistakes.
That was the philosophy that Yokota, and its senior cornerstone Riley DeMarco, employed throughout the just-completed Pacific baseball season, and what led the Panthers to back-to-back Far East Division II Tournament titles and their fourth straight DODEA-Japan championship.
"Just come in and play our game, make no errors," said DeMarco, a senior who pitched, played center field and first base and led a Panthers team that made just seven errors in 14 games against D-II opponents, including just one in the Far East D-II Tournament.
"Making only one error in Far East, that was big for us," DeMarco said. DeMarco was 3-0 on the mound with a 2.36 ERA, 32 strikeouts in 29 2/3 innings and threw a no-hitter in a 7-1 win March 22 over Matthew C. Perry. DeMarco also batted .437 with 20 RBIs and 18 stolen bases and had an .879 fielding percentage, four errors on 33 total chances.
For all that plus the tournament titles, DeMarco has been named Stars and Stripes Pacific's baseball Athlete of the Year.
Yokota went 19-7-1 during the season, with all the losses coming against Division I opponents. But only four of the D-I defeats were one-sided, all against six-time D-I champion American School In Japan, and DeMarco said the Panthers gained a lot from the closer losses.
"The D-I schools are a lot better, more challenging, a lot more experienced," DeMarco said. "Sometimes losing close games, it's good to experience that. It makes you want to win."
What the Panthers hoped to avoid, especially in tournament play, was making a handful of errors and giving up resulting unearned runs in one inning, "and that would be what would kill us," DeMarco said.
Taking their lumps against the D-I powers, in particular 16-2, 16-2, 5-0 and 18-3 losses to ASIJ, gave the Panthers the fire testing they needed for tournament play, he said. "We had confidence in ourselves … so we rolled with that in the tournaments," DeMarco said.
DeMarco was one of the keys in instilling the confidence needed by the younger players on a team that lost several key cogs from the 2018 championship squad, first-year head coach LeSean Thomas said.
"If we didn't have him, it would have been a very different season," Thomas said. "We definitely have had to fight a lot more than we had to to win Far East. It would not have been an easy ride."
As team captain, DeMarco would at times serve as a coach on the field, providing instruction to the newer players, Thomas said.
"Try to keep a positive attitude, keep a good mood," DeMarco said. "If any of the younger kids with less experience had questions, I let them know they could come to me and I would help them as much as possible."
Pacific All-Far East baseball team American School In Japan – Ian Donahue, Taiyo Ueda, Ken Hemmer, Yamato Hill; Yokota – Riley DeMarco, Nick Yingling, Jeff Mullarkey, Glen Willingham; Kubasaki – Samuel Williamson; E.J. King – Leo Schinker; Kadena – Logan Howell; Humphreys – Kierden Blessing; Daegu – Elijah Bembischew.
---
---
---
---