Defense, special teams boost Yokota
---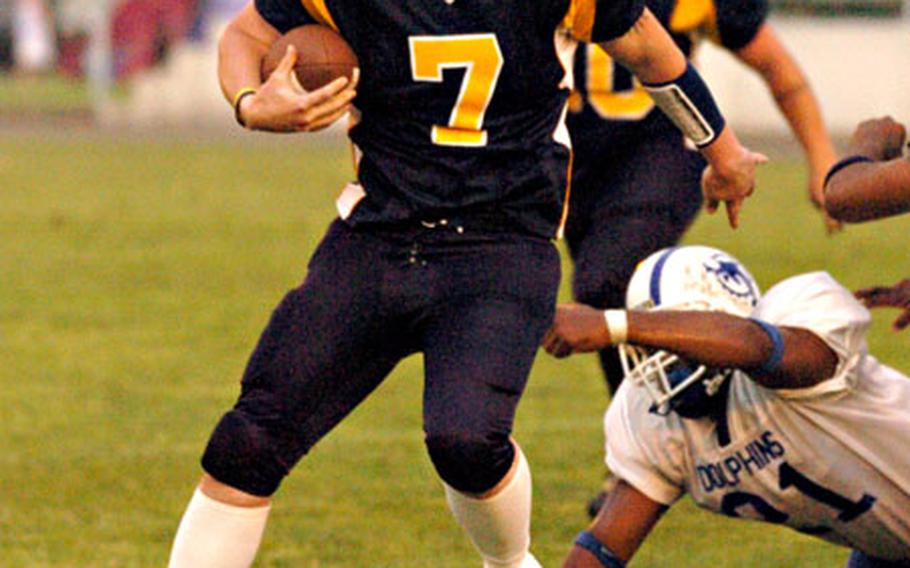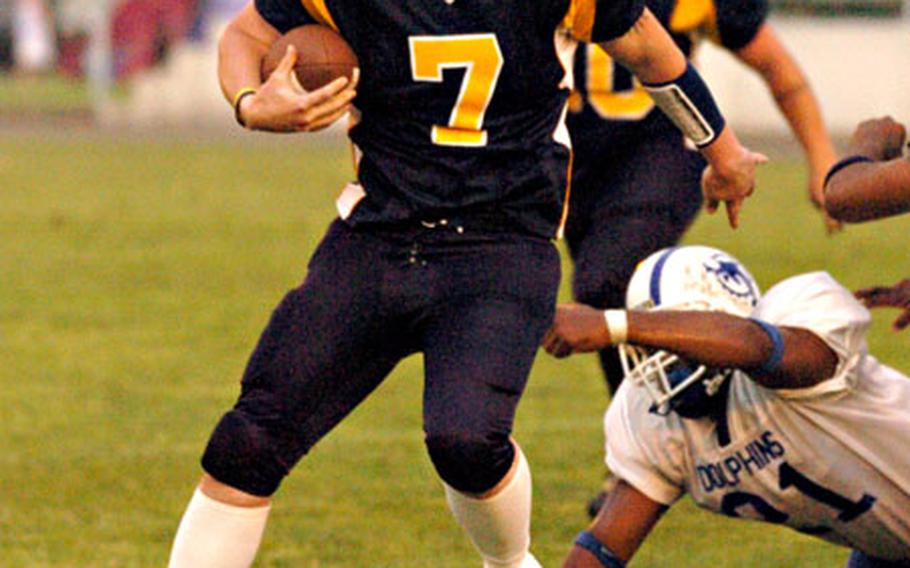 ATSUGI NAVAL AIR FACILITY, Japan — Defense and special teams carried the Yokota Warriors to a 24-13 victory over the Atsugi White Dolphins in the U.S. Forces Japan-American Football League season opener Saturday.
Jerrick Nunn blocked a punt to set up a touchdown, Ronald Carmichael's recovery of a muffed punt led to a TD and John Pitts recorded two safeties for the Warriors.
"Defense and special teams stepped up and played really hard," Yokota coach Jacob Dowdell said. "They saved us on more than one occasion."
"They came prepared and they executed their game plan," Atsugi coach Daniel Estrada said. "We gave them the ball a couple of times deep in our territory and they took advantage."
Atsugi's losing streak was extended to nine games. But 13 points are the most it has scored in that stretch.
Nunn blocked a punt deep in Atsugi territory that Deedrick Stiff recovered. Eric DeLong scored on a 2-yard run for the game's first points. The Warriors increased their lead to 12-0 on Bruce Turner's 8-yard pass to Patrick Mitchell.
Marty Wilson's 1-yard run and Mitchell's catch of an L.C. Ooten pass on a two-point conversion extended Yokota's lead after Carmichael recovered a muffed punt.
Yokota's defense then contributed four points on successive Atsugi possessions. Pitts, Rio Thompson and Greg Powell gang-tackled a Dolphins player in the end zone for one safety. Pitts made a solo tackle for another.
The White Dolphins broke a six-quarter scoreless drought when Adolph Jones intercepted a pass and returned it 43 yards for a third-quarter TD. Kelvin Lewis capped the scoring with a 93-yard punt return in the fourth quarter.
"We came up short, but we learned a lot about our guys," Estrada said. "We have some growing to do. We'd like to be further along, but we're going along."
USFJ-AFL standings
W L Pct. PF PA
Misawa 1 0 1.000 28 0
Yokota 1 0 1.000 24 13
Yokosuka 0 0 .000 0 0
Atsugi 0 1 .000 13 52
Saturday's games
Yokota 24, Atsugi 13
Saturday, June 25
Misawa vs. Yokota at Atsugi Naval Air Facility, 3 p.m.
Yokosuka at Atsugi, 6 p.m.
---
---
---
---