USFJ-AFL football
Defense rules day as JTF, Yokota advance
---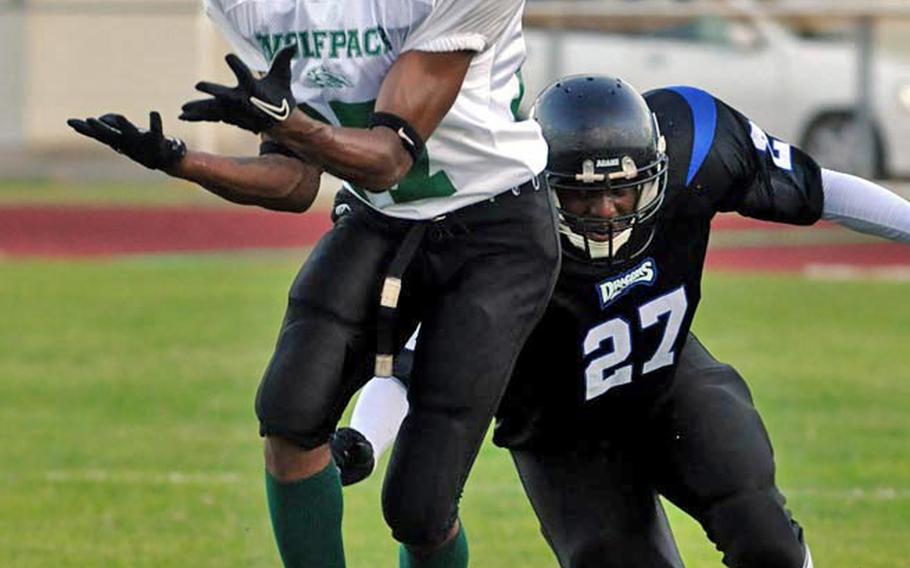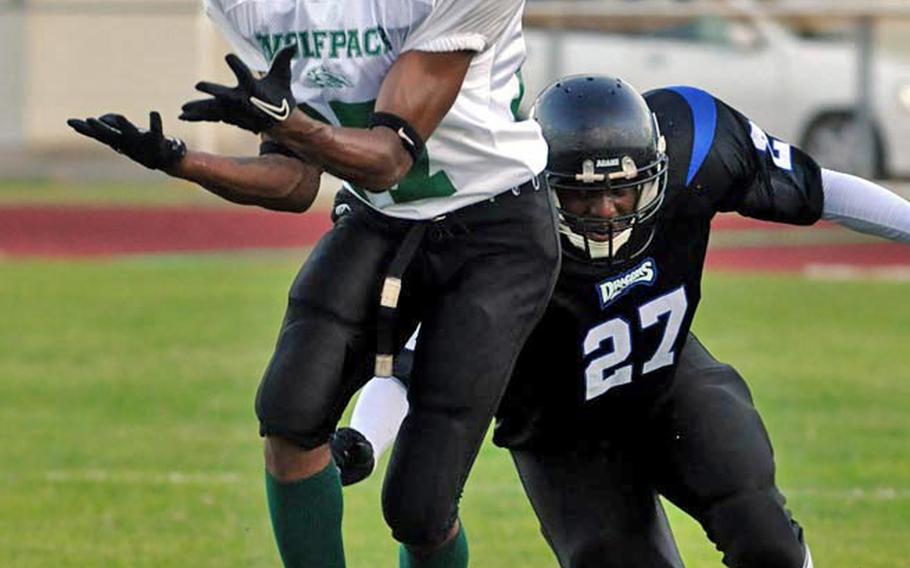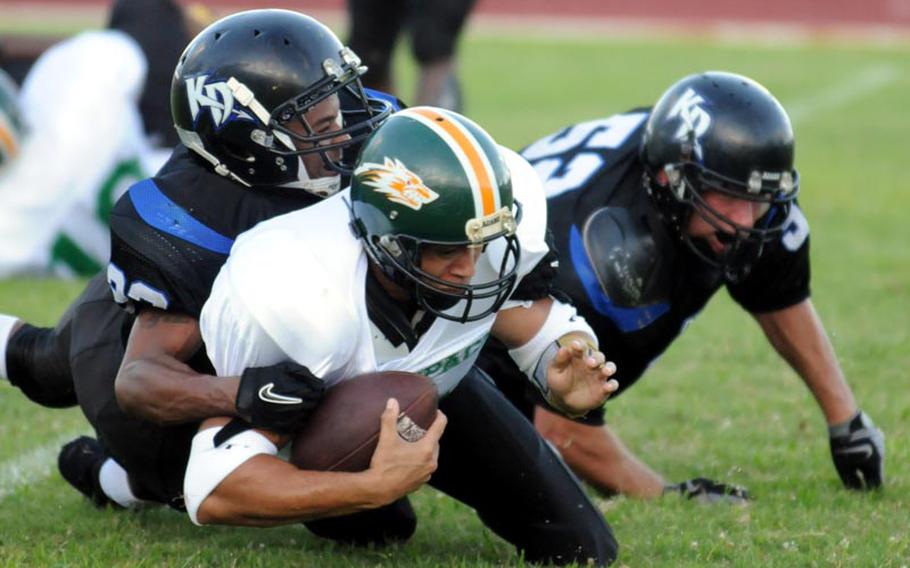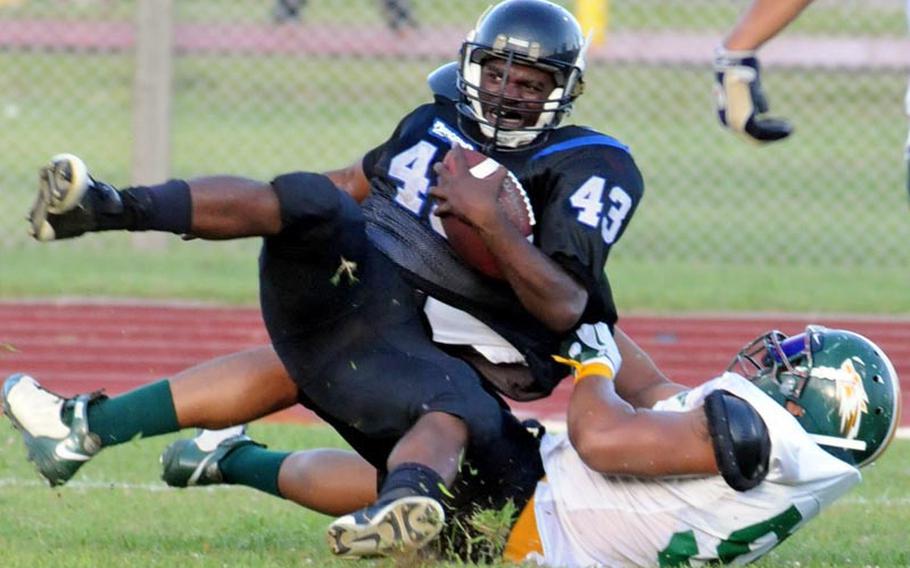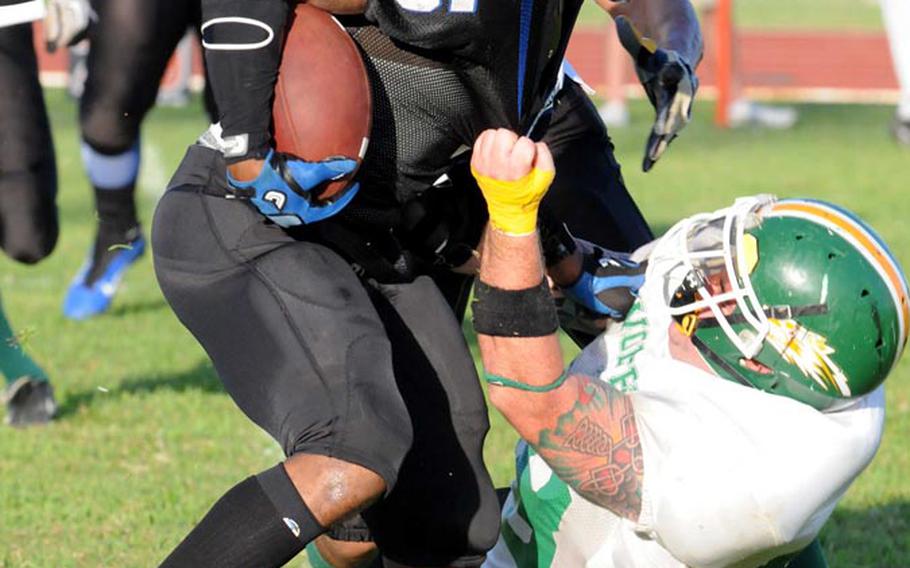 Defenses sparkled at Yokota and Kubasaki high schools on Saturday evening as defending champion Yokota and 2010 runner-up Joint Task Force advanced to the second round of the U.S. Forces Japan-American Football League playoffs.
Ryan Jones accounted for his 10th and 11th touchdowns in the last four games and Yokota's defense racked up its third straight shutout as the Warriors (3-2) blanked 0-5 Yokosuka 33-0 at Yokota Air Base, Japan, to advance to Saturday's North Division final at Misawa (4-0).
James Fulz passed 55 yards to Jonathan Gibbs for a score with 4:12 left and Joint Task Force (1-4) rallied to beat Kadena 8-2 at Camp Foster, Okinawa. JTF ended the season for the Dragons (2-3) in the first round of the playoffs for the third straight year. The Wolfpack plays Foster (4-0) on Saturday for the South Division title.
South DivisionJoint Task Force 8, Kadena 2: The Wolfpack dashed Kadena's hopes 12-6 in four overtimes two years ago and 26-12 last season, prompting Wolfpack coach Kevin Stansel to say regular-season records matter not in the playoffs. Kadena beat JTF 22-18 and 22-12 during the regular season.
"We had some excellent practices this week," Stansel said. "It must have been something the guys did among themselves. That's the best Dragons team I've seen in three years here. Both sides played their hearts out."
It was a desultory offensive performance; each team gained just 105 net yards of offense. Most of the yards came in the air; JTF was held to minus-43 yards rushing and Kadena gained just 33 yards on 33 carries, after gaining as many as 291 in a game this season.
"Our defense was unstoppable," Stansel said. "They play like that, we're good."
Kadena went ahead 2-0 when Brian Walser tackled running back Andrew Majors in the end zone for a safety. Backup quarterback J.J. Johnson was 3-for-5 for 42 yards and Emanuel Griffin had 120 all-purpose yards for Kadena.
"When folks don't show up for practice, you have no cohesion, you have no team," said Ted Danecki after his last game as Kadena's interim coach. "Frustrating to end the season this way. The chickens came home to roost."
Fulz was 7-for-20 for 148 yards, including the late TD pass to Gibbs, who caught the pass in stride and shed the tackle of Kadena defensive back Michael Smith and darted for the end zone.
North DivisionYokota 33, Yokosuka 0: Jones ran 2 yards for a touchdown, then hit Darian McCray from 35 yards out for another, helping Yokota to its third one-sided victory over the Seahawks this season. The Warriors outscored Yokosuka 106-6 in three games.
"Three straight shutouts. My defense is playing lights out," Yokota coach Selwyn Jones said. "Yokosuka didn't quit. Once they find their feet and get everything correct, they'll be a tough team. It's going to be a tough division. Black and blue, like usual."
The Warriors did it on all sides of the ball. Lamon Ervin returned a punt 80 yards for a touchdown and caught a 40-yard pass from Darone Frierson for the game's last score. Former Yokota High School hero Anthony "Ant" McNeill added a 2-yard scoring run. And Yokota's defense recorded two interceptions.
While Yokota had its way with Yokosuka this season, it let two leads against Misawa get away, a trend Selwyn Jones said he hoped would end on Saturday at Misawa. "We're going to go up there and give them a show," Jones said.
---
---
---
---