Defending Division I boys soccer champ Ramstein eliminated
by
Rusty Bryan
May 21, 2010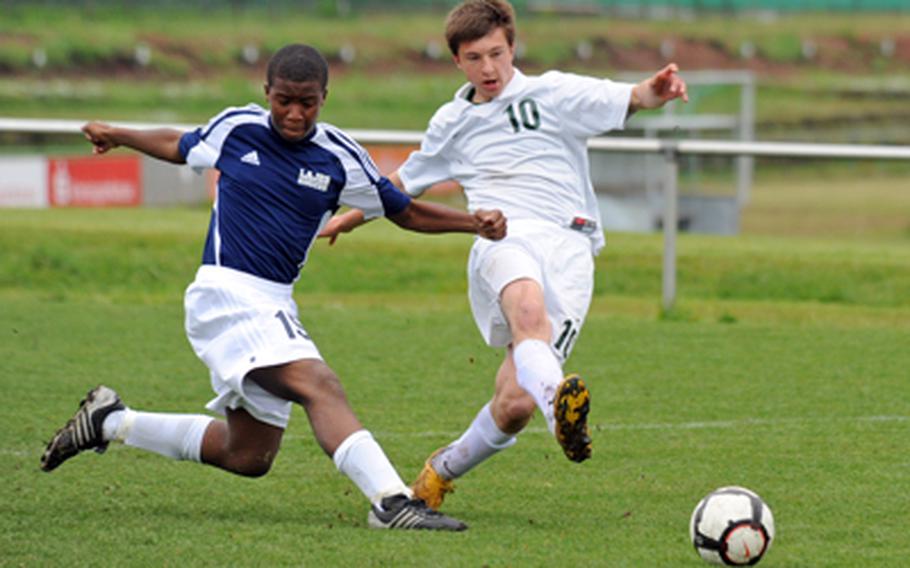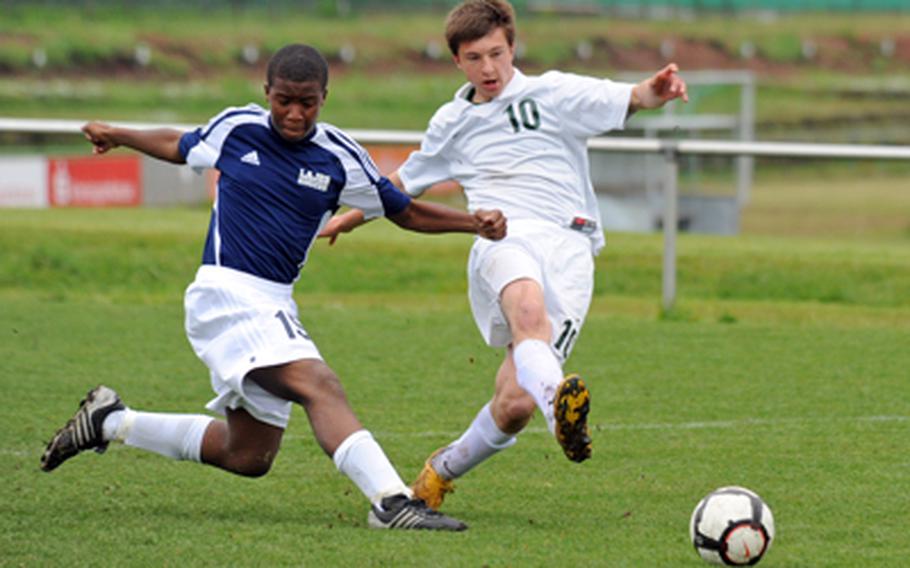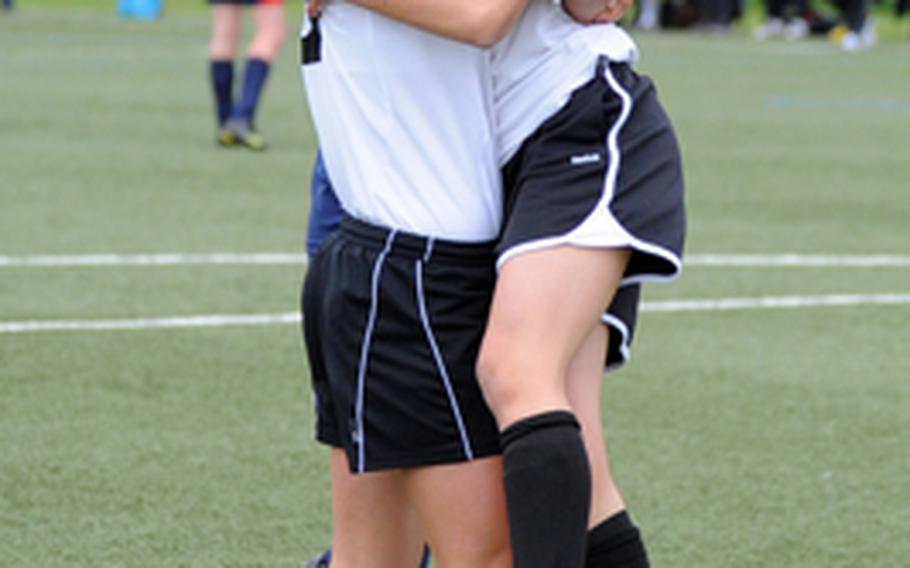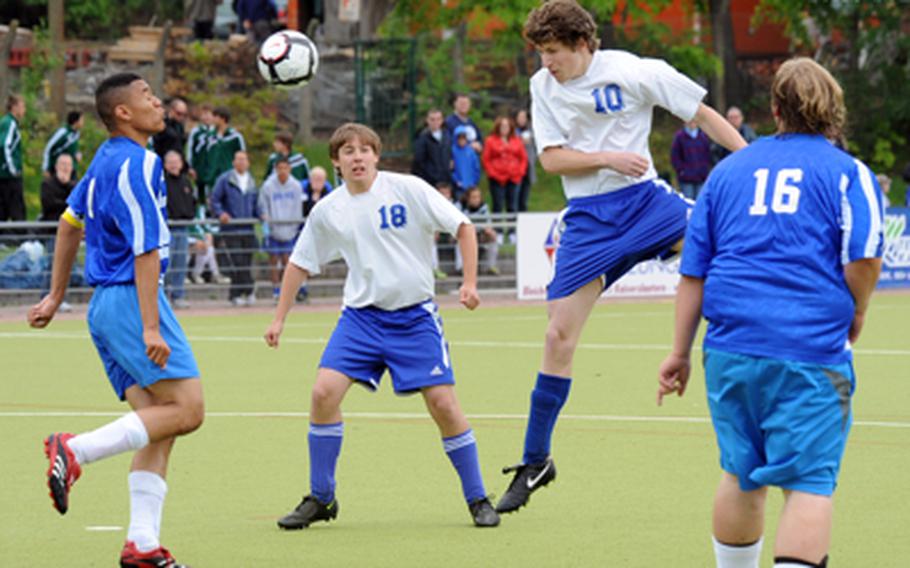 KAISERSLAUTERN, Germany — The Ramstein boys and girls, defending champions and top seeds in the DODDS-Europe Division I soccer tournaments, were stunned by late losses in pool play Wednesday and had to fight to fend off elimination Thursday.
The girls, who suffered their first loss since 2008, 1-0 to archrival Heidelberg, responded like champs. Champion gamblers, that is.
They rode a lucky streak that carried them into Friday's 12:15 p.m. semifinal game against Pool B champion Patch by winning a coin toss after a 2-2 tie with the International School of Brussels, winding up in second in Pool A.
For the boys, it was a different story. Upset by fourth-seeded SHAPE 2-1, they needed to beat No. 5 Patch to stay alive. They didn't.
As a result, the Royals were bounced from the tournament before the semifinals, paving the way for a new division champ.
In girls play, fourth-seeded Heidelberg won its pool by defeating Ramstein and ISB by 1-0 scores Wednesday. Ramstein and ISB each defeated Kaiserslautern 4-0, so there was no head-to-head or goal-difference advantage to break the tie.
Because penalty-kick tiebreakers aren't permitted until the semifinals, the fate of the Lady Royals and Lady Raiders came down to which side of a 1970 British 10-pence coin ended face up on the artificial turf of the 1FCK Rote Teufel Sports Park. Both teams came onto the turf for the toss. Ramstein called tails, and tails it was.
"In soccer," said Ramstein coach Ricardo Buitrago, "luck often plays a big part. Today it did."
How lucky were the Lady Royals? In addition to the coin toss, consider:
 Ramstein's tying goal came with 12 minutes remaining, when an ISB defender deflected a blistering Laura Welch cross into the Raiders' own net.
 Four minutes later, Ramstein goalkeeper Terri-Leigh Obermiller dived to her right to deflect a penalty-kick attempt by Joanne Harrower that would have put ISB ahead. "I didn't even know that I had blocked it," Obermiller said, "until I saw it roll over the line."
 With three minutes to go, an ISB corner kick landed at the foot of an ISB attacker who punched it a foot or so wide of the right post.
Lauren Taylor gave ISB a 1-0 lead 12:25 into the game, shoving a lob from Monica Rangel past Obermiller, but Ramstein tied the game in the same minute when Mackenzie Crews artfully volleyed a cross from Welch into the back of the net.
After Ramstein went ahead on the ISB's own-goal, Jenny Marten split the Ramstein defense with the ball on her foot and attacked Obermiller one-on-one in front of the net. Risking a trampling by the onrushing Marten, Obermiller laid out to make the initial save, but Marten put the rebound into the net.
The victory was a Ramstein change of fortune after the 1-0 loss to Heidelberg, a team the Lady Royals dominated 3-0 April 8.
"We played good team ball," Heidelberg coach Jim McCauley said Thursday. "Our defense kept them from getting many shots off."
The Patch boys did not leave Ramstein's fate to chance.
The Panthers, riding a late-season 2-0-1 hot streak after a slow start, eliminated the champion 3-1 and won the pool title on goal differential over SHAPE.
 In Division II on Thursday, seventh-seeded Bitburg widened its swath through the field by whitewashing third-seeded BFA 2-0 as Brandon Massie scored his eighth goal in three games.
Like Bitburg, Vicenza's boys stayed unbeaten in Thursday's early going, blanking Bamberg 3-0 for the Cougars' third shutout in as many games.
Bahrain pulled the biggest upset in the D-II girls event, downing previously unbeaten Vicenza 1-0 in Wednesday's late game.
 In Thursday's opening-day play in Division III, the top-seeded Brussels boys and girls romped. The Lady Brigands topped Alconbury 3-0 and the boys walloped Incirlik 7-1.
The boys from all three divisions begin play at 8:30 a.m. Friday, and by the time things are over, all six teams for Saturday's finals at Ramstein High School will be determined.
Same for the D-I and D-II girls, but because the D-III is a single round-robin event, those teams know their opponents for Saturday. The team finishing with the best record will be declared the champ.
bryanr@estripes.osd.mil.