Defending D-I champs face tough tests
by
Gregory Broome
May 3, 2018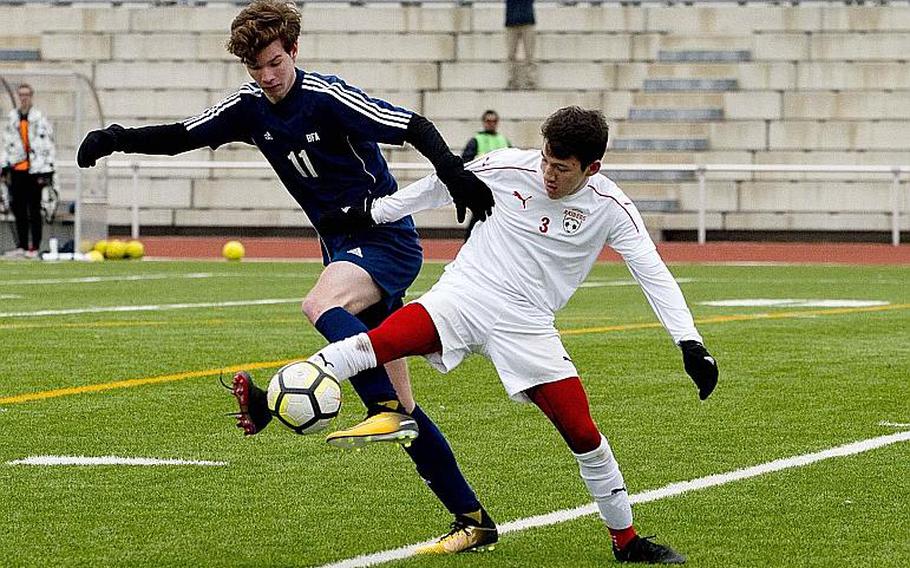 Both of DODEA-Europe's reigning Division I soccer champions will be on the field Friday as the Kaiserslautern Raiders visit the Wiesbaden Warriors. And both find themselves in the midst of a challenging title defense that has seen several contenders apply to supplant them.
The Kaiserslautern boys have inevitably come down from the heights they reached in the spring of 2017, when a star-studded, senior-heavy roster delivered the Raiders a long-awaited championship. The cost of that euphoric title was a purge of talent and experience that left Kaiserslautern looking at a rebuild.
The Raiders scored just three goals in as many games prior to spring break but have found their rhythm since, routing Alconbury and old nemesis Lakenheath by a combined score of 15-1. But Wiesbaden will test the sustainability of the Raiders' offensive resurgence; the Warriors have yielded just two goals over the course of a strong 5-1 start to the season.
The Wiesbaden girls, who bested favored Stuttgart in a title-game shootout last spring, have followed a similar path as their fellow Division I champions in Kaiserslautern.
The Warriors started their season with a discouraging 5-1 loss to Stuttgart in a rematch of the 2017 final, then took a 4-2 loss to consistent contender Ramstein a week later. But Wiesbaden responded with an offensive explosion, scoring a combined 23 goals in four runaway victories.
Just as the Wiesbaden boys figure to give the reigning Raiders a hard time, so too should Kaiserslautern's solid girls squad test the mettle of the Warrior girls. The Raiders bring the momentum of a 5-0 shutout of Lakenheath into the weekend.
Both defending champions could use a win to keep pace in among deep fields of Division I title hopefuls. With just two weekends to play before the tournament, the Kaiserslautern boys and Wiesbaden girls are looking at middle or low seeds in their respective brackets barring a late-season push, making the task of a successful title defense all the more difficult.
Twitter: @broomestripes