Defenders take big step in MLK
by
Dave Ornauer
January 21, 2003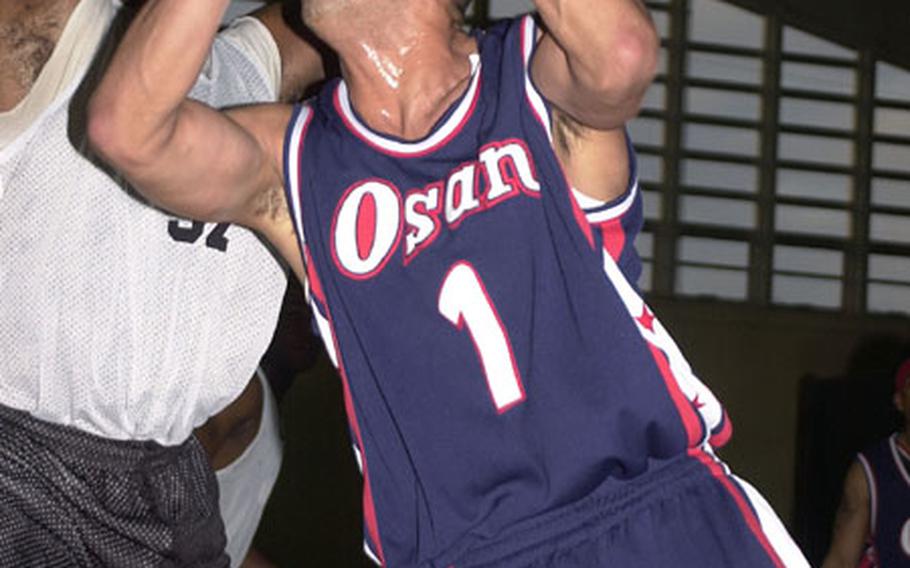 CAMP FOSTER, Okinawa — It came 362 days later than they wanted, but the Osan Defenders got the victory they sought in the Martin Luther King Invitational Basketball Tournament.
"It's a small measure of revenge," Osan coach Tony Jones said after Saturday's 59-45 victory over Okinawa's Dynasty.
Dynasty includes five players from Down Town, an Okinawa-based open team that won the tournament the past two years — topping Osan 104-90 in last year's final — and 3rd Marine Division/Expeditionary Force, the two-time defending Marine Forces Pacific Regional Tournament champions.
"This really feels good," Jones said. "It' a step closer to what we came here for."
The presence of those five players — Michael Allen, Orvin Wooten, George Baez, Norman Capers and James Burnett — had some observers calling Dynasty the tournament favorite.
"If we were the team to beat, this didn't show it," said Wooten, who said he hoped the loss would light a fire under his squad for the rest of the tournament. "We'll use this as a stepping stone, a tool to get us going for the [double-elimination] playoffs."
Though jubilant, Jones put Saturday's round-robin victory in perspective. Still, he felt the victory could propel Osan to the title game, in which the Defenders might meet Dynasty again.
"That's where I want to be," Jones said, "and I'd like for it to be them, if possible. I'm just worried about getting there first."
Last year's loss in the finals still smolders in the mind of center Cedric Tanner, Osan's lone returnee. The Defenders brought seven players, mostly reserves, to the 2002 tournament, and Tanner felt they could have done better against Down Town with their full squad.
"Last year, we lost to a quality team. We brought a small team, a short team, and we still got to the championship game," Tanner recalled. "I thought we did well."
With eight players this time — all starters or key contributors — Tanner feels things could finish differently.
"We have eight quality players, and we're a different team since last year," he said. "We've been playing together since September. We're comfortable with each other. These players have to step up, and they're doing it for us. I'm comfortable and confident of our chances."
Osan trailed throughout last year's championship, but reversed that course Saturday.
Darryl Harmon had 14 first-half points and Carl Little contributed eight, but Dynasty trailed just 26-22 with a couple of minutes left before halftime, thanks to Wooten's eight points and six from Baez.
Little then took charge, driving for a layup that capped an 8-0 run and put the Defenders up 34-22 1:30 into the second half. His three-pointer from the right side bumped the lead to 37-24, and Osan was never threatened.
Harmon finished with 21 points, including four threes, while Little added three from long range and 13 points. Gerald Ragland had 12, and Baez wound up with 12.
The Kadena High girls and boys teams locked up MLK playoff berths Saturday.
Kadena's boys (7-10 overall, 2-3 tournament) survived 12 lead changes and five ties to edge King of Clubs, an Okinawa open team, 67-65 in a game that neither side led by more than five points. Jamal Robinson led Kadena with 14 points and A.J. Morgan added 13.
"Last year, we didn't make it that far," said Morgan, whose foul shot with 44.2 seconds left proved to be the game-winner. "This year, we played as a team. The players are great. Couldn't have done it without them."
The Lady Panthers (7-7, 2-4) led from the opening tip in beating Kubasaki (1-5, 4-12) for the fourth time this season, 41-30. Liz Cotto topped Kadena with 12 points and Shanon Sumter had 11 for Kubasaki.
"After you beat somebody that many times, you don't have much incentive to beat them," Lady Panthers coach Ken Hudson said, but making the playoffs "gave them incentive."